Global Citizenship Institute, Salatiga, Indonesia
Unity amidst Diversity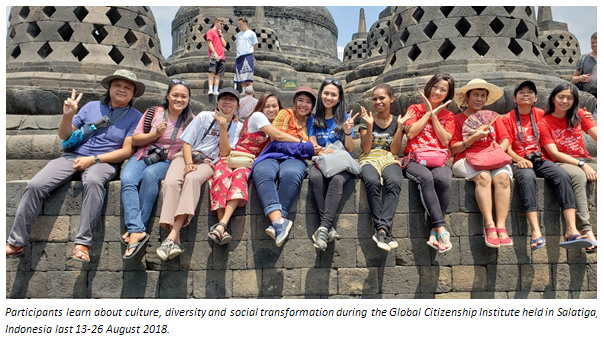 Being part of a globalized society, the participants of the Global Citizenship Institute held in Salatiga, Indonesia last 13-26 August 2018, recognized their important role in lessening the negative impacts of globalization and in increasing their efforts in contributing to the development of an equitable societies. With the theme, "Global Citizens as Interfaith Catalyst for Peace", the nine participants comprising of lay and staff from the national movements of Bangladesh, Cambodia, Hong Kong, Indonesia, Malaysia, Philippines and Timor Leste strongly believe that despite diversity in faith practice, a harmonious relationship that brings peace among peoples is possible if each person shall look at him/herself as a global citizen with corresponding social responsibilities.
The learning process started with the keynote presentation by Dr. Suwarto Adi, Chair of YMCA of Salatiga, where he emphasized the relevance of embracing the concept of global citizenship as a way of envisioning a new and better world for all. He further stated that through the principles and values espoused by global citizenship, a new social movement where global cooperation or sharing community can be realized.
Education on the current socio-cultural realities, the economic and political systems related to globalization and perspective on global citizenship was deepened through interactive input presentation and discussion on the following topics:
Topics
Resource Person

Interfaith Dialogue and Peace Building; Conflict Analysis and Resolution

Aan Anshory
Conflict Mediator, Indonesia

Social Analysis; Community Organizing and Social Movement

Saleh Abdullah
Community Organizer, Indonesia

Indonesia Social Context and Community Development

Margaretha Andoea
NGS YMCA of Indonesia

GCI 2018 Participants

Asia and Pacific Youth Situationer
Global Citizenship
Gender Equity
Development and Management of CD Program/Project

Maria Cristina Miranda
Executive Secretary, APAY
The theoretical perspective was complimented with the variety of program components such as devotions, session facilitation, community building activities, lecture presentations, group work sessions, dialogue, case study, reporting, interfaith walk, community immersion and home stay, project proposal writing and presentations and cultural fellowship that aimed to build on the potentials and skills of youth to think critically, speak clearly organize writing and practice learned skills.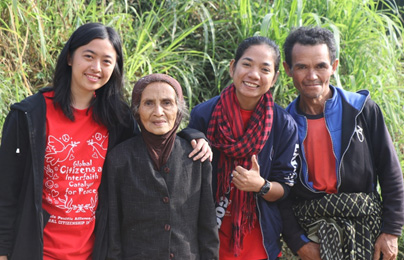 The highlight of the program was the community and home stay for three days where participants lived with Muslim families in a farming community. Through this first-hand experience, the participants gained understanding of the life and struggles of farming community. Similarly, the experience gave the participants a chance to analyze the social condition of the people and reflect on the realities of their own communities. This process provided learning opportunities that was used to write community-based action plans.
Finally, the learning process motivated the participants to find meaning to each one's involvement with YMCA as a movement working towards building a community of justice with love, peace and reconciliation for the fullness of life for all creation. This message on the mission and contextualized actions of the movement was shared by Nam Boo Won, APAY General Secretary. Thus, GCI 2018 affirmed their commitment to promote critical thinking and understanding on local social inequities and injustices and its link with regional and global realities. More importantly, they expressed concrete youth-led community based responses, actions and advocacies that would contribute to the efforts of re-building a sustainable community life.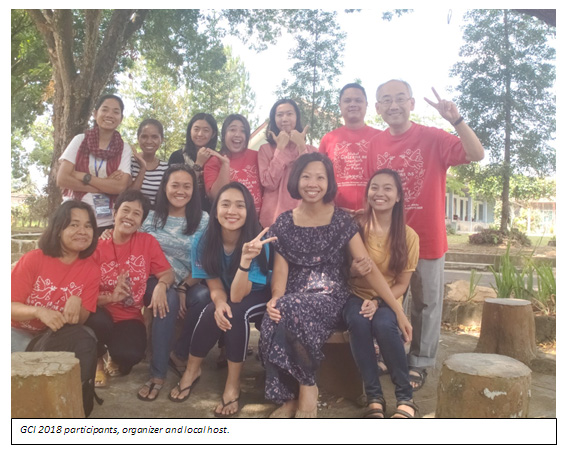 - Maria Cristina Miranda
APAY Executive Secretary