Committees on Gender Equity and Youth Participation & Leadership Development holds its First Virtual Meeting
Last Updated (Monday, 08 June 2020 15:08)
The Standing Committees of Asia and Pacific Alliance of YMCAs namely Committees on Gender Equity; and Youth Participation and Leadership Development (YPLD) held its first virtual meeting last 27 and 28 May 2020, respectively. The online meeting was organized to connect with colleagues and friends in the region who are members and/or invitees of the said committees despite limitations for a face-to-face meeting due to the global health crisis on COVID19. This virtual connection served as a platform to continuously plan for activities related to APAY program thrusts on gender justice and youth empowerment. Participants of both committee meetings engaged actively in the discussion on how to move forward with the common vision and the program plans for 2020-2023 that translate the 20th General Assembly Mandate. The committee also adopted its terms of reference which describes the purpose of the committee and the tasks to be done.
The Committee on Gender Equity, that was led by Nagako Okado, APAY Board Member and immediate past Committee on Gender Equity Chair, expressed in its terms of reference the commitment for gender equity and women empowerment as core of the YMCA mission. It also affirms the quest for elimination of discrimination and promotion of an inclusive society through collaborative undertaking. It further stresses the need to develop policies and mechanism that eliminates gender inequalities and injustices. It is recognized that the call for gender equity and women empowerment is not a separate work of, for and by women and other sexual minorities. Rather, it is a cross-cutting agenda that contributes to the sustainable development of communities and, at the same time, sustains the life and work of the YMCA as a socially relevant movement.
The Committee will therefore focus on:
Advancing the APAY Gender policy guidelines and strategies for gender sensitivity and gender responsive programs at all levels within the region.

Increasing leadership skills and capacity development for women empowerment and gender equality through sub-regional leadership formation/training.

Cultivating the culture/sense of gender equity and empowerment of women and girls at all levels through creation of platforms of learning, reflection, and exchanges of experiences.

Enhancing advocacy capacities of various constituents that promote policy and programming reforms for equal opportunities for all gender at all levels.

Encouraging constitutional change at local and national levels to facilitate women membership and leadership in Local and National Boards.

Organizing and mobilization of national/local movements to engage in community-based gender justice and women empowerment projects.

Networking with the World Alliance and other NGOs for the development of gender justice programs.

Monitoring and evaluating the outcomes of gender justice strategies annually and post quadrennial period.
On a similar note, the Committee on Youth Participation and Leadership Development in its terms of reference reiterated the call on each YMCA in the region to empower all, especially young people, and women. As further described in the terms of reference, the YMCA movements in the region must recognize the importance of building the potentials of youth at all levels. This mission-oriented engagement encourages national movements to build strong youth participation and leadership development that leads to movement relevancy and social transformation. Thus, the APAY 20th General Assembly Mandate calls for a regional commitment on providing education, awareness raising and capacity/skills building programs for young people on social issues and leadership development. Similarly, these initiatives strengthen the national movement's commitment to support sustainable mechanisms for greater youth involvement in programming and decision-making at all levels.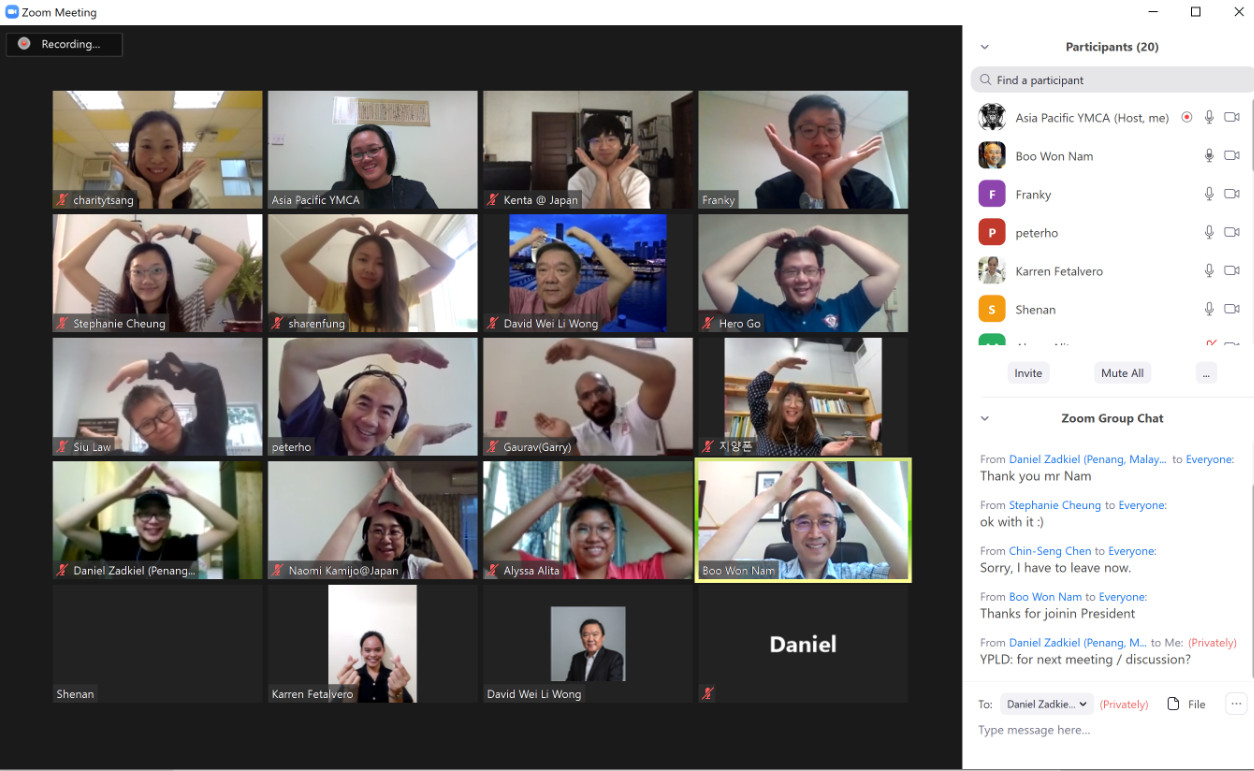 The Committee will specifically focus on:
Increased and sustained participation and leadership of youth in standing committees and boards at all levels of the YMCA - Local, National, and Regional.

Implementation of recommendations expressed in the APAY Youth Assembly and various YMCA youth forums/gatherings.

Building leadership skills and organizing capacities of youth on mission relevance work in YMCA and in societies.

Increasing knowledge and deepening understanding on social issues affecting students and youth through engagement in dialogue and sharing of experiences.

Nurturing youth with a sense of responsibly to development of communities and eradication of injustices.
All matters that were decided will be reported to the Executive Committee Meetings which will likewise be held online on 2-3 July 2020. APAY expressed its appreciation to all attendees for their valuable discussion during the meeting.

~Maria Cristina L. Miranda, Executive Secretary for Programs