Yokohama YMCA - Special Prayer meeting for Myanmar (online)
Last Updated (Thursday, 26 May 2022 13:16)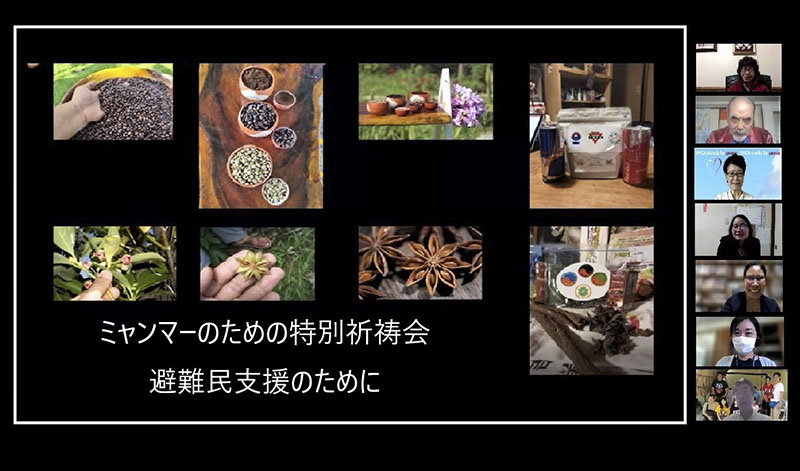 A special prayer meeting for Myanmar was held on Saturday, May 7, 2022, hosted by the Yokohama YMCA International Committee. Thirty-five (35) participants from Japan and overseas participated in the online meeting.
Since the military coup d'etat in February 2021, the lives of Myanmar people have been threatened. We at Yokohama YMCA have been volunteering in villages with poor medical services and disaster-affected areas since1992 with YMCAs in Myanmar. We had a prayer time to express our solidarity with the people of Myanmar in their difficult situation.
After the opening prayer, Ms. Ni Ni Myint, who is from Myanmar and lives in Japan, introduced her activities in the Myanmar community in Japan, how the Myanmar people live in Japan, and what they feel and think about the current situation in Myanmar.
They were followed by a time of prayer. Ms. PhyuThin, the President of Loikaw YMCA, prayed for Myanmar, especially those in difficult situations. Mr. Maung Maung Win, the general secretary of the Myanmar YMCA Alliance, gave a message asking for continued support and understanding of their harsh conditions. We also prayed that Myanmar's freedom and democracy will be protected and that the students and peace activists currently detained will be released soon.
Yokohama YMCA continues to support refugees and Internal Displaced People (IDPs) in Myanmar and neighbouring countries by utilizing the YMCA's worldwide network and the relationship between YMCA and NGOs in the Asia-Pacific region. There is a report from an NGO staff working with the YMCA to support refugees and IDPs in the field about the local situation and the "YMCA Myanmar Coffee Project." Ethnic minorities in Myanmar, a country in conflict, produce coffee beans, a peaceful crop instead of weapons, near the border.
This project supports the livelihoods of Myanmar's Ethnic minorities by selling the coffee they produced themselves and an emergency fund to support refugees and IDPs, to help with their medical expenses and living support for them.
We were able to have time to reflect on Myanmar and pray for the safety and peace of Myanmar people. Yokohama YMCA will continue to pray for Myanmar and raise funds to support them.
Yanagihara Eriko
Global & Local Community Services
Yokohama YMCA