Disaster Risk Management
The Asia and Pacific region is considered as most disaster-prone region in the world. Over the past decades, the region has witnessed several of the most devastating disasters recorded in history. With these events, the people, community and environment absorb the impact of losing lives, livelihood and property. As more people and communities are becoming vulnerable to disasters, the challenges and opportunities to coordinate and mobilize risk management remain relevant to achieve greater impact on the efforts of rebuilding lives and communities.
As a community-based, Christian and ecumenical movement, it is recognized that each YMCA is called to build a human community of justice with love, peace and reconciliation for the fullness of life for all creation. The difficulties, struggles and crises in communities affected by disasters and human crises present an opportunity for the movement to actualize its mission of holistic development that strives for spiritual, intellectual and physical well-being of individuals and wholeness of communities and of re-building self-determination and re-establishing self-reliance.
The humanitarian work/engagement by YMCA in a sense affirms the movement's mandate to commit to work in solidarity with the poor, dispossessed, uprooted people, oppressed racial and ethnic minorities, the aged, the youth, the women and peoples with special needs. Moreover this nature of work provides an opportunity for the movement to explore our social relevance particularly in addressing poverty stricken communities, safety of women and children and their specific needs, youth empowerment, social economy and care for environment. Finally, this engagement is a chance to strengthen our commitment to become institutionally viable by giving importance to good governance structures with in-built accountability systems that are transparent to all stakeholders involved.
The region shall remain firm in its goal of delivering efficient, effective and appropriate disaster responses that adheres to the humanitarian principles of saving lives, alleviating suffering and maintaining human dignity.
Pakistan YMCA Relief Distribution
Last Updated (Monday, 31 October 2022 11:47)
The Lahore YMCA distributed relief packets containing 10 kg flour, 2 kg rice, 2 kg sugar, 2 kg lentils, 2 kg ghee (cooking oil in some cases), one packet tea, 6 bathing soaps, one packet powdered pepper and one packet washing powder to around 180 families of the Nowshera District at two points namely Pir Sabaq village and Christ Church. The families who were enlisted during the assessment stage included Christians, Muslims and Hindus. A thanksgiving service was held at the church in which Rev Shajeel Khan in his sermon spoke of the difficulties of people and how all the different religious communities came together at church to support and help each other in the difficult time. He explained how through joint efforts they were able to keep the community kitchen running throughout the crisis.
| | |
| --- | --- |
| | |
| ↑ Beneficiary receives relief packs from Lahore YMCA flood relief distribution | ↑ Packaging of relief items from distribution |
The relief packets that were prepared and packed by the YMCA staff were distributed to enlisted beneficiaries. The task was completed in coordination with Christ Church Nowshera (under Peshawar Diocese, Church of Pakistan) and Youth Development Association Development. At the time of distribution, the affected people are still in need of hygiene kits including mosquito nets.
The flood came in the last week of August and first week of September. Although the water has receded, the destruction it caused was visible in the areas near River Kabul. The flood has destroyed the people's livelihood, cattle and farm animals. Most women complained on losing their sewing machines on which they used for livelihood. As such, the YMCA plans to provide training for making high end quality clothes that they could sell to markets and train as beautician so that they could set up their own saloons for business.
By: Mr. Emanuel Sarfraz, General Secretary, YMCA Lahore
Appeal for support to displaced families affected by the floods in Pakistan
Last Updated (Wednesday, 31 August 2022 17:23)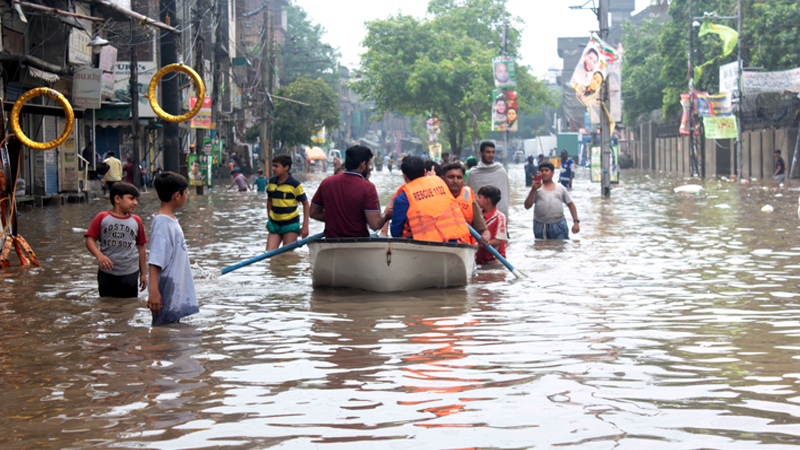 To: National General Secretaries, National Presidents, APAY Board and Related Partners
Dear Colleagues,
The Lahore YMCA in Pakistan appeals for donation for those affected and displaced families by the flood.
Pakistan is facing the worst humanitarian disaster since the floods in 2010. There has been urban flooding in Karachi, Hyderabad and some other cities like Rawalpindi while the flash floods continue to play havoc in Balochistan for many weeks. The province of Balochistan, which is arid and barren region has received 500 percent more rain than the average it did every year. There have been reports of glacier melting and unusual increased rainfall in upper part of the country.
Over 30 million people have been directly affected and displaced with more than 10 million people becoming homeless and displaced. Their houses have been washed away. More than 200 bridges and 40 dams have collapsed. Over 300 kilometres of metalled roads and highways have been damaged. In cities the roads are in dilapidated condition and sewerage system has collapsed. More than 800k livestock have been killed.
The Lahore YMCA is working with Social Welfare Department of Punjab government and other NGOs to support the most vulnerable in the crisis, which are children and women. The immediate needs that will be distributed includes clean drinking water, food, clothes and tents for temporarily shelter.
Your support during this difficult time is deeply appreciated. We will provide you with more details as soon as we receive them from Lahore YMCA. All funds can be transmitted to the following bank account:
Read more: Appeal for support to displaced families affected by the floods in Pakistan
An unexpected fire broke out at the YMCA International Centre in Sri Lanka; buildings are partially damaged!
Last Updated (Tuesday, 02 August 2022 11:34)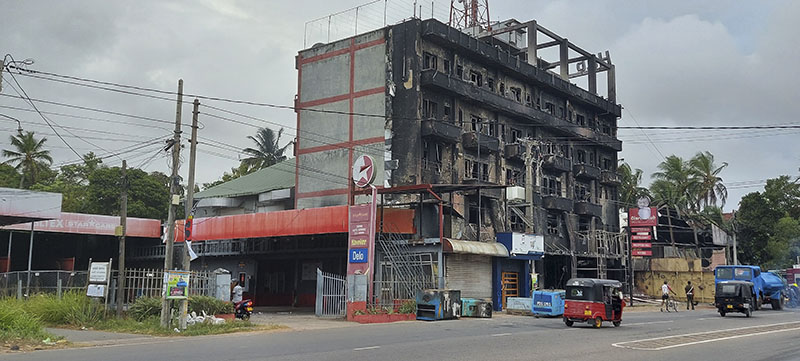 A fire broke out in the early morning on the 23rd of July at the YMCA International Center in Kurana, Katunayake. Many from the global YMCA community and APAY reached out to us with solidarity and support. We are eternally grateful to all in the greater YMCA family for their camaraderie and concern during this time.
While the fire completely consumed a small auto-repair shop adjoining the YIC, the same fire, by the providence of God Almighty, left the YIC mostly untouched. By the mercy of our Divine Father, there were no casualties nor injuries in the incident in either of the buildings. The flames consumed the façade of the building, which at this point mainly was cladding. The fire destroyed one bedroom and the building's elevator, while some damage was inflicted on five more bedrooms. At present, the cause of the fire remains unknown, but Police investigations are ongoing.
The YIC is in a widely renowned location for the global YMCA community. Hence since 2014, the entire premises have been on lease to Kelaniya Tourist Hotel Pvt Ltd (Hotel Clarion). While we will proactively oversee the reconstruction effort, no fiscal obligation will devolve to us, which is particularly opportune given the turbulent economic situation in the country. Of course, we have been in litigation with Hotel Clarion for a few years due to persistent defaults in paying rentals. The case was settled in March this year by new terms of engagement; however, the hotel company was once more in default of its obligation when the fire broke out.
The National Council of the YMCAs of Sri Lanka expresses its profound and lasting gratitude to the global fraternity of YMCA brothers and sisters who have solidarity with us, including a few who were physically present to offer their support during this time. The Almighty's guidance has allowed us to create a better and brighter National YMCA movement in a spirit of unity.
Read more: An unexpected fire broke out at the YMCA International Centre in Sri Lanka; buildings are partially damaged!