Regional Green Ambassadors Training, Chiangmai, Thailand
Last Updated (Friday, 11 October 2019 13:35)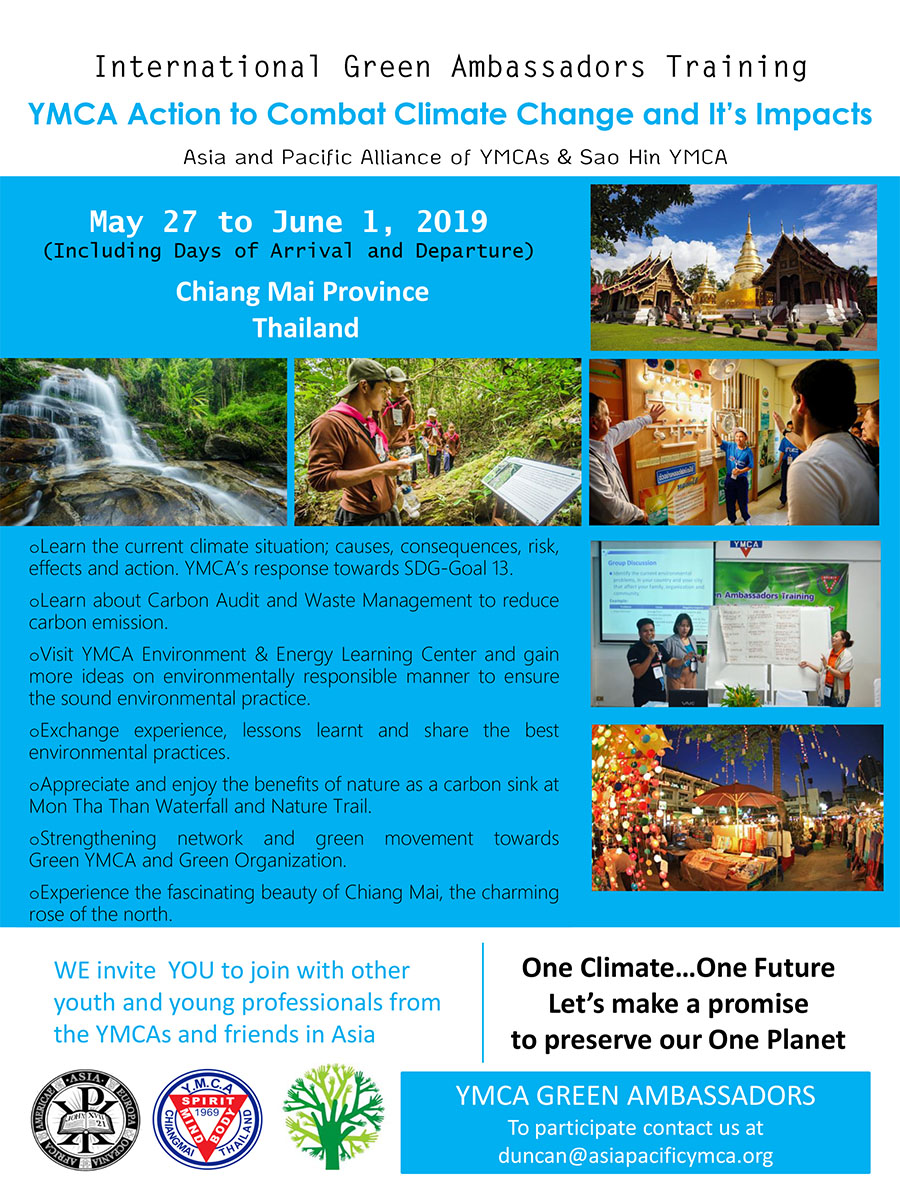 Asia & Pacific Alliance of YMCAs & Sao Hin YMCA
Regional Green Ambassadors Training
Let's Act on Climate Change
Restore our Nature & Promote Sustainable Livelihoods and Peace
November 18 -23, 2019
(Including Days of Arrival and Departure)
At the YMCA of Chiangmai, Chiang Mai Province, Thailand
1. Introduction:
Consumption of energy and natural resources is growing steadily, driven by economic development and population growth. Current patterns of energy and natural resource use, agricultural practices, and urbanization appear to be largely unsustainable and require urgent remediation. Moreover, destruction of forests and the considerable burning of fossil fuels are directly causing the level of carbon dioxide and other greenhouse gases in the atmosphere to rise.
The average global temperature on earth has increased by about 0.8° Celsius since 1880. By the end of this century, it will be several degrees higher, according to the latest climate research. Studies show that Asia is becoming a major contributor to global greenhouse gas emissions, and its ecosystems are under stress, with on-going, accelerating loss of biodiversity. This region is regularly identified as one of the regions that will be hardest hit by global warming. Since climate change is a global phenomenon that will require collaborative action by individuals, communities, governments, organizations and corporations to bring about meaningful change. We need urgent action at every level to combat climate change and its impacts.
The Asia and Pacific Alliance of YMCAs and Sao Hin YMCA recognize that education has an important role to play in improving the global response to climate change. That means all sectors have to work in direct implementation of climate change adaptation and mitigation especially to inspire others to work towards the necessary behavioral changes.
With our wide geographic reach, YMCAs have the ability to use this advantage to engage stakeholders in government, academic, media, business, and communities to create a force multiplier. Thus, the Asia and Pacific Alliance of YMCAs and Sao Hin YMCA, Chaing Mai, had cooperated to organize the YMCA Green Ambassadors Training Program since 2017.
The training expected that YMCAs of Asia and Pacific Region would be more sensitive towards the ecology, peace & living together within nature, responsive towards preservation of the environment, reduce their respective carbon emission, become Green and Low Carbon YMCA, and work towards climate justice with the concrete and innovative activities in ensuring quality and opportunity of climate change education in their respective YMCA.
To continue our mission for healthy and well protected environment supporting a sustainable living, the Regional Green Ambassadors Training on "Let's Act on Climate Change: Restore our Nature & Promote Sustainable Livelihoods and Peace" will be organized during November 18 – 23, 2019, in Chiang Mai, Thailand.
The Training aims to have practical and incremental learning effects for all the participants by sharing good practices and providing a practical opportunity to better understand the concept and practice of climate change education.
The training programs will be focused on natural resource preservation, energy conservation and alternative energy promoting, the impacts of climate change and green consumption as well as promote cooperation of all sectors. The participants shall be expected to commit themselves or form a 'Green Team' to work for carbon emission reduction in their own YMCAs and community in order to organize continuing activities to reduce carbon emission and promote green society.
2. Organizer:
3. Training Venue:
The International Hotel (Chiangmai YMCA)
11 Mengrairasmi, Sermsuk road,
Muang district, Chiangmai 50000, Thailand
Tel: (66) 53-221819 / Fax: (66) 53-215523
4. Goal of the Training:
5. Objectives:
Impart the current climate situation and YMCA's climate change response to the participants.

Exchange experience, lessons learnt and share the best environmental practices.

Gain the firsthand experience how to reduce greenhouse gas emission in order to develop the action plan to achieve the low carbon organization towards low carbon society.

Enhance 'Green Ambassadors' capacity for environmental and climate change education.

Strengthening network and green movement towards Green YMCA and Green Organization
6. Expected Outcome:
Participants, as Green Ambassadors, will actively work and encourage their respective communities, schools and YMCAs to reduce their greenhouse gas emissions.

Form a Green Team in local YMCAs, schools and communities.

More environmentally friendly practices in local YMCAs, schools and communities by integrating environmental issues into YMCA programs, conducting carbon audit and developing green action plan to reduce carbon emission.

More Green YMCAs and Green Community in various national movements in the Asia and Pacific.

Expansion of Green YMCA and Green Organization Network and become a strong movement response to YMCA Green Agenda.
7. Participants
8. Registration & Participation Fee:
National Movements are requested to select the most appropriate candidates for the Green Ambassadors as per the criteria laid down and submit the registrations to the APAY Secretariat before 5th November 2019. The registration form is attached.
Cost of participation US$ 200 (accommodation 5 nights, meals and field trips)
Registration Fee: US$ 50 dollars for Registration including US$15 for Green Fund
Subsidies:
Limited travel and participation subsidies are available for YMCAs with financial constraints. Registration and Green Fees are mandatory for all participants. Subsidy requests are to be sent to This e-mail address is being protected from spambots. You need JavaScript enabled to view it latest by 5th November 2019.
Visa:
For Visa purposes, Chiang Mai YMCA shall send you an invitation letter if you require. Please indicate your preference in the registration form.
Participants are requested to book their flights to Chiang Mai International Airport, arrival on 18th November and departure on 23rd November 2019. The Sao Hin YMCA will receive all the participants from Chiang Mai Airport.
9. Weather:
Chiang Mai's climate can be roughly divided in three seasons; cool season, hot season and rainy season. November is the start of winter in Chiang Mai and tourism high season. Average temperatures are a pleasant 28 degree Celsius in the daytime, and the skies are blue and clear. However, you still may get some rain and we recommend you to bring an umbrella or hat for rain or sun.
10. Contact Person:
Participants of YMCAs should contact:
Ms. Maria Cristina L. Miranda
Executive Secretary for Programmes
Asia and Pacific Alliance of YMCAs
6F, 23 Waterloo Road,
Kowloon, Hong Kong.
Email: This e-mail address is being protected from spambots. You need JavaScript enabled to view it
Tel: (852)-2780 8347
Fax: (852) 23854692
Participants from Non-YMCA should contact Sao Hin YMCA:
Ms. Patcharin Aviphan
Director
Sao Hin YMCA
103 Kor Klang Road, Maung District
Chiang Mai 50000, Thailand
Email: This e-mail address is being protected from spambots. You need JavaScript enabled to view it
Tel: (66) 53 140162
Fax: (66) 53 140164
……………………………………………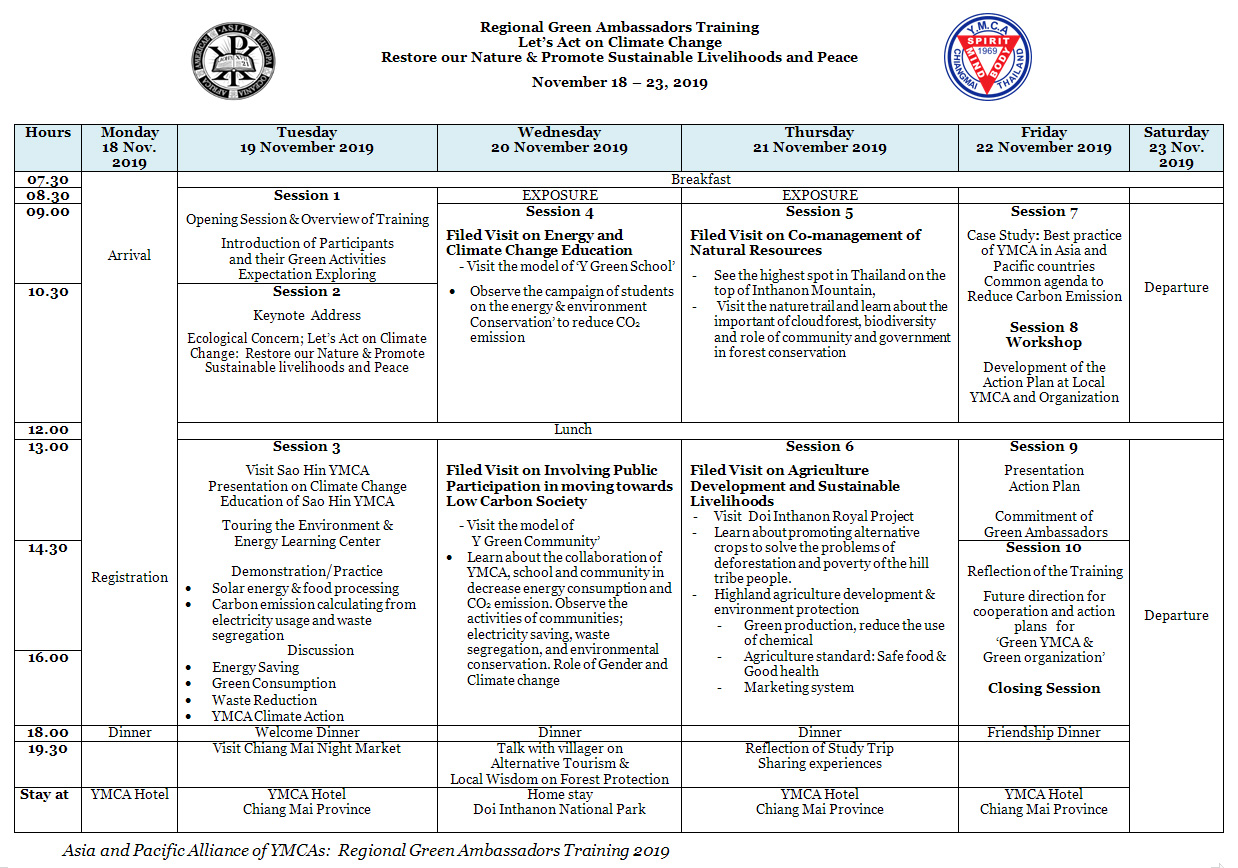 Session 1: Opening Devotion, Welcome & Overview of Training
Introduction of Participants, Expectation Exploring
Session 2: Ecological Concern; Let's Act on Climate Change: Restore our Nature & Promote Sustainable Livelihoods and Peace
Keynote Address: sharing information about the current climate situation; learn about the evidence that humans are causing climate change, with drastic consequences for life on the planet. Gain more understanding why environmental preservation and protecting natural resources, forest in particularly are important ways to reduce the amount of greenhouse gases emission.
Session 3 : Visit Sao Hin YMCA
Visit to Environment and Learning Center at Sao Hin YMCA, the participant will have more knowledge and ideas about the ways to reduce the CO2 emission from daily habits and help mitigate global climate change by touring 8 station of the exhibition at the center.
• Promote Low Carbon Society; gain firsthand experience how to calculate carbon emission from electricity usage and waste segregation.
• Group work on Energy Saving, Green Consumption, Waste Reduction and YMCA Climate Action
Session 4: Exposure on Energy and Climate Change Education at Y Green School and Y Green Community
• Visit model school and community on energy and environmental conservation; learn about the cooperation of YMCA, school and community on carbon emission reduction by decrease energy consumption. Observe the green activities; electricity saving, waste segregation, and environmental conservation towards the low carbon society. Role of Gender and Climate change.
Session 5: Exposure on Co-management of Natural Resources
At the nature trail of Doi Inthanon Natianl Park; be inspired with beautiful and clean natural environment. Understand how multiple stakeholders manage protected forest and biodiversity through participatory processes, and how community based natural resource management works in Thailand in order to support sustainable livelihoods.
Enjoy a nice short trekking along a beautiful view and forest and learn about the importance of cloud forest which plays an important role in climate modulation, carbon sequestration and preventing landslides.
Realize the important of living together within nature and peace.
Session 6: Agriculture Development and Sustainable Livelihoods at Doi Inthanon Royal Project
Filed Visit on and Sustainable Livelihoods
- Learn about the promoting of agriculture development for the hill tribe people introduce alternative crops, reduce the use of chemical and support marketing system which aims to solve the problems of deforestation and poverty by reflecting King Rama 9 desire to improve the lives of the poor and needy.
Session 7: Case Study: Best practice of YMCAs in Asia and Pacific countries
The best practice and case study on environment and climate change education from participants from YMCAs and schools.
Discussion and identifying environmental problems that should be the common concern for climate action to reduce carbon emission that contributes to SDG and Paris Agreement.
Session 8: Action Plan
Development of the Action Plan for implementation of green movement to Reduce Carbon Emission at Local YMCA and Organization.
Session 9: Presentation: Action Plan / Commitment of Green Ambassadors
Session 10: Reflection
Reflection of the training, future direction for cooperation and action plans for 'Green YMCA & Green Organization
Closing Session : Closing ceremony /Certificate award to participant