Youth Journal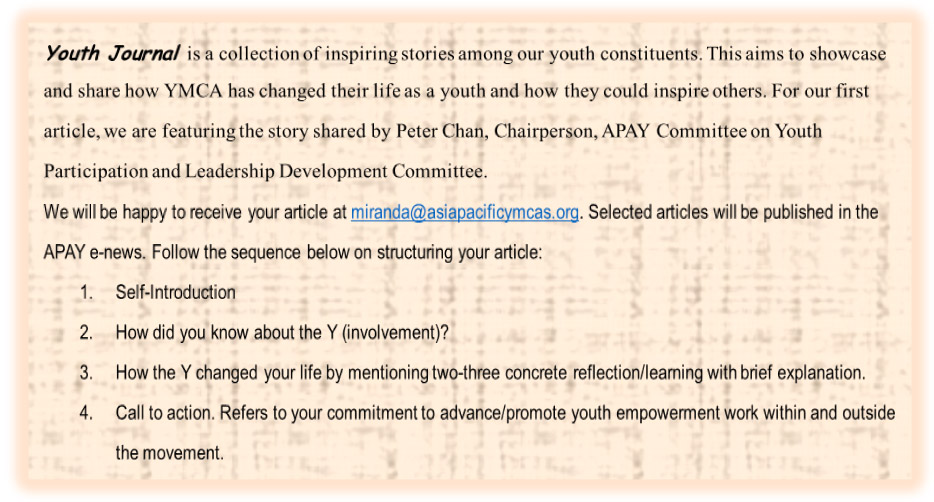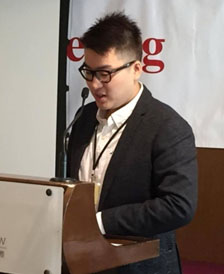 Rewarding from the Past, Devoting to the Future
By Peter Chan
Hello everyone, I'm Peter from Chinese YMCA of Hong Kong and I'm grateful to have the opportunity to be the Chairperson of the YPLD Committee 2016-2019.
My Y story started with a decision when I was a freshman in the university to join the Uni-Y as a student executive committee member. As such I help in organising various types of activities for my university students, as well as serving the needy in society. I always believe that it is better if we can mobilize more people to care for our city and the world, so I appreciate the wide range of activities that Uni-Y engages in, from concerning the local social issues to leading others to understand issues of our global village. But after experiencing the Y for several years, I find that YMCA is much more than that.
First, YMCA is about bonding and is like a family that cuts across geographical boundaries. I remember that my first international YMCA experience was attending the APAY Regional Youth Conference, where I met lots of friends from different parts of Asia who all carried same aspirations – make the world a better place for all. We all cared about the society, and we all liked to share our own experiences! Whenever we danced, sang and discussed together, I felt close bonding and family connection! After that, I know that around the world there are always friends sharing same mission as I do, which gives me loads of support in my future work in the Y.
Second, YMCA is all for the youth. When I have become the Chairperson for YPLD, I discovered that all national movements and all leaders are caring for the youth. They all showed countless support to the youth work and gave precious opinions when we initiated new ideas during the annual Executive Committee Meeting. And when it was behind-the-scene, all of them are cheerful leaders, who were always willing to share and chit-chat with youngsters! Their willingness to give reflects their continuous backup on us, and echoes with the mission of 'to serve, not to be served'! Therefore, they are all my role models that no matter what I will do in the future, I will keep the heart to serve and help the future leaders for the sake of our beloved society.
Looking forward to the future, from the perspective of my current position in the APAY, I would like to encourage more young people in this region to know more about what is happening in our world. Leaders cannot be nurtured in one day so we need to provide more platforms for them to understand and grow in experience. I believe that YPLD can continue with its good work in initiating more region-wise trainings, which are absolutely beneficial to all.
When on one day, I step down from the YPLD Committee, I am still determined that I will continue to support youth work by encouraging youth to try out new things! From my point of view, youth empowerment is to give our youth more chances to take up responsibilities and make their dreams come true. Thus, allowing them to try is always the key to youth empowerment! With the collective efforts of all of us, I am sure that it will come true! Be stronger together!