We only have one planet
Last Updated (Monday, 07 December 2020 15:25)
We only have one planet. We should all do our part to ensure that it's protected by combining our ways of living with a deeper respect and understanding of what nature provides. The nature provides us foods, natural resources and cleans air in the beginning. But as human, we have been consuming more than what we need. We are following the modern ways of living, invention to high technologies and materials. We rarely consider whether the materials we use are what we 'need' or simply what we "want". We use materials without regard for the effects of our consumption to the future generation.
Today, we are facing a lot of environmental impacts in our daily life such as global warming, climate change, water pollution, air pollution, soil pollution, plastic pollution and other ecological problems. Approximately seven (7) million people worldwide die prematurely each year from air pollution, with about four (4) million of these deaths occurring in Asia-Pacific. Ninety-two per cent of people worldwide does not breathe clean air and air pollution costs the global economy $5 trillion every year in welfare costs.
Plastic pollution is also big issue for water pollution and air pollution. People are using a lot of plastic products. It becomes waste to oceans and landfills. Plastic waste is littering our oceans and threatening the lives of millions of marine animals. Seals, whales, dolphins, seabirds, fish, crabs and many other sea animals are dying and becoming sick because of this deadly environmental concern.
So, what should we do for the environmental conservation for our future generation. For the sustainable development in our lives, we have to balance environment, social and economic sectors. We need to develop these three things equally. We need to evaluate ourselves- what are our bad habits and what behavioral changes we must do.
Promoting Environmental Conservation good practices
Myanmar YMCA is one of the organizations working for the environmental conservation in Myanmar and environment conservation is one of its organization values. Myanmar YMCA is promoting environmental conservation awareness to the people in the community by conducting training, workshop, tree planting campaign, plastic collecting campaign, and bicycle campaign. The staff members and volunteers have the chance to participate in International Green Ambassador training and Climate Change e-learning program that are organized by APAY and Chiang Mai YMCA. We learned a lot of things and good practices from these training and courses.
| | |
| --- | --- |
| | |
| ↑  Conducting Environment Conservation Training | ↑  Tree Planting |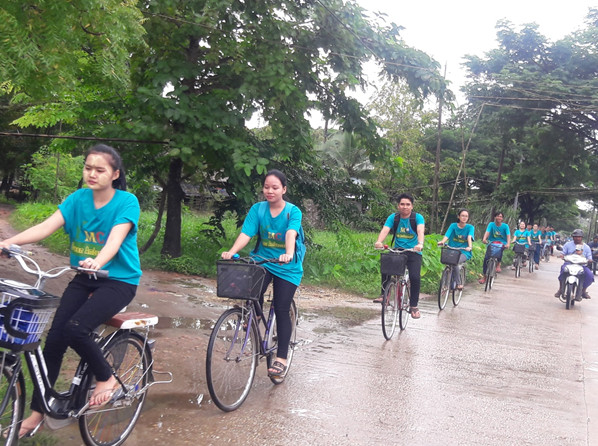 ↑  Bicycle Campaign for reduce Co2 in transportation
Changed LED light bulb to reduce electricity
To reduce carbon emission and greenhouse gas, we need to reduce electricity in our daily life. Y's Men Club International (YCI) supported Myanmar YMCA to change the LED light in the office. The LED light bulb was an effective way for the YMCA to reduce not its CO2 emission but also the electricity costs. Moreover, a no use of air con during Wednesday in YMCA office contributes to lesser carbon emission..
Garden Reading Corner
A Garden Reading Corner is also created in the office. It is decorated with flowerpot in in order to reduce stress. Every staff member has to reduce the plastic and paper consumption in the office. Every Friday, all the staff members have to participate in plastic collecting campaign and garbage cleaning around the office. Myanmar YMCA staff also follows a waste management. Each of them are aware of the principle of Reduce, Reuse, Recycle and Avoid.
Environmental conservation comes in many forms and it reminds us to be mindful of our daily choices. No matter how busy our lives are, it remains fairly easy to make small, yet necessary, changes for the good of the Earth. We can do so many things for environmental conservation, but starting with small action can make a difference especially if we work together.
~ Saw Tun Lu (Myanmar YMCA)