APAY @ COP26 – A Reflection
Last Updated (Friday, 03 December 2021 16:26)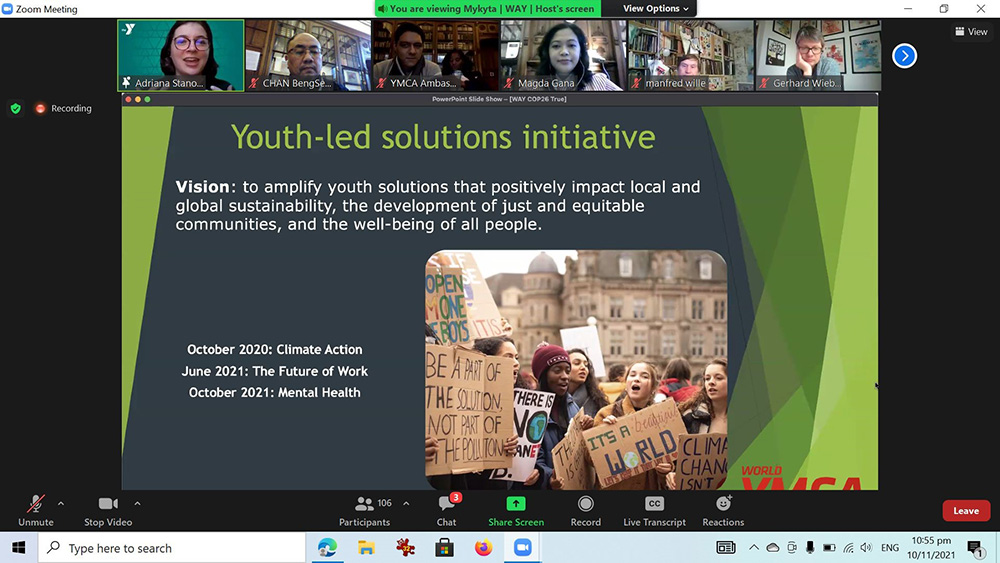 The United Kingdom hosted the 26th UN Climate Change Conference of the Parties (COP26) in Glasgow on 31 October – 13 November 2021. The COP26 Summit brought parties together to accelerate action towards the goals of the Paris Agreement and the UN Framework Convention on Climate Change. YMCA, which has ECOSOC consultative status with the UN, attended COP26 with a delegation of 18 young YMCA ambassadors worldwide.
Travel restrictions and availability of vaccinations for young people proved a big challenge for the Asia Pacific region. Except for a few countries in the NE Asia and Pacific region, all countries in AP were on the red list of UK immigration, which meant a 10-day quarantine upon arrival in the UK. Coupled with that, many young people within our region are still waiting to be vaccinated against COVID-19. Fortunately, the red list was removed at the last moment, and we were able to send Magda Gana, Makati YMCA, as our only youth YMCA Ambassador for COP26. She registered for an official badge for the 2nd week of COP26 (8-12 November 2021). Magda participated actively in Glasgow and made up for our small representation. Magda moderated the Global Online Briefing on COP26 and was interviewed by several media organisations. Magda was a member of the design committee for World YMCA's Youth-Led Solutions Initiative.
Through the various activities and media publicity, we highlighted the voices, actions and commitment of young people in the YMCA combating climate change. A few selected youth-led initiatives were shown in the film premiere, and several outspoken youth interviewed by the global media were present at COP26. Some were fortunate to meet with and have short discussions with Party Members from their respective countries and including John Kerry from the USA. This was an excellent opportunity for the young people to challenge negotiators at COP26 to consider seriously the impact of their decisions on the earth that future generations will inherit.
The APAY and the Community of Impact on Climate Change were tasked to draft the strategy and roadmap for YMCA to increase our contributions and have higher visibility at COP-26. The two other major contributions of the APAY to the COP26 activities in Glasgow were:
i) The online Climate Change Briefing during the COP26 for the global YMCA community was conceived and organised by the APAY.
ii) APAY also helped draft the Policy Framework "COP26 and YMCA's commitment to combating climate change - A Green New Deal for the global YMCA Movement," shared during the online briefing.
The main objective of the virtual event was for the global YMCA community to connect with what the YMCA Youth Ambassadors are doing at COP26 in Glasgow and understand the main issues and advocacy of the YMCA concerning the climate. About 110 people logged in to participate in this event. Annika Rach from Bread for the World provided insights into the issue of Climate Justice from the perspective of Loss and damage negotiated at COP20. Four other YMCA Ambassadors shared their experiences and observations in monitoring the negotiations within the Blue Zone. A short video introducing the APAY Green Ambassadors program was presented, and the Y-USA announced more seed grants to initiate or scale new youth-led solutions in early 2022.
The virtual event was an excellent opportunity for the global YMCA community to connect, understand and commit to common issues and advocacy of the YMCA for the climate emergency.
b) Outcome of COP26
COP26 is supposed to be the 5-year assessment after the Paris Agreement. In brief, we can say that COP26 achieved some minor progress, but there is still a long way to go.
Failure - for Nationally Determined Contributions.
By the end of COP26, 151 countries had submitted new climate plans to slash their emissions by 2030. However, commitments put forward by countries are still very far from reaching the expected target to limit global warming to 1.5C degrees. It was agreed that countries would meet next year to pledge further cuts to carbon dioxide emissions (CO2).
Failure - for Climate Fund.
In 2009, rich nations committed to mobilizing $100 billion a year by 2020 and 2025 to support climate efforts in developing countries. In the Glasgow Climate Pact, it was noted: "with deep regret" that developed countries failed to meet that goal in 2020. Only $79.6 billion were committed by 2019. The Climate fund is vital for vulnerable countries struggling to rebuild and respond to the unavoidable impacts of climate change.
Positive - For the first time at a COP conference, there was an explicit plan to reduce the use of coal - which is responsible for 40% of annual CO2 emissions. Although the attempt to phase out coal was blocked by China and India, the call to "phase down" unabated coal use is, nevertheless, unprecedented in the UN climate process.
Positive - World leaders agreed to phase-out subsidies that artificially lower the price of coal, oil, or natural gas. However, no firm dates have been set.
Positive - Leaders from more than 140 countries - with about 85% of the world's forests - promised to stop deforestation by 2030.
Positive - More than 100 countries agreed on a scheme to cut 30% of methane emissions by 2030. Methane is currently responsible for a third of human-generated warming. It is commonly described as having 28-34 times the warming potential of CO2, but this is a little misleading. With a 12-15 year lifespan, methane traps around 80 times the heat CO2 does over 20 years, dropping to 28-34 times over a century.
c) Challenges for the APAY
APAY has a strong commitment to environmental issues and to combat climate change.
The APAY has been persistently supporting and inspiring the YMCAs in the region to be actively engaged in green activities/programs to make our earth more sustainable and eco-friendly. The emphasis is also to reduce carbon footprints created by our YMCAs to combat the adverse effects of climate change.
Advocating Climate Justice
APAY will consolidate and strengthen the program component on Climate Change. We are conscious that the impacts of climate change affect women and men differently and that the poor and vulnerable are least responsible for but most impacted by climate change. APAY will continue to network with other NGOs/CSOs to increase our capacity and expand our advocacy for climate justice in combating climate emergencies.
Investing in Youth-led Solutions
YMCA's Youth-Led Solutions Summit on Climate Action assembled over 700 participants from around the world. At the Summit, young people could create teams and develop local solutions addressing the climate crisis in their contexts. Investing in Youth is investing now and in the future. YMCA believes that every young person should live in a sustainable environment. YMCA believes that every young person can contribute to reducing environmental degradation and its consequences. YMCA should commit to:
 - mainstreaming structures to ensure youth participation in all levels of decision making
 - capacity building, support and investment in youth-led innovations to pilot new models and interventions
Personally Determined Contributions (PDC)
Nation-states have been requested to submit more ambitious Nationationally Determined Contributions (NDC) before COP27. Climate change calls for system change, and climate change also calls for lifestyle and behavioural change. Everyone should commit themselves to personal acts of mitigation and adaptation - to set, commit and be accountable to ambitious goals in reducing environmental degradation
to keep the 1.5C alive, and we should share the responsibility. Individually and as an organisation. We should also declare our commitments (Personally Determined Contributions). We should make commitments to lifestyle changes. Along with our promotion of recycling, we need to review and reduce our consumption habits. The YMCAs should also make commitments as an organisation (Organisationally Determined Contributions)... to be Green YMCAs and be Carbon Neutral by 2030.
Green YMCAs
YMCA is committed to educating young people on the importance of climate change and taking action on reducing their carbon footprint emissions. The YMCA, as an organisation, is also committed to working towards becoming a Green YMCA, through
 - Green management – procurement, consumption, reuse, upcycling
 - Sustainable practices for all programs and activities and Zero waste policy
 - Resource-efficient buildings and carbon audited facilities
 - Declaring YMCA Organisationally Determined Contributions (ODC)
 - Commitment to being a Carbon Neutral YMCA by 2030
 - Promoting the Green Economy with responsible and transparent business models 
 - Practising Eco-ethical investments and using the YMCA Green Fund to support mitigation and adaptation projects
Imagine... 7 billion trees
Leaders from over 140 countries have committed to stop deforestation by 2030. We could reverse the effects of deforestation by planting more trees. Planting trees have been a popular activity in many of our YMCA programs, especially at GATN programs. We would encourage more such actions, especially to offset the carbon footprint of our programs. The Saohin YMCA has been promoting and encouraging people to plant a tree on their birthday. Imagine... 7 billion trees can be planted each year if this practice becomes a global movement.
By Chan Beng Seng
Co-Ordinator, GATN