Last Updated (Tuesday, 02 November 2021 15:36)

'Working Together to Combat Climate Change: A Path to and Beyond COP26'
Forum on Climate Action; 25 October 2021
One hundred ten participants from YMCAs of Australia, Bangladesh, Cambodia, Hong Kong, India, Laos, Malaysia, Myanmar, Philippines, Singapore, Sri Lanka, Taiwan and Thailand joined the virtual Forum on Climate Action organized by APAY on 25th October 2021 at 3-5PM HKT. The forum generally aimed to create a platform for YMCA staff, leaders, volunteers and youth to know and understand the importance of joining the governments, NGOs, trade unions, businesses and everyone else with any interest in climate change to review and negotiate global action. Thus, the forum adopted the theme, ''Working Together to Combat Climate Change: A Path to and Beyond COP26'.
The theme was adopted as a timely reminder for organizations like YMCAs to continuously work together and accelerate its efforts in achieving the APAY goal of ensuring that National YMCA movements in Asia and Pacific region are more sensitive towards the ecology, responsive towards preservation of the environment, and work in connection with Sustainable Development Goals (SDGs) on climate change toward a carbon neutral YMCA by 2030. The COP26, also known as the Conference of Parties' 26th meeting, will take place in 31 October-13 November 2021 in Glasgow, Scotland is believed to provide a sense of urgency to the call of action to all parties involved.
The forum highlighted the panel presentations on YMCA at COP26 by Kerry Reilly Chief Executive/National General Secretary of Scotland; and Climate Justice and the Liability Project by Virginia Benosa-Llorin, Senior Campaigner and the Project Lead of the Climate Justice and Liability Campaign of Greenpeace Philippines; and APAY Road Map to Combat Climate Change by Maria Cristina Miranda, APAY Executive Secretary.
In relation to YMCA's participation to COP26, Reilly mentioned that YMCA has had a consultative status with the United Nations and for many successive COPs has been attended with delegation of young people to observe, influence and learn. She further stressed that YMCA will attend COP26 with inspiring young leaders from around the world, elevating their stories and advocating for greater investment in youth-led solutions and generating media content. The young leaders will accordingly be available for speaking opportunities, panel discussions, interviews and media activations. More importantly, there will be ten youth ambassador's representing YMCA who will be lobbying to decision makers and promoting message at COP26.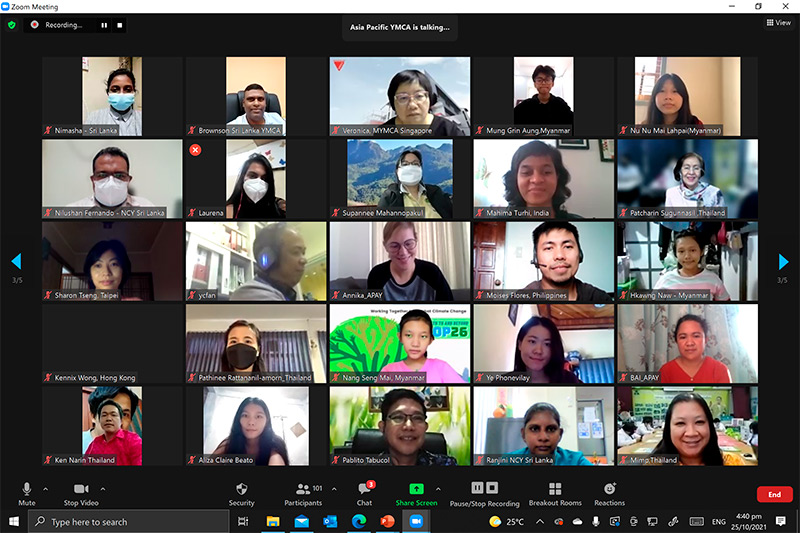 On the other hand, Llorin of Green Peace Philippines highlighted the importance of working together in making sure that climate polluters such as fossil companies are made liable to the adverse effects of climate change to people. She cited that 32 NGOs, people's organizations and individuals including Greenpeace Philippines filed a petition before the Commission on Human Rights to investigate the role of the carbon majors in human rights harm arising from the climate change. Accordingly, carbon majors are the companies identified as major climate polluters. She emphasized that the petition was anchored on the peoples' rights to live in a healthy environment and safe climate. She also stated that this move is rooted on the principle that states have duties and legal obligations to act in the matter that protects people from the impacts of climate change. Moreover, the petition is anchored on the legal responsibilities of businesses to prevent, mitigate and remedy the adverse the climate related human rights through the impact that are link to their products and services.
The input concluded with the presentation of various activities, projects and programs conducted by APAY throughout its decade of commitment to be a model organization in terms of environmental programs and practices including various ways of reducing its own carbon footprints and offsetting the remaining carbon emissions. Miranda mentioned the on-going activities related to the Quadrennial Program Plan (QPP) Program Thrust on Environment and Climate Change such as Green Ambassadors Training, Green Team, Green Fund, Global Alternative Tourism (GATN), Youth-led projects on climate change among others.
The participants and resource persons were welcomed and greeted by Nam Boo Won, APAY General Secretary and Patcharin Sugunnasil, Board of Director of Chiangmai YMCA. The forum was moderated by Karren Joy Fetalvero, WAY Executive Committee Member from YMCA of Makati, Philippines and helped organized by the APAY Green Team.
- Maria Cristina Miranda, APAY Executive Secretary