Last Updated (Tuesday, 31 August 2021 15:19)
THE NATIONAL COUNCIL OF YMCAs OF INDIA
Observance on International Youth Day 2021
"Transforming Food Systems: Youth Innovation for Human and Planetary Health"
On August 12, 2021, on ZOOM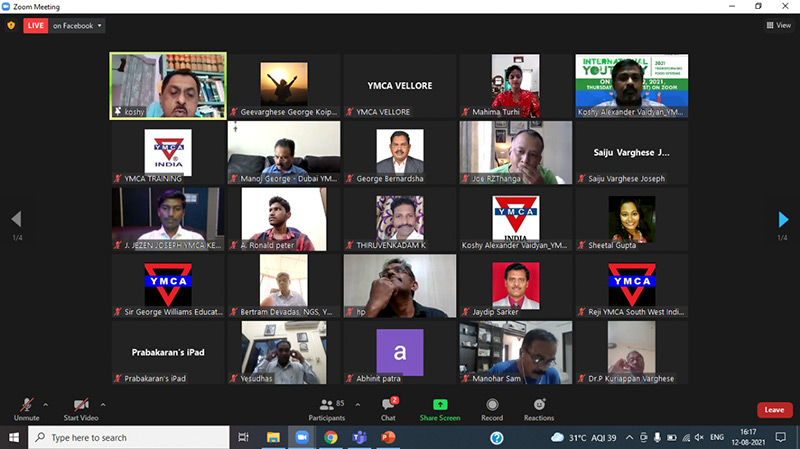 The International Youth Day is celebrated with great joy, abd enthusiasm by the National Council of YMCAs on 12th August 2021 on ZOOM. The theme for the year 2021 is "Transforming Food Systems: Youth Innovation for Human and Planetary Health"
The observance on International Youth Day was virtually organised by the YMCA National Organizing Committee for Youth Empowerment, Gender and Sports & Physical Recreation under the aegis of The National Council of YMCAs of India on 12 August 2021 on ZOOM. International Youth Day provides an opportunity for recognizing and promoting youth as positive agents of change, as well as key actors relevant to the attainment of sustainable peace and development in line with the United Nations Sustainable Development Goals (SDGs).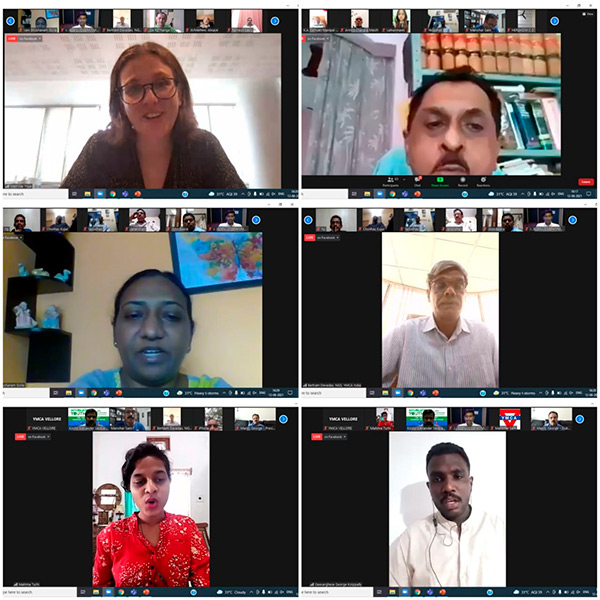 The programme started with a word of prayer by Mr. J. Jezen Joseph, Youth Representative, Southern India Region of YMCAs and invocation song led by the students of Sir. George Williams Education Institute, New Delhi. The National President of the NCYI, Hon'ble Justice Jacob Benjamin Koshy was the Chief Guest and he delivered the inaugural address., Mr.Gaurav Kalyan, Vice President, Chairman, Youth Empowerment, Gender, Sports / Physical Recreation has presided over the meeting. Mr. Geevarghese George Koyipallil, Vice Chairman of South West India Region of YMCAs welcomed the participants. The Guest of Honor address has given by Ms. Mathilde Emilie Tune, Chairperson, Strategy Committee of World YMCA, Norway and Mr. Bertram Devadas, The National General Secretary of the NCYI. Keynote Address was delivered by Ms.Vani Bhushanam Golla, Scientific Officer, Department of Sports Nutrition Human Performance Lab, Sports Authority of India, New Delhi. The theme of International Youth Day 2021, was "Transforming Food Systems: Youth Innovation for Human and Planetary Health", highlights the success of such a global effort will not be achieved without the meaningful participation of young people. International Youth Day was celebrated to recognize the efforts of the world's youth in enhancing global society and to draw attention regarding cultural and legal surrounding youngsters. Also, the day promotes ways to engage youngsters in making positive contributions to their communities. The Pledge for Good Food Habits has taken on behalf of participants by Mr.A. Ronald Peter, Vice Chairman, South Eastern India Region of YMCAs. The Felicitations were delivered by Mr.Aswin Varghese Mappilai, Youth Representative, India Area, Ys Men International. Mr. Koshy Alexander Vaidyan, Secretary of National Youth Work Department of NCYI, delivered vote of thanks to all the guests and participants. The programme anchored by Ms. MahimaTurhi Agarwal, Youth Forum, Chairperson, Central India Region of YMCAs. The programme ended with the closing prayer of Mr.Vipul Masih. More than 88 youth from across India took part in the event.
Bertram Devadas,
National General Secretary,
National Council of YMACs of India.