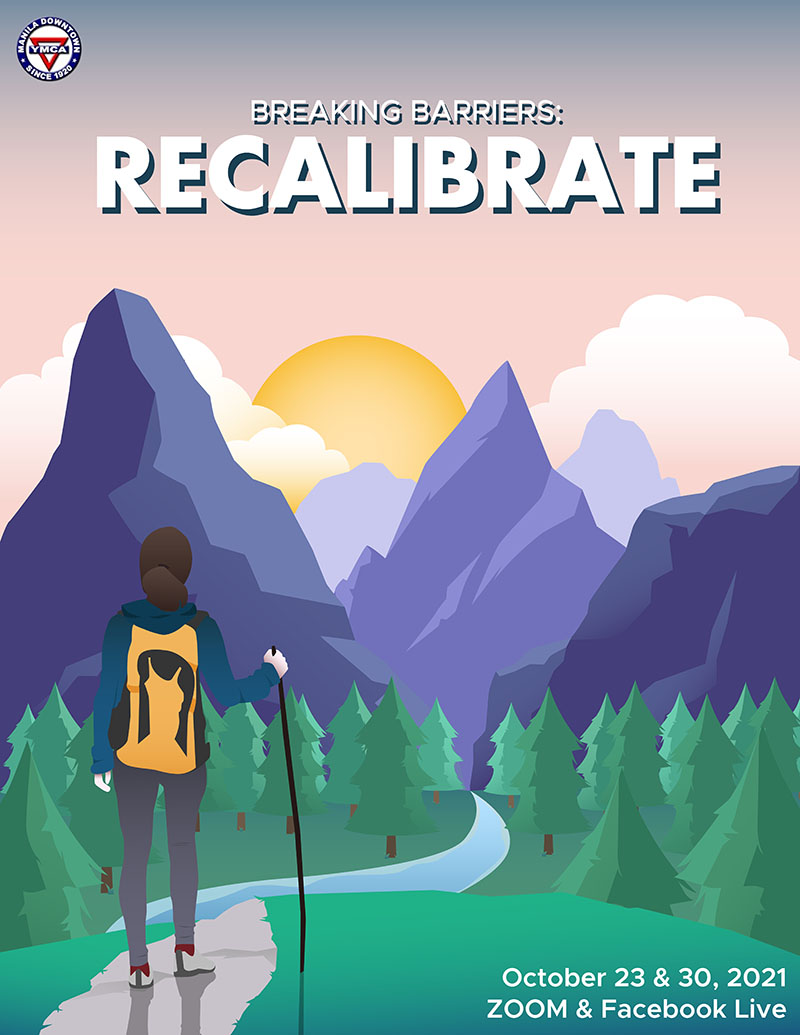 Breaking Barriers: A Discourse on Mental Health
Manila Downtown YMCA is launching its mental health initiative in the "new normal" entitled "Breaking Barriers". This initiative will run every Saturday for the whole month of October. Events will be streamed both in Zoom and on Manila Downtown YMCA's Facebook page.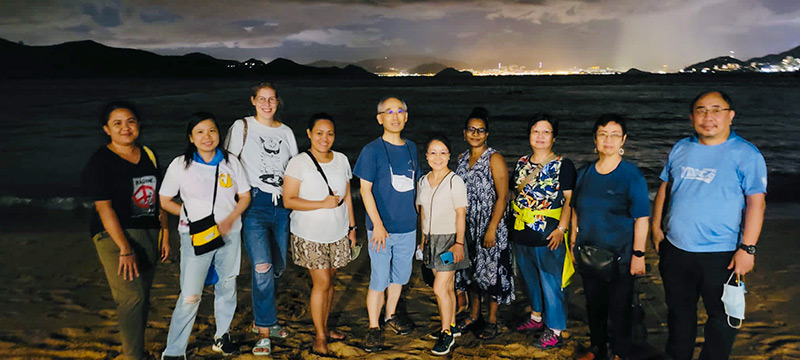 APAY Staffs Retreat: Time for Reflection and Renewal
The Asia and Pacific Alliance of YMCAs (APAY) staff went for a two-day retreat on September 23-24, 2021, at Bethany Retreat Center in Cheung Chau Island, Hong Kong. The retreat was an effort to create a safe space designed to reflect and share staff's well-being amidst the current pandemic. Perhaps this is the first time APAY held a staff retreat !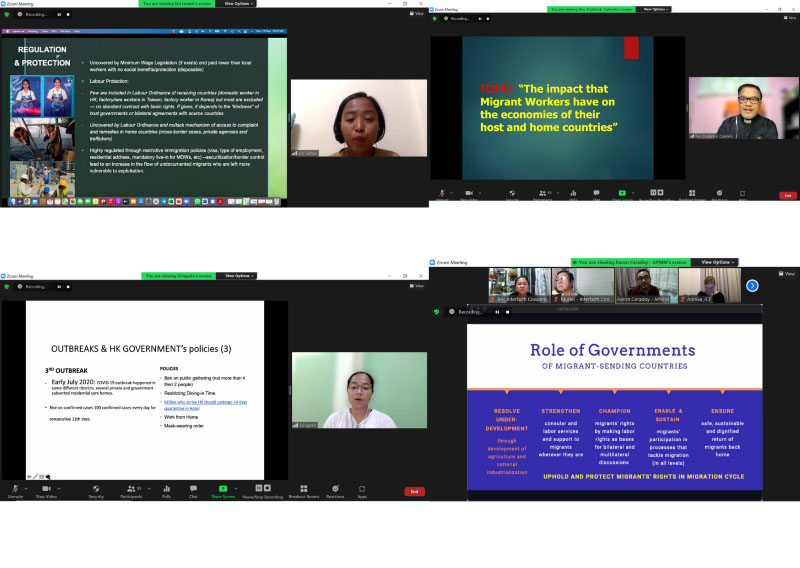 Workshop on the Impact of the Pandemic on Migrant Workers in Asia
The Interfaith Cooperation Forum organized the 5-day Virtual Thematic Workshop on The Impact of the Pandemic on the Situation and Rights of Migrant Workers in Asia from 13th to 17th September 2021. Sixty participants from ten Asian countries, namely, Bangladesh, Philippines, Timor-Leste, Nepal, Sri Lanka, India, Vietnam, Cambodia, Thailand, and Myanmar, attended the workshop to explored the underlying issues afflicting the migrant workers.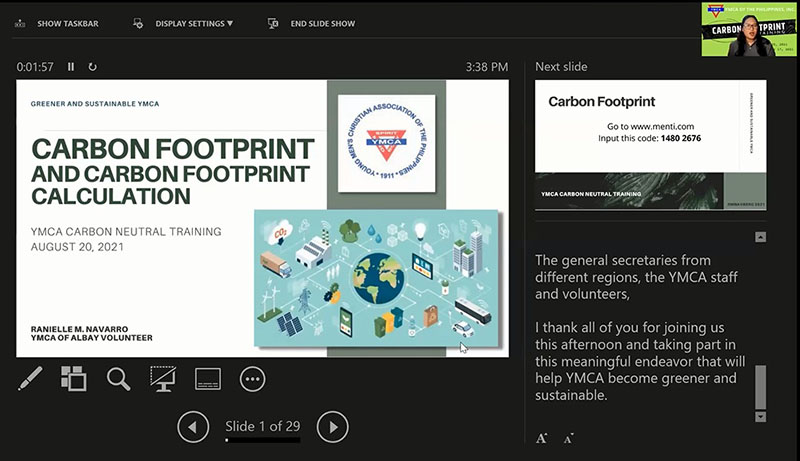 Walk the Talk: YMCA Philippines towards a Carbon Neutral YMCA
Over the past years, the Philippines had been experiencing the impacts of climate change and global warming. Extreme weather events and unpredictable conditions happen that aggravate the vulnerability of its population and development. In response to this continuous challenge, the YMCA of the Philippines gathered forty-four (44) staff, volunteers and lay leaders from twelve (12) local YMCAs for a 2-day virtual training session on How to be a Carbon Neutral YMCA.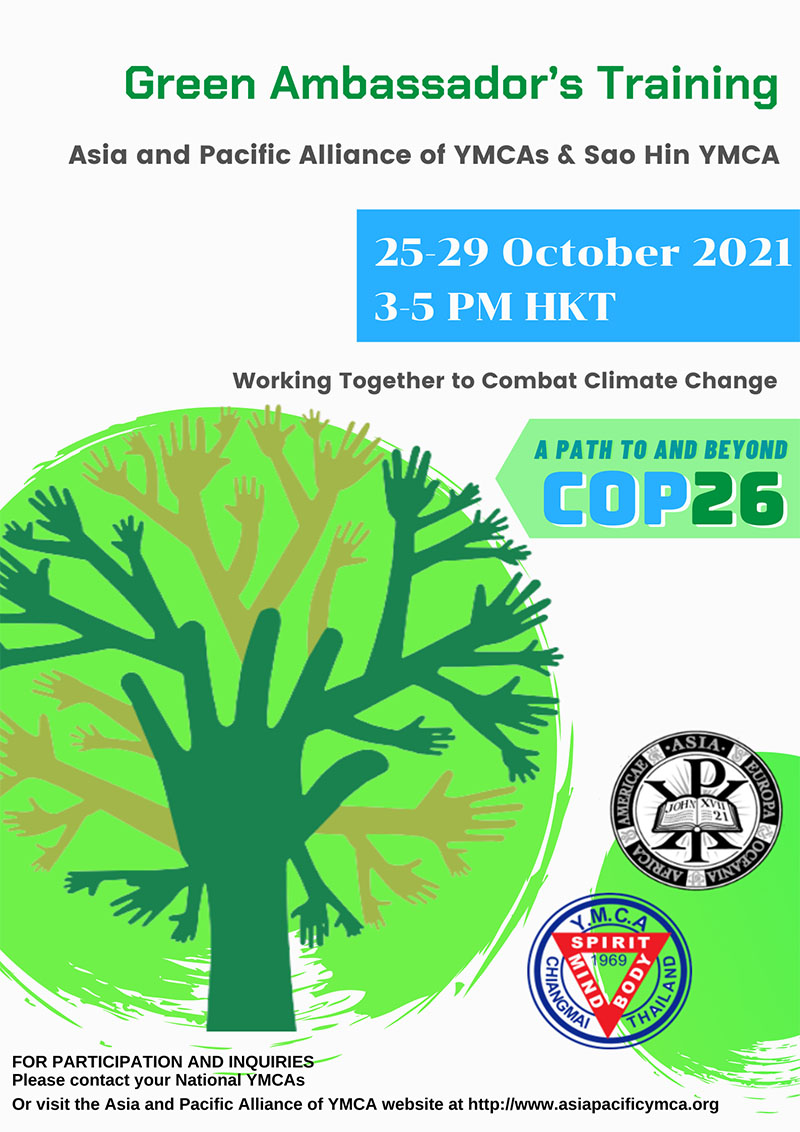 "Working Together to Combat Climate Change:
A Path to and Beyond COP26"
A Forum on Climate Actions on the 25th of October at 3-5 PM HKT will include presentations on COP26 and YMCA Policy Framework on Climate Change Explained; COP26 and the Global South Perspective; and the APAY Road Map to Combat Climate Change. The said forum is open to the public. The NGS, YMCA staff, lay leaders and volunteers are highly encouraged to join.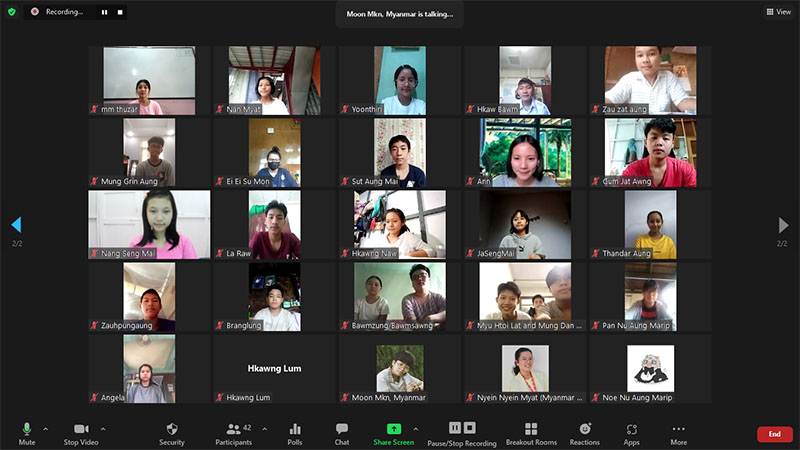 Capacity Building Training for Volunteers & Community in Myanmar
In current situations in Myanmar, young people are facing challenges and losing hopes and aspirations for the future. At the same time, COVID 19 pandemic has affected their opportunities to attend schools, engagement in society and education and political development. Therefore, Myitkyina YMCA addresses the formal opportunity, psychosocial support to the young generation and invest in the most effective programmes.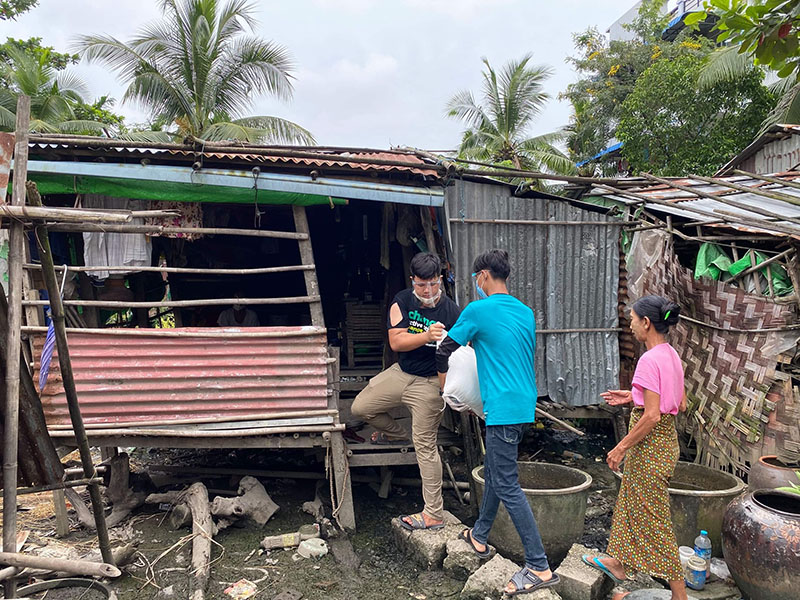 Three Beacons of Resilience, Service and Hope
"Through COVID, coup and so many other constraints, we are totally committed to serving the young people of Myanmar", says YMCA Myanmar's National General Secretary Maung Maung Win. We spoke to three inspiring young people at the heart of the YMCA Myanmar network, who are powering positive change in their communities. Read the context and the stories of Mindy, Moon and Kaung Khant.
Read more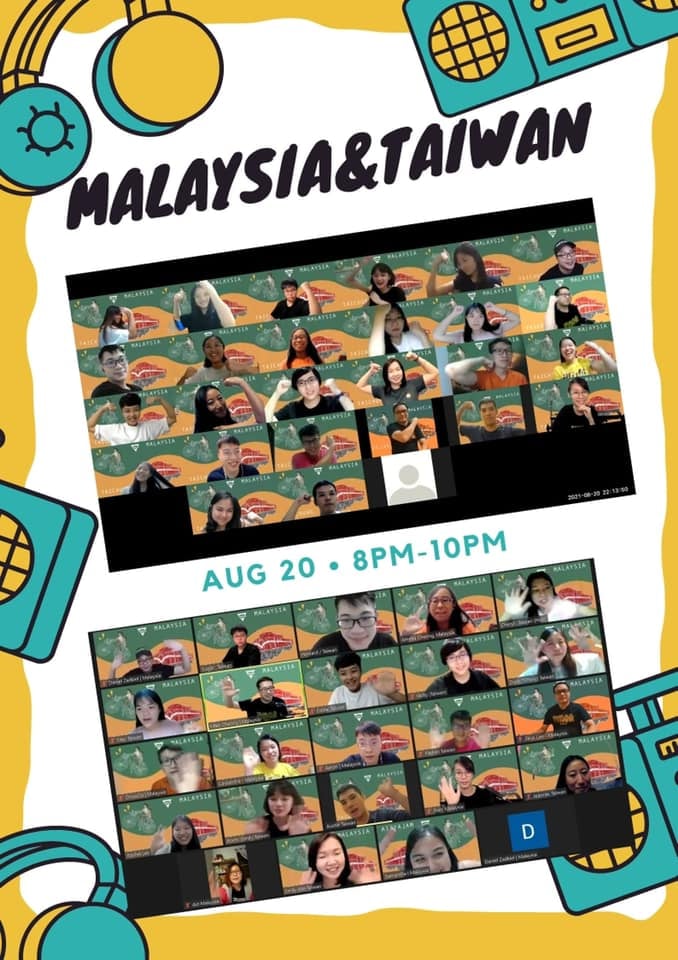 "Virtual Volunteers"
When Covid struck the world, all outdoor activities were barred, people locked up at home like a bird in a cage. Many researches have shown that due to the pandemic and lockdown, mental health has been troubled. "Virtual Volunteer" program, focused on mental and spiritual support because this is equally important for a community. With over 12 working partners, youth gathered from various countries to heal hearts with warmth, care, and sincere concern.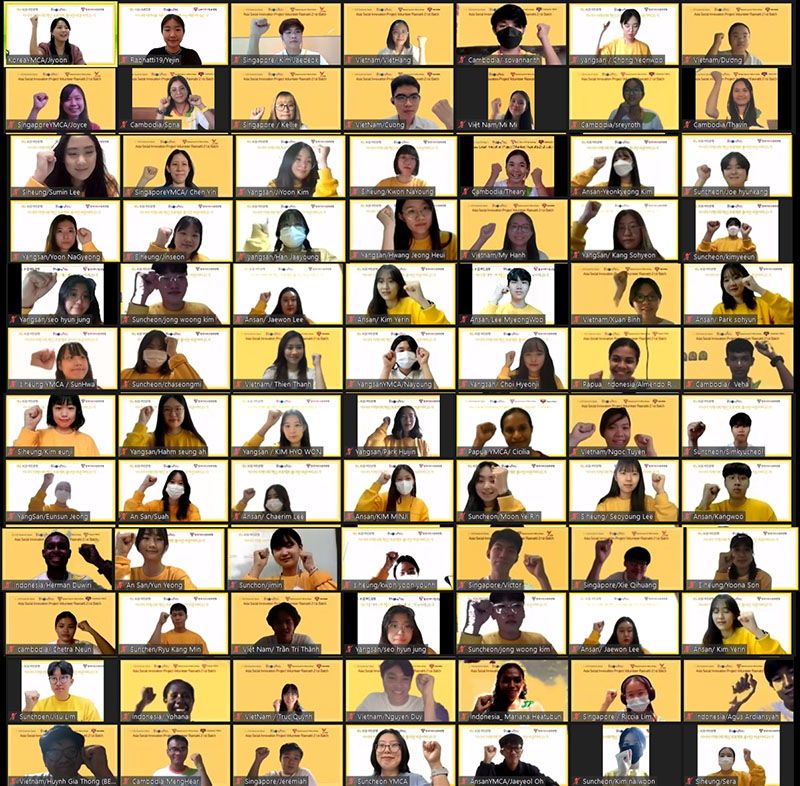 "RaonAtti" to create a sustainable community in Asia with Youth Volunteer
"RaonAtti", which means "good friend". Since last year, most countries in Asia have closed their borders due to the COVID-19 pandemic. Collaborated efforts worldwide to resolve the pandemic are needed more than ever to solve global problems together through the interconnection of the global society once again.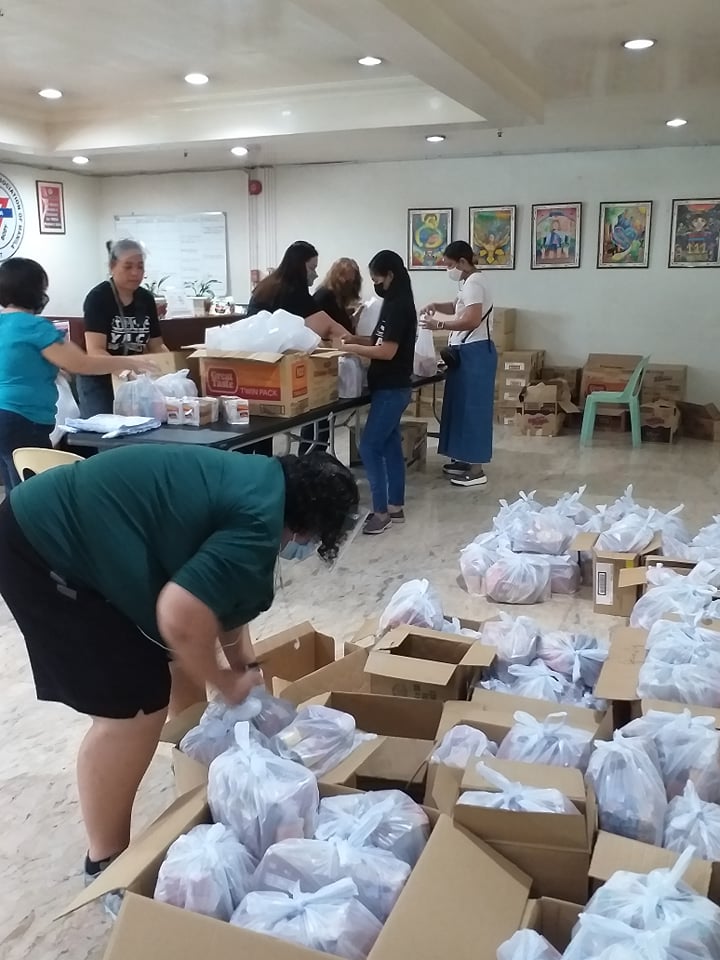 YMCA Manila marked the 114th Anniversary
Empathizing, engaging, and empowering convey how the YMCA Manila commemorated its 114th Founding Anniversary this year with the theme "Y.E.S. (Youth through Environmental Stewardship) Empowerment".
38th Advanced Studies Program Public Lecture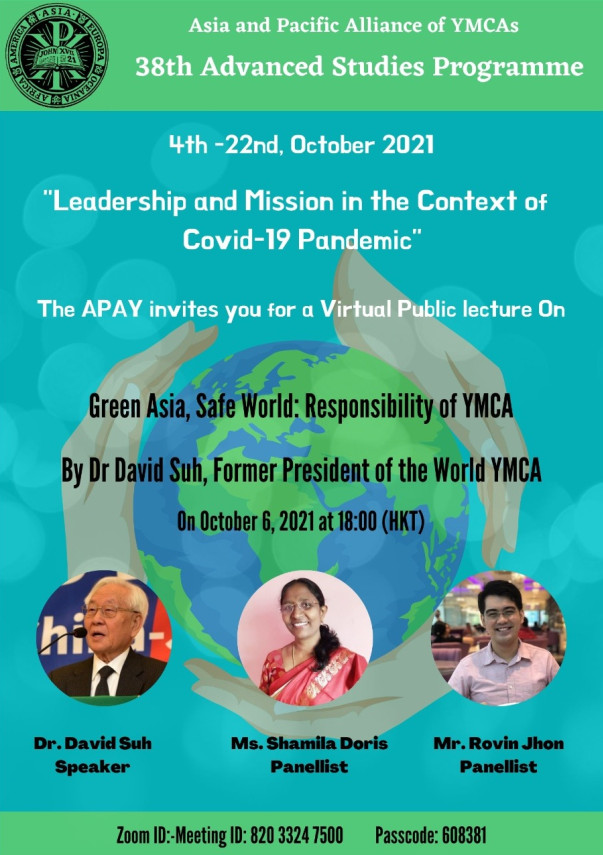 ECUMENICAL NEWS
Letter to President Biden, by the participants in the Ecumenical Forum for Korea (EFK) hosted by the World Council of Churches (WCC).
COMING SOON!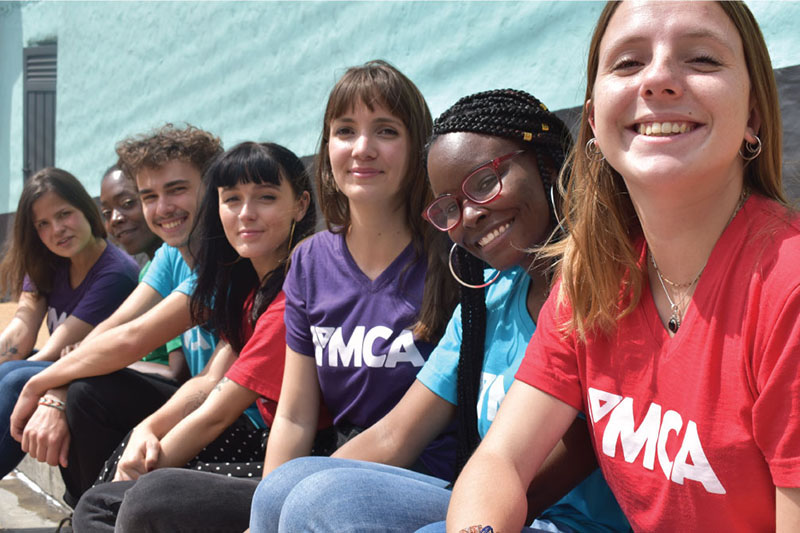 Call for YMCA COLead3rs program 2022
Apply Now!
The YMCA Colombia is now inviting applications for the YMCA COLead3rs 2022 - International Volunteer program. Interested volunteers age between 21-39 can apply. For information click here