ICF Alumna organized Yoga Retreat and Healthy Relationship Workshop
Last Updated (Monday, 07 September 2020 20:25)
Pyae Ei Nyine, known as "Pen" to her friends, a School of Peace 2019 alumna implements her project for Local Peace Education and Advocacy on September 2-5, 2020. This small grant project focuses on Yoga Retreat and Nonviolent Communication. Pen held the activity at the Mandalay YMCA Child Care Center. Twenty-three participants joined the workshop: 11 females and 12 males whose ages ranged from 14-25 years old. The participants were Buddhists, Muslims, and Christians. Yoga exercises, coming from a Hindu practice of meditation, help in removing the clutters of one's mind. It helps a person attain peace of mind and body, and to be able to focus. Healthy relationship starts with a good flow of communication, specifically nonviolent communication. Thus, Pen combines these two aspects in her local peace education project.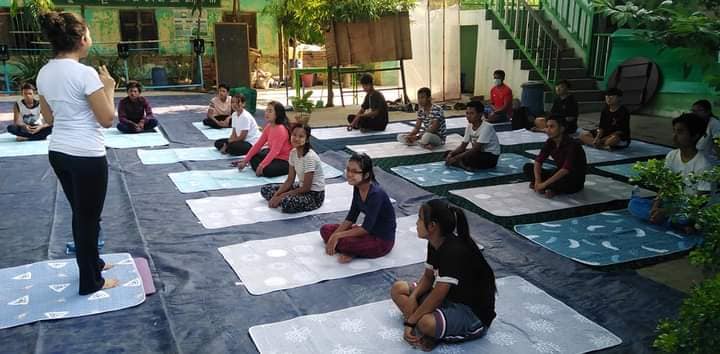 ↑  

Yoga session with Pen
This project used a blended approach or what Min Htin, calls a "semi-online" approach for the sessions. Pen, who is a Yoga teacher, facilitated the face-to-face session on Yoga in the first half of the time in the morning. Then the virtual session on Nonviolent Communication (NVC) follows, from 10:00 a.m. to 2:00 noon using the Zoom platform. Ms. Amina Mambuay, a certified NVC facilitator served as the resource person.
Myanmar has some challenges in internet connectivity, thus, Pen has to use a projector so those who have no internet connection could see the faces of the participants. When a participant speaks to raise questions or share reflections, the person has to go in front of Pen's laptop for the others to see and listen to her. Those who had connections using their mobile phones participated in the session from their homes.
The first day was a little slow because this is the first time everyone used Zoom as a platform. However, on the subsequent days, the young people easily adjusted to the technology. Phyu Phyu Lwin does an excellent job as a translator-interpreter. The sessions are lively because the participants were actively engaging with the resource persons by asking questions, sharing experiences, giving comments, and reflections.
This experience with the Mandalay group is inspiring. It is also heartwarming that Pyae Ei Nyine launches this small project in this challenging time. The technical support of Min Htet and Nay Win, the NGS of Mandalay YMCA along with NGS Maung Maung Win of Myanmar YMCA are invaluable in making this project a success.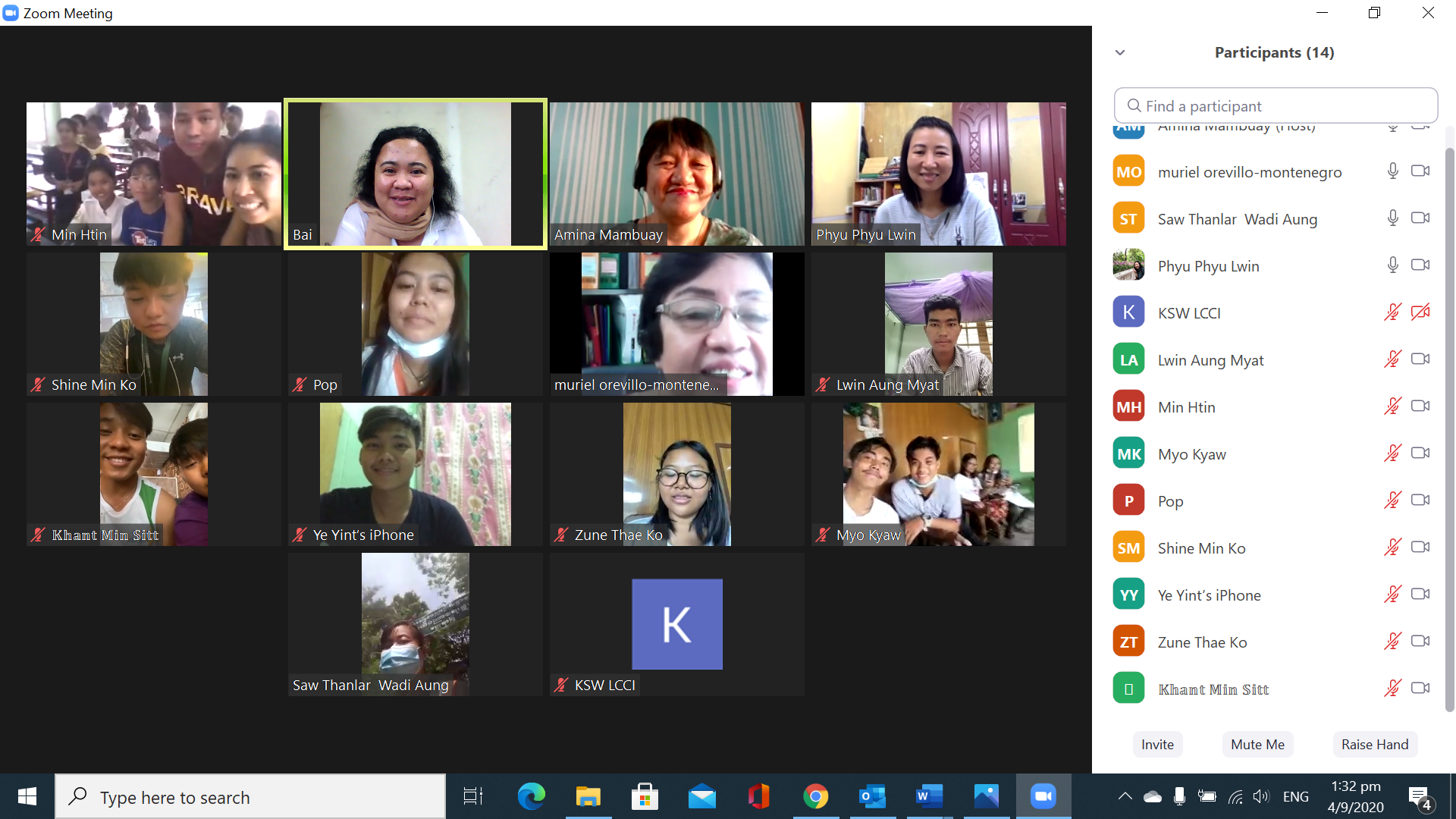 ↑  

Participants of the virtual workshop on NVC
~ Muriel Orevilla-Montenegro, PhD., ICF Coordinator