Chinese YMCA of Hong Kong Go Green!
Last Updated (Wednesday, 07 October 2020 18:18)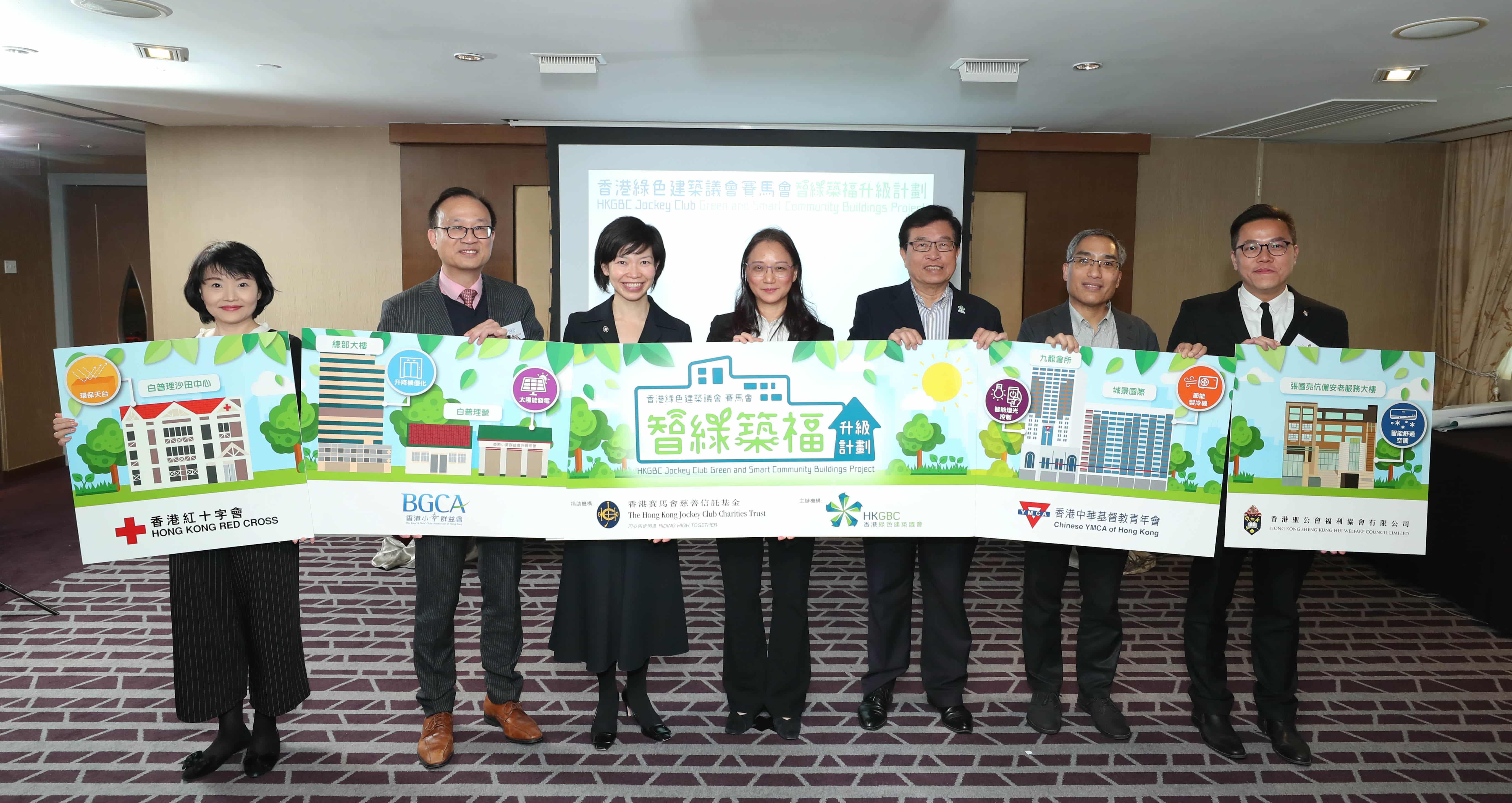 ↑ Green and Smart Community Buildings Project Closing Ceremony
Hong Kong is one of the world's most densely populated living places, with the majority of its more than 7.5 million residents living and working in urban skyscrapers. The people living in the so-called, "Concrete Jungle", really matches the reality. High rise buildings built on the high density urban areas which juxtaposed with the hilly terrain is a unique feature of Hong Kong and a reflection on how she encounters the problem of land shortage.
Hong Kong is a city of finance and commerce. The major sources of electricity consumption are buildings like housing estates, offices and shopping malls that account for 90% of Hong Kong's total electricity consumption. This figure is doubled the global average 40% electricity consumption is related to building activities. As a result, the high level of energy consumption by buildings accounts for more than 60% of the city's greenhouse gas emissions in Hong Kong. It is obvious that if we want to reduce our energy consumption to reduce our carbon emissions or to achieve the global target set by the Paris Agreement, greening the 42000+ existing buildings in Hong Kong should be an effective way to hit the target.
Hong Kong Green Building Council (HKGBC) and the Hong Kong Jockey Club Charity Trust (HKJCCT) led the "Green and Smart Community Buildings Project" (the Project) from 2018 to December 2019 with aims to enhance the knowledge and capacity of Non-Government Organizations (NGOs) in Hong Kong on green building. Chinese YMCA of Hong Kong (YMCA) was invited as one of the four NGOs collaborator to join the Project. The Project began with conducting an in-depth Gap Analysis to facilitate the future transformation through smart and green technologies application. The target is to plan the pathway to achieve the BEAM Plus Existing Building accreditation. BEAM Plus is a comprehensive set of performance criteria for a wide range of sustainability issues relating to the planning, design, construction, commissioning, fitting out, management, operation and maintenance of a building developed in Hong Kong by HKGBC. The Gap Analysis provided a thorough body(building) scanning to YMCA's headquarter at 23 Waterloo Road, including Kowloon Centre, the Cityview and Administration Building. A detailed report was submitted to YMCA with objective assessment report as well as a list of recommendations attached to facilitate the planning and commitment to our sustainable development in the future and ultimately extending the building's life cycle. Staff from YMCA also attended a series of seminars with case sharing which was delivered by HKGBC professionals. The seminars began with a general introduction of BEAM Plus followed by topics of interest such as green building management, building retrofit, retro-commissioning/on-going commissioning and application of smart green technologies. It provides a valuable opportunity for us to learn the know-how on implementation and the experience already practiced in the business sector.
In addition, various workshops and engagements activities like promotional videos, roving exhibitions and display had been held to influence YMCA staff and members' lifestyle and attitude through green building exploration and LOHAS (Lifestyles of Health and Sustainability) appreciation in different service units including Kornhill Centre, Lam Tin Centre, New Territories Centre and Kowloon Centre. Not only YMCA staff but the community as a whole can gain deeper understanding of green building elements and their importance. This will eventually enhance people's knowledge and motivates people to implement green practice in their daily living. YMCA's case sharing video can be watched at https://youtu.be/Qa1BPWBhgRE.
In June 2020, HKJCCT granted HK$69.53 million to Chinese YMCA of Hong Kong's Project Be W.I.S.E. to launch a two year renovation project with community activities to implement different energy saving measures and energy efficiency innovations to enhance YMCA to become a green building and targeted to achieve the BEAM Plus Existing Building accreditation. It is estimated that the electricity consumption will reduce 2 million kWh per annum.
~ Lee Man Key, APAY Green Team Member from Chinese YMCA of Hong Kong