APAY invites the members of YMCAs to participate in the 16 Days of Activism against Gender-Based Violence
Last Updated (Monday, 07 December 2020 15:24)
The Gender Equity Committee (GEC) meeting was held virtually on November 25, at 4 PM HKT, attended by nine members, including the General Secretary of APAY. The meeting was presided by the newly elected chairperson Dr. Meerha Hahn.
It was planned to hold the meeting on the 25th of November to symbolically launch the 16 days of activism against gender-based violence, which starts on November 25 and runs until December 10, International Human Rights Day. The meeting started with opening worship based on gender justice on the theme Together We Stand against Sexual and Gender-Based Violence. A reflection was shared by the chairperson on the bible text Galatians 3:28.
GEC members discussed the Quadrennial Program Plan (QPP) on gender justice and the proposed programs/ activities to implement under the gender justice programs in 2020-2021. The proposed programs of 2021 are face to face programs, and that might be difficult to implement due to the continuous concerns on COVID19 pandemic. Therefore, the members discussed how to convert the face to face programs to virtual programs/ workshops/webinars? The GEC members will meet again on December 8 to continue to discuss and decide on the virtual programs for 2021.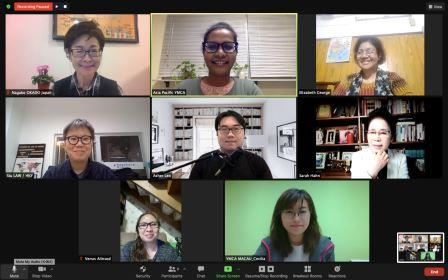 ↑  Gender Equity Commttee members during the virtual meeting
Together We Stand Against Sexual and Gender-Based Violence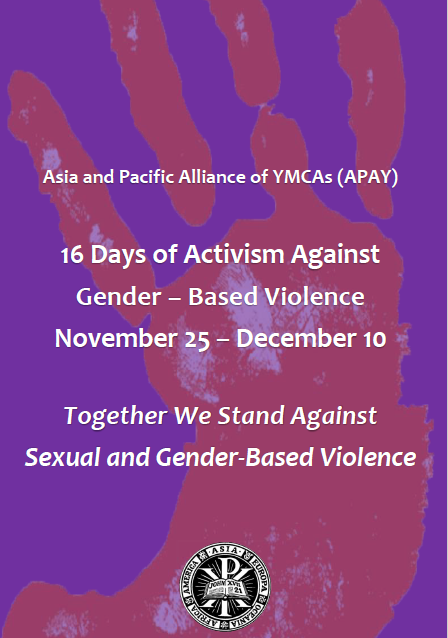 The GEC members have symbolically launched the 16 Days of Activism against Gender-Based Violence (GBV) on November 25 the annual international campaign that begins on 25 November, the International Day for the Elimination of Violence against Women, and continues until 10 December, the Human Rights Day. Together with the GEC, the Asia Pacific YMCAs (APAY) has chosen the theme Together We Stand Against Sexual and Gender-Based Violence and invite men and women to actively participate in the "16 days campaign". As YMCA actively taking part in the global campaign of 16 days of activism against sexual and gender-based violence against women, is an affirmation to Challenge 21 that we believe in a gender just and inclusive society and this is a sign of commitment for our constituencies.
A liturgy is prepared on the theme and sent to all the national movements to observe the campaign.
The members were also invited to participate in the 16 days of activism against sexual and gender-based violence in different ways. Some ideas are shared below to participate in the campaign:
Join the local civil society organizations campaign
Organize webinars at the local level on GBV
Participate in events/ activities organized by the Interfaith Cooperation Forum (ICF) for 16 days of activism
Use social media to advocate and campaign to end GBV and use the #16daysofactivism and #APAYWOMEN
Organize prayer meetings to worship together to end violence against women and girls
~ Sunita Suna, Executive Secretary for Programs