Albay YMCA helped communities recover from Typhoons
Last Updated (Monday, 25 January 2021 19:34)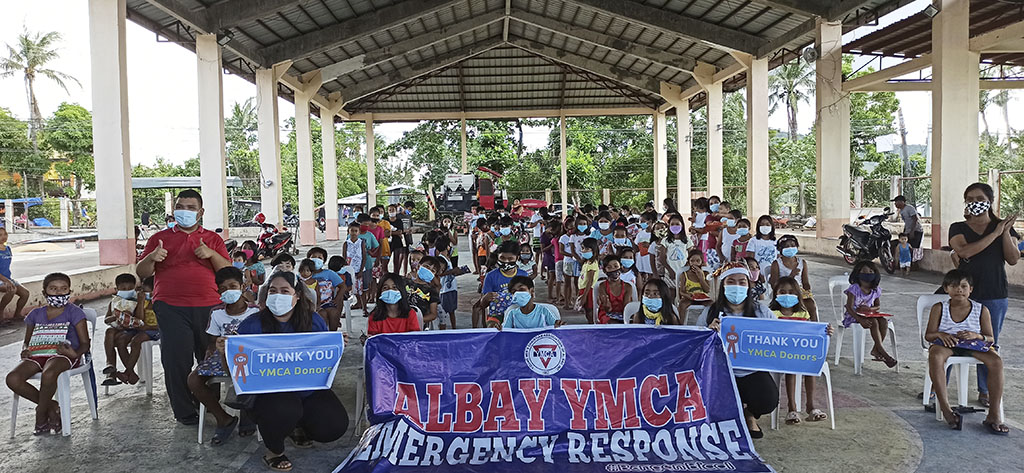 In the Philippines, the Bicol region was triple hit by successive typhoons, Quinta, Rolly and Ulysses, in the last quarter of 2020 amidst Covid-19. Based on the National Disaster Risk Reduction and Management Council data, the typhoons' damage to agriculture and infrastructure in the country was around ₱35 billion whilst 125 persons killed, 458 injured and 29 missing. Tens of thousands of people were also internally displaced, temporarily staying in designated evacuation centres and makeshift shelters due to massive flooding and deluge of boulders from Mayon Volcano.
To facilitate early recovery actions, the Albay YMCA launched a fundraising campaign dubbed Bangon Bicol (Rise Bicol) on November 4, 2020, and received a total cash donation of ₱283,593.49 (USD 5,671.89), most of which were from World Alliance of YMCAs (WAY). In-kind donations were also received, such as rice, used clothing, noodles and canned goods.
The rollout of donations to disaster-affected communities commenced on November 22, 2020, two weeks after damage assessment and needs analysis. It was found that nearly half of the communities visited have already received shelter kits from the government and that the underlying hurdle was food security. Thus, Albay YMCA concentrated on the provision of food packs. Further, priority communities were determined based on typhoons' damages, rate of displacement and poverty incidence.
The association coordinated with local government units prior to activity to ensure that the assistance will be delivered to minimise the risk of Covid-19 for disaster-affected people. So far, six successful food packs distribution has been carried out wherein the majority of direct beneficiaries were mothers, children and farmers from far-flung villages that were severely lashed by the abovementioned typhoons.
"On behalf of the beneficiaries in Albay province, we sincerely thank the donors especially our friends from local YMCAs in the Philippines, Asia-Pacific Islander Leadership Network (APILN) and World Alliance of YMCAs led by Secretary General Carlos Sanvee. Words cannot express our heartfelt gratitude for them for the continued trust, support and humanitarian assistance even in this difficult time of pandemic" said General Secretary Ianne Christine J. Aquino.
As of December 30, 2020, the Albay YMCA was able to provide food packs to 620 families or 1,863 individuals.
#BangonBicol
By YMCA of Albay