A Year Through Zoom!
Last Updated (Monday, 25 January 2021 19:35)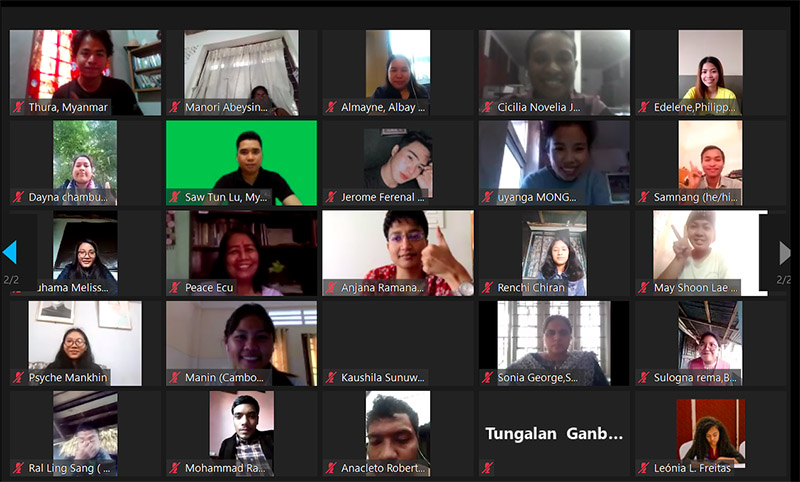 A Year Through Zoom!
ICF looks back on a year with many challenges due to the ongoing Covid-19 pandemic and its related restrictions. However, like so many others, ICF took its activities online as much as possible in order to keep offering a space for young peace-builders of the region to learn, exchange and connect. The year 2020 was concluded with an online series of four workshops on the Intersection of Religion, Gender, and Human Rights.
The workshops took place every Thursday from November 19th to December 10th. The different sub-themes on each respective Thursday were:
Religion, Femicide, and Various Forms of Sexual Abuse

"Women who are the victims of violence and sexual abuse usually do not get justice for themselves. Though the result is not a hundred percent, people are now raising their voices for justice for the victims of violence and sexual abuses. People are breaking the silence against violence, and this is a good sign." – Psyche Mankin from Bangladesh in her reflection on the first session.

Religion and LGBT Communities: "Is God's Love Exclusive for Straight People?"

Health as Human Rights and Peace Issue

Women's Rights are Human Rights.

ICF was able to win nine different highly qualified speakers for the sessions. An average of 30 participants attended each session from different religious backgrounds and countries of the region. If you want to know more about each session, please read the last two The Peacebuilders editions to learn more about the speakers, each topic and participants' thoughts and reflections. After each session participants were invited to reflect upon the subject with some guiding questions and hand-in a written reflection on the respective topic as well as participate in follow-up discussions.
"In the discussions, I learned many lessons not only as an advocate but also as a youth who can help society and bring about change. That discussion helped me to answer and explain the questions that everyone has long wanted to know. "– Jerome Ferenal, Philippines
In 2021 ICF looks forward to offering face-to-face workshops once again hopefully. However, in the meantime ICF is excited to announce further online workshops. The first, on Covid-19, Trauma and Healing from 22nd to 26th of February led by Dr. Al Fuertes as well as another series of Thursday workshops for Women's Month in March 2021. ICF will announce further information on both shortly on the ICF website.
Until we could meet again in person, we stay connected online.
By Annika Denkmann
BftW Seconded Personnel