'Interfaith Partnership for Sustainable Development Goals: Organizing and Mobilization of Youth': UN ESCAP Asia-Pacific Forum on Sustainable Development 2021 Side Event
Last Updated (Friday, 26 March 2021 13:20)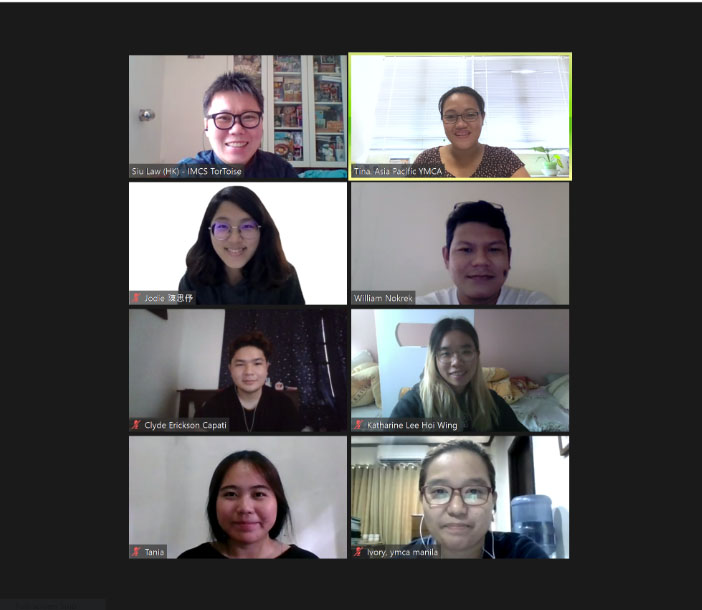 As part of the Asia Civil Society Partnership for Sustainable Development, the Asia and Pacific Alliance of YMCAs and the International Movement of Catholic Students (IMCS) Pax Romana Asia Pacific were given an opportunity to co-organize a side event during the UN ESCAP Asia-Pacific Forum on Sustainable Development 2021. The side event entitled, 'Interfaith Partnership for Sustainable Development Goals: Organizing and Mobilization of Youth', was held last 24 March at 4:30-6:00PM Bangkok Time and was attended by around 60 participants.
The opening rites included a greeting from Nam Boo Won, APAY General Secretary, a welcome remark from Law Lap Man, Lay Chaplain, IMCS and a brief event overview from Cristina Miranda, APAY Executive Secretary for Programs.
The side event featured three (3) young panellists who shared their experience on interfaith and ecumenical collaboration in the areas of peace building, protection of indigenous people and engagement in interfaith dialogue. The youth panellists and the topic shared are indicated below:
• "Indigenous Youth Engagement in Climate Change Action
By: Toni Matthew, Young enthusiastic Human Rights Activist from the Garo Indigenous peoples of Plainland, Bangladesh; Former Vice-President, Bangladesh Indigenous Student Action Council; Part of Organizing Secretary of Bangladesh Indigenous Youth Forum (BIYF); Leads Youth Platform of Indigenous Youth in Bangladesh; Focal Person of the Asian Indigenous Youth Platform (AIYP) on Land Rights and Environment
• Interfaith Partnership on Peace Building
By: Tirmizy Abdullah, Associate Professor, Mindanao State University-Marawi; Director, Institute for Peace and Development in Mindanao (IPDM); Alumni APAY ICF School of Peace
• "Youth Engaged in Interfaith Dialogue"
By: Christania Paruntu, Head of Health Department, Central Committee of Catholic University Student Association of Indonesia (PMKRI)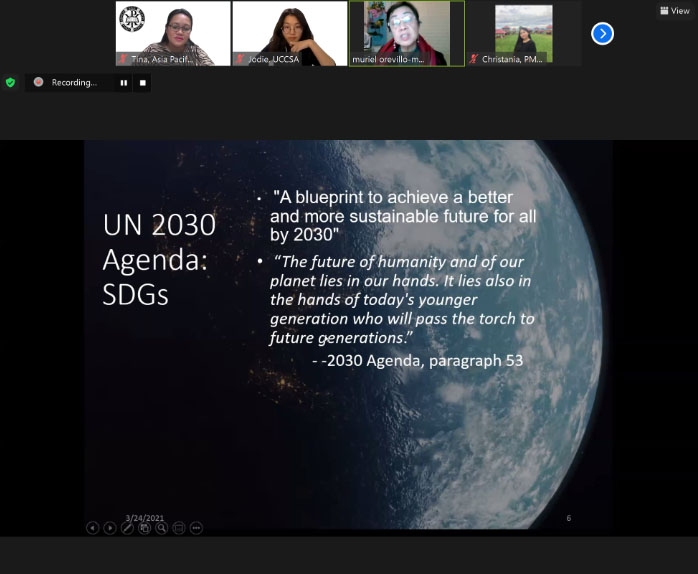 The panel presentation was completed with the input on the main topic 'Inter-faith Partnership for Sustainable Development Goals: Organizing and Mobilization of Youth' by Dr. Muriel Orevillo-Montenegro, Program Coordinator, Interfaith Cooperation Forum Asia Pacific Alliance of YMCAs. Dr. Montenegro has a degree in Doctor of Philosophy in Systemic Theology and Master in Philosophy Major in Ethics and Ecumenics. In her presentation, she highlighted the importance of partnership/collaboration among ecumenical and interfaith youth movements in forging local, national and regional solidarity towards reducing inequalities. Likewise, she presented valuable pointers on the relevance or organizing and mobilizing youth as main actors in the work towards achieving justice, equality and peace.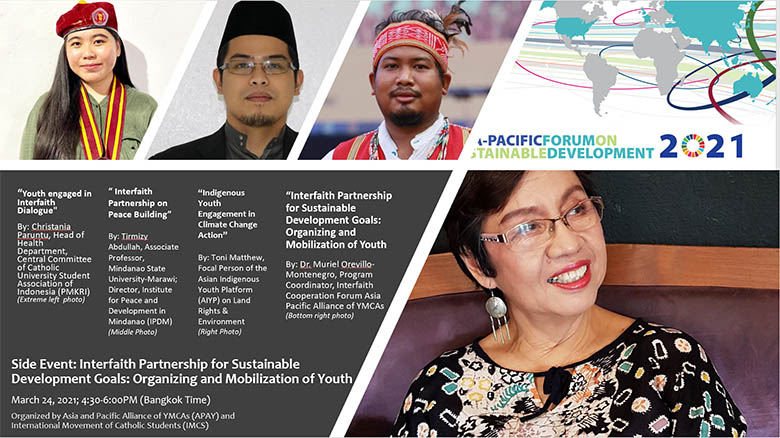 As a closing message, David Louis Palatty, youth representative of the group comprising of students and volunteers from both APAY and IMCS read the Asia and Pacific Alliance of YMCAs (APAY) and International Movement of Catholic Students (IMCS) Pax Romana Ecumenical Youth Movement Collaboration on Sustainable Development Goals. This side event was moderated by Clyde Erickson Capati, President College Y Club, Far Eastern University Institute of Technology, Philippines and Si-Yu Chen (Jodie), University Catholic Chinese Students Association (Taiwan) with technical support from Lee Hoi Wing of Hong Kong Federation of Catholic Students (HKFC).
Prepared by: Maria Cristina Miranda
Executive Secretary of Programs