INTERNATIONAL WOMEN'S DAY REGIONAL VIRTUAL SYMPOSIUM
Last Updated (Saturday, 03 April 2021 12:16)
Women in leadership: Achieving an equal future in a COVID-19 world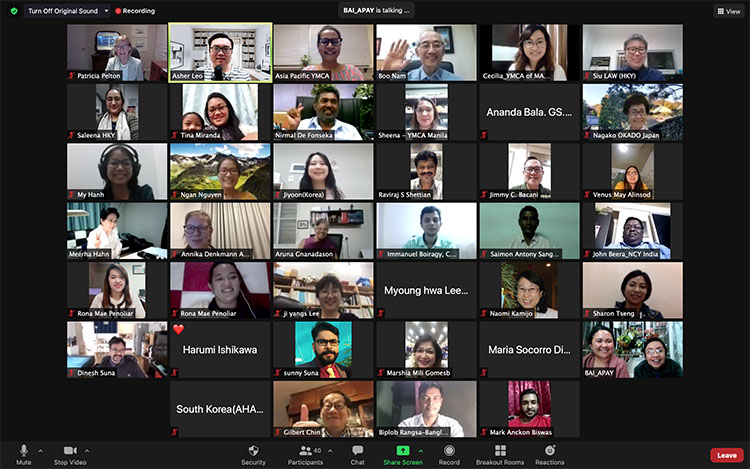 The Gender Equity Committee of the APAY organized a regional Symposium on Women in Leadership: Achieving an equal future in COVID-19 world to commemorate and celebrate together the international women's day on 8th March. World YMCA President Patricia Pelton, Dr Aruna Gnanadasan, Convener of the Indian Christian Women's Movement, General Secretary Nam Boo Won were the speakers on various topics. President Chen chin-Seng, Secretary-General Carlos Sanvee shared solidarity greetings in journeying together in achieving an equal world! Dr Hahn Meerha, Chair of the GEC, gave the welcome greetings, and Ms Sunita Suna, executive secretary for programs and responsible for Gender Justice Program in APAY, delivered the symposium's introductory remarks. Ms Siu Law, Mr Asher Leo, and Ms Cecilia Lou moderated the symposium. Around 45 members joined the Symposium from Australia, Bangladesh, Cambodia, Canada, Hong Kong, India, Japan, Korea, Laos, Macau, Malaysia, Myanmar, Philippines, Sri Lanka, Switzerland, Taiwan.
The symposium was planned discuss on topics such as Women Leadership within YMCA – Hopes and challenges; Envisioning Women Leadership in Asia Pacific Region including in Church in a post-COVID-19 world, Women Leadership in a Patriarchal World.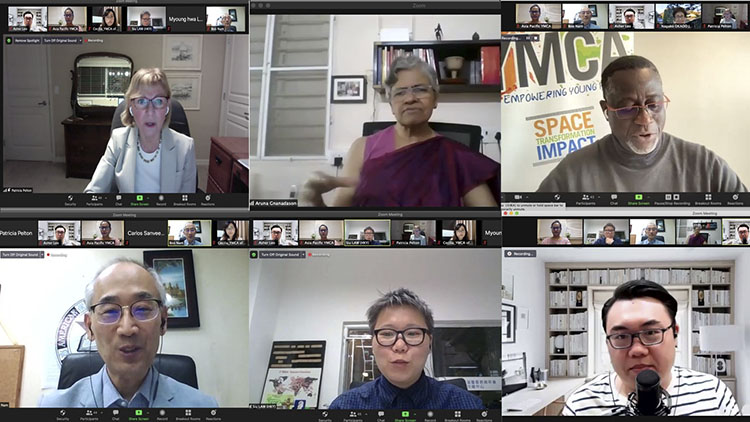 The speakers helped participants revisit the leadership model, structure, policies, strategies, etc., within the YMCA movement regarding women leadership. As Ms Patricia Pelton quoted, "In terms of diversity, we must look to the inside out" (Kevin Washington). She also realized the urgency and importance of creating space for diverse participation within the YMCA as a Christian faith-based organization to affirm the values of inclusion.
It was emphasized to create a space for equal participation and an equal future for diverse communities, analyzing and deconstructing patriarchy. The stumbling block to creating a just and inclusive society is important. YMCA must affirm the Challenge 21 mission statement to advocate for women and young people's equal participation, Mr Nam Boo Won reminded.
When we talk about gender equality and women's empowerment, how do we respond to the "Shadow Pandemic" in the COVID-19 era? How do we move to a "new normal"? What do we YMCA "choose to challenge" as we move to "new normal"?
Dr Aruna also invites us to recognize women leadership as unique in many ways who are playing key roles in different parts of the world and consciously include women in leadership.
YMCA's work towards gender justice and equal participation are not enough.
World YMCA is an international organization; hence we pledge to continue our work ensuring gender equality. All leaders, both women and men in YMCA, to step up, be courageous to make it realize! It's no longer acceptable not having female members on the boards of YMCAs. We oppose and confront not having a good representation of leadership – because this will make our society change, Mr Carlos Sanvee said.
President Chen chin-seng stressed developing advocacy tools to emphasize how women and girls are affected and what measures need to be taken in the short and long term. He believes the regional symposium is one way to advocate for women leadership.
This is an occasion to celebrate the IWD together, at the same time, revisit and reflect on our efforts and initiatives in creating an inclusive and participatory space within YMCAs, said Sunita Suna in her introductory remarks.
Dr Hahn Meerha highlighted the significance of observing International Women's Day on 8th March, quoting the famous political slogan of 1912 "Bread and Roses" appealing for both fair wages and dignified conditions, as she welcomed and thanked the members for joining the APAY symposium.