Global Youth Summit
GLOBAL YOUTH SUMMIT (GYS)
The Global Youth Summit was held virtually on April 22-23, 2021 led by 6 Big organizations: World YMCA, World YWCA, SCOUTS, WAGGGS, IFRC, DofE, together with the World Health Organization (WHO) and United Nations Foundation (UN Foundation). The virtual event was a platform where youths can share their opinion freely and discuss the issues, learn and have more knowledge. It aims to convene young people from different parts of the world and discuss issues, concerns and solutions to take an active part in pandemic recovery. There were about 150 YMCA young leaders who joined the event via online platform JUNO and over 1000 live attendees – and thousands more were following live-streaming. From APAY five (5) young professionals attended the summit from: The Philippines ( Rogelyn D. Razon, Lester Dellosa), Mongolia (Tungalan Ganbaatar and Urangoo Khongorzul), Hong Kong ( Siu Ting Cheung) and rest of the members joined the live-streaming.
GYS also aims to hear and be inspired with the initiatives made by the young people from the local, national and global level. This event opened and gave workshops to enable young people to be an expert and educate others too and by engaging the youth to build networking possibilities.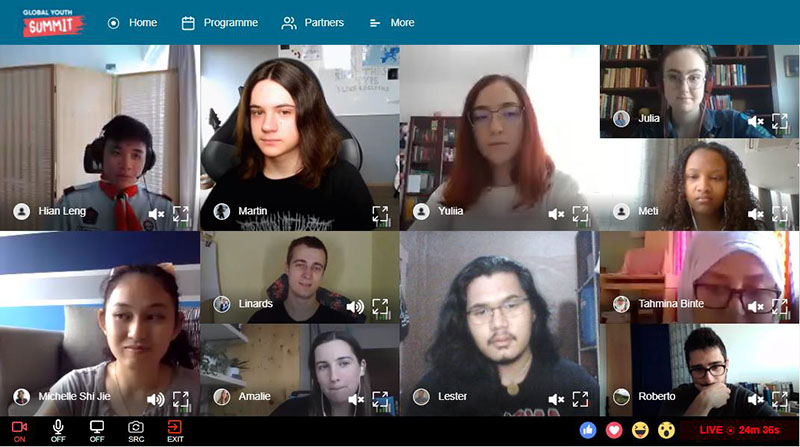 Main objectives achieved during this Summit were;
a. Young people were given the chance to share the experiences and as well as the solutions they had in their country during these trying times that also inspired other young people like us to take part in our recovery.
b. Address impacts of COVID-19 with the young people and our community.
c. Meet and get the chance to make friends with the participants from different countries and have had possible collaboration with them for some future projects.
d. Advocate young people's needs.
There were 3 Plenary sessions and there are about 45+ breakout rooms during the virtual event. Participants from ASIA were advised to focus on different topics. The Philippines' participants were advised to focus on the Environment and Climate Change Issue. But some important topics were "How pandemic Change our Lives: COVID-19 and the Youth, Education in Marginalized Communities, Violence Against Women and Children, Youth led projects and initiatives, The Future of Work, Gender Issues, Mental Health and many more.
I attended about 4-5 sessions during the summit. Panels shared their opinion and work that they do to improve and contribute to that certain issue. One topic which triggered my mind was human trafficking and exploitation. When the panel started giving data about how many people are trafficked, the number was much higher than I thought it would be. Actually, it turned out to be the fastest growing and the second largest criminal industry in the world. Moreover, human trafficking is not just about being moved across borders, but most of the cases happen in local community. It was shocking to me to know that people are coerced into exploitation, trafficking by their own or people they know.
We can do something about this issue, like by being aware to identify and recognize victims of trafficking to report to itsapenalty.org We could also join the Student Ambassador Programme to further help. All these were new information to me and I'm glad that I learned about this important issue during the summit. Reflection from Urangoo Khongorzul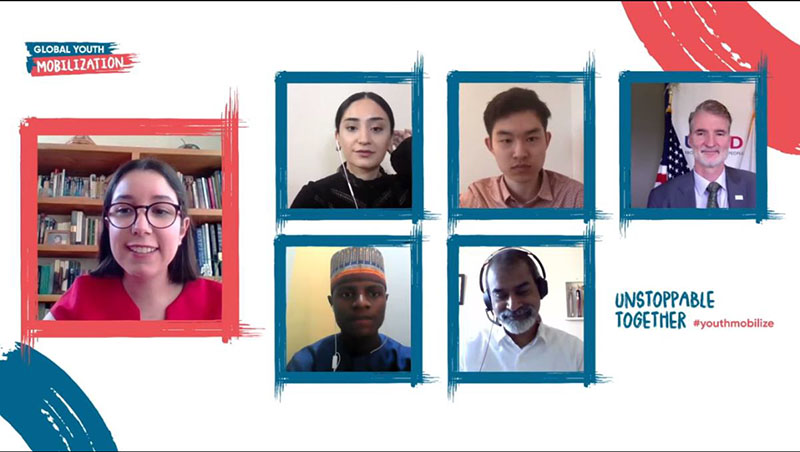 The plenary sessions, to be honest, is quite a challenge for me because of its time slot. However, interesting topics were being discussed. Aside from focusing on the Environment issues which were assigned to our country, one of the plenaries close to my heart is also the topics concerning Mental Health. While the world is being challenged by our physical health
because of the pandemic, many are also challenged because of the issues concerning mental health. This session discussed youth's mental health and how it has been impacted by the unprecedented global health issue, the COVID-19. And I like how speakers from different countries like Lebanon, Nigeria and Malaysia took the challenge that despite being far from their colleagues they have created an initiative to reach out to those who are in need of their services and help. And I like how Nour from Lebanon leaves her challenge to everyone that we young people should realize our roles in the community and to take part of it. Reflection from Rogelyn D. Razon
The follow up:
According to what's been discussed in the plenary, highlighting important things, one is the idea of supporting the young people and supporting the youth-led grassroots proposal and programs. We had the chance to hear from government officials, UN agencies' representatives and the Big Six Youth Organizations about their plans for supporting young people in COVID-19 response and recovery.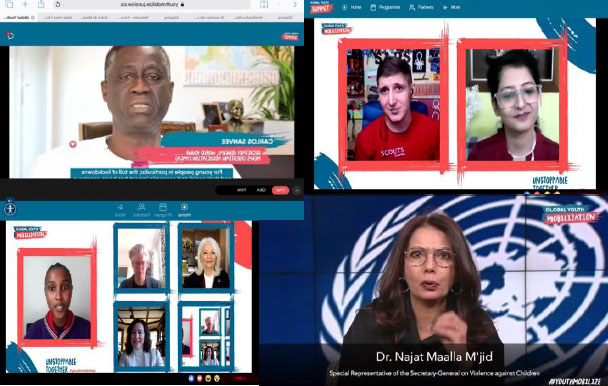 The Global Youth Mobilization has also launched a call for innovative, youth-led local solutions to the challenges our societies have been facing as a consequence of the pandemic. This Local Solutions funding will bypass traditional funding and support streams, to invest in young people and community grassroots organizations anywhere in the world. Young people and community organizations are able to apply for funding via one centralised platform, available in multiple languages. These local solutions will be judged and decided on by young people, for young people. https://www.ymca.int/the-countdown-begins-ymca-at-the-global-youth-summit-23-25-april/
By Rogelyn D. Razon
Lester Dellosa
& Khongorzul Urangoo
(Delegates of the Global Youth Summit- APAY)