COVID 19 Second Wave: YMCA India response
Last Updated (Saturday, 29 May 2021 13:15)
YMCA India has responded to the second wave of the pandemic by initiating its second phase of relief operations. The work will be carried out on all nine regions, projects (branches), and member associations
* Over 4.5 lacs (0.45 million) food packets and ration kits will be distributed.
* 1lac (0.1 million) masks and safety kits will be distributed.
* 2000 volunteers and staff will participate.
While work has begun with YMCA India's financial resources, it will be expanded with generous donations from YMCA Canada, WAY, Japan, CVJM, Taiwan, Sri Lanka, and Manilla downtown YMCA s. More help is expected, including 20 pallets of masks from Brisbane YMCA.
Space has been provided by several YMCA s for Covid patients; or as quarantine/isolation centres. Ys Men International has also contributed to the cause.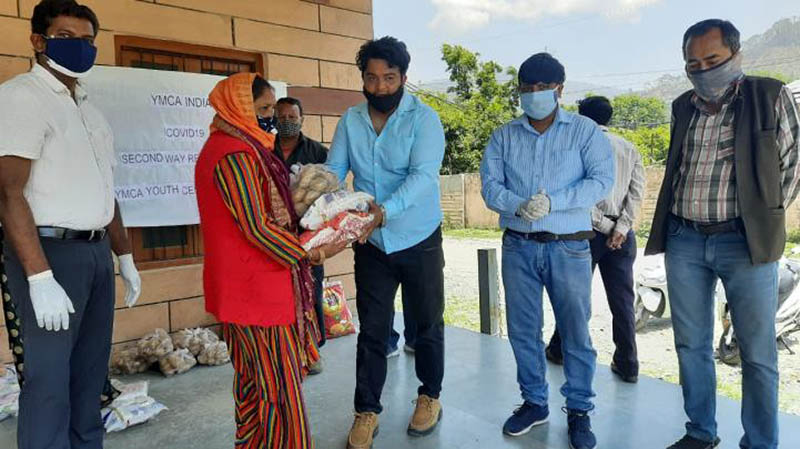 In its first phase of relief work last year, 4 lacs (0.4million) food packets and ration kits were distributed, 1lac masks and safety kits were distributed, with the participation of 1500 volunteers and staff.
Human Interest cases
(names changed)
1. Ramashrey, an autorickshaw driver from Palla, Faridabad (Haryana State), lost his livelihood from 25 March to 15 May 2020 . Cooked food provided by Faridabad YMCA helped his family of 5 to overcome hunger.
2. Rajesh, after being treated at Vellore hospital, could not return to West Bengal due to lockdown. His family was placed in a shelter ' Chatram', and given food for a month.
3. Valmiki, a migrant worker, required nutritious food after his treatment in Kurnool (Andhra Pradesh) . The YMCA provided food for 20 days, along with sanitation kit .
4. Taralakshmi , a widow with 6 children, lost her petty shop business. She was provided food and grocery items.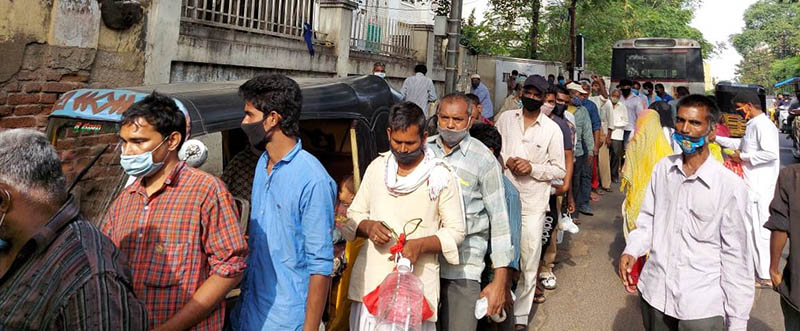 Background
The second wave pushed the country to a catastrophic situation. COVID cases surged to 4 lacs (0.4 million) in 24 hours, and the death toll to 3000 . Hospitals were overcrowded, with inadequate oxygen supply. People died outside hospitals, and crematoriums witnessing long queues had become a common sight. So far, 1,50,000 (1.5 lac) persons have lost their lives. The abatement in cases at the end of the first wave led to an apparent complacency by the Government. However, the decision of State Governments to impose lockdown has helped control the rampant rise in cases .
The government has engaged with global manufacturers for vaccines , and has eased their entry . It is lowering taxes on vaccines and drugs.
It has ramped up Covishield vaccines from 6.5 crore to 11 crore doses per month . Production of Covaxin will increase from 1crore to 10 crore a month from October . It is expected that 200 crore doses will be administered by 2021 end . Patients are being checked for a new disease " black fungus" before discharge .

Hope springs eternal ! With the Grace of God , we will overcome this challenging situation . We pray for people across the world that they will return to a " normal " in the near future .
Bertram Devadas
National General Secretary
YMCA India