Gender Equity Committee (GEC) met to work on the proposed programs of 2021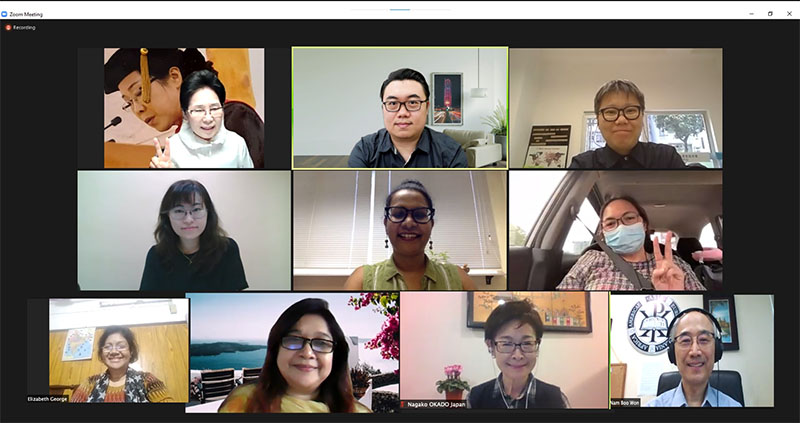 The Gender Equity Committee members met on May 26, 2021, to work on the proposed programs for the next six months, June - December 2021. The specific programs and activities are:
1) 16 days of activism against Gender-Based Violence – November 25-December 10
Plan to organise around 5-8 diversified programs or activities at the regional level. The national movements will own all the activities, focus on the local/ national issues and contexts. A detailed program brochure will be shared with the national movements in the coming months.
2) Participate at the UN CSW 66 and APAY event during the UN CSW
- GEC plans to expand the invitation to national movements to join the events.
- Consider a small delegation to New York to participate in person if the UN CSW 66 happens face to face.
- Explore the possibilities to organize a joint event with YWCA and other women's groups/ organisations.
3) A Regional Survey on Gender Equity, Gender Justice in APAY
The GEC members are developing a Survey on gender equity and gender justice in the APAY. The main objective of the Survey is to understand and assess the participation of women at all levels in the APAY. The Survey will be sent to the national movements for their feedback.
4) Gender Justice Policy (GJP)
5) A Gender Justice Policy (GJP) Task Group is formed to develop a policy on gender justice. The Task Group will work until the next Executive Committee Meeting 2022 of APAY.
6) Journal on Gender Justice
At the end of the year, a journal is planned to publish, including stories, experiences, articles on gender justice. We will send out an announcement to receive articles for the journal.
Members present in the meeting are:
HAHN Meerha (Presiding officer) Korea, Nagako OKADO, Japan, LAW Lap Man (Siu Law) Hong Kong, Asher Leo, Malaysia, Venus Alinsod, Philippines, Cecilia Lou (for Grace Kuan Sok Leng), Macau, Marshia Milli Gomes, Bangladesh, Elizabeth George, India, Nam Boo Won (General Secretary-APAY), and Sunita Suna (Executive Secretary in charge of Gender Justice Program- APAY)
Sunita Suna
Executive Secretary for Programs- APAY