JAI Olive Tree Campaign - Keep Hope Alive
Last Updated (Tuesday, 01 June 2021 12:53)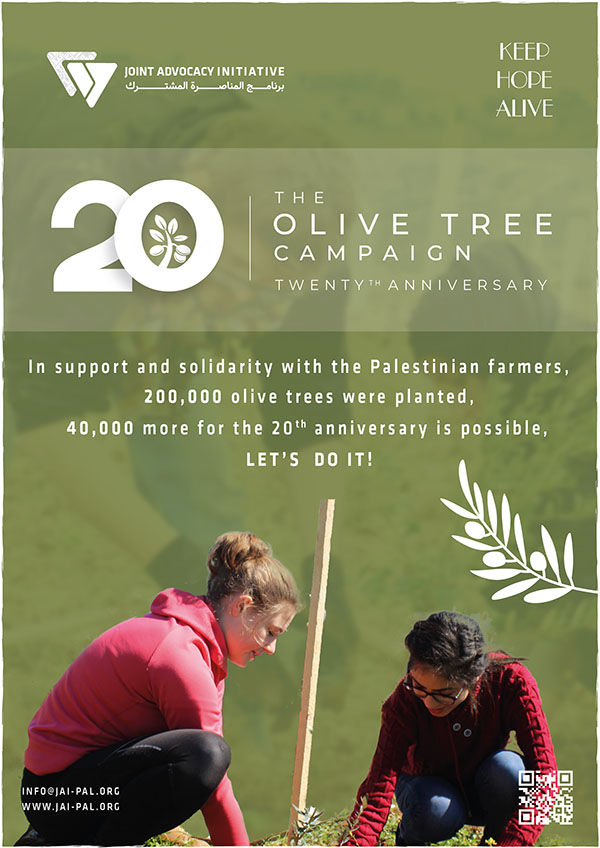 In support and solidarity with the Palestinian farmers, 200,000 olive trees were sponsored and planted in the last 20 years.
In 2022 we Celebrate the 20th Anniversary of the Olive Tree Campaign, by targeting 40,000 olive trees more.
The East Jerusalem YMCA and YWCA of Palestine Joint Advocacy Initiative (JAI) invites you to join our celebration of the 20th anniversary of the Keep Hope Alive (KHA) - Olive Tree Campaign (OTC).
Over the past 20 years the OTC helped some 15,000 Palestinian households in many of the Palestinian villages with some 200,000 olive trees that were sponsored by friends and partners from all over the globe. This was a great sign of support and solidarity with the Palestinian farmers that helped them maintain their lands , and earn living. It remarkably enhanced their resilience and steadfastness and kept their hope for a better future alive
The OTC has been growing since then. The Campaign started with 2,000 olive trees in 2002 and kept growing by time. More partners from different countries are now engaged in promoting the Campaign. Some 70,000 people have already sponsored trees and develop a type of connection with the Palestinian land and a commitment to promote just peace.
The olive tree was always seen as tool of solidarity, support, lobbying and advocacy. In many cases, It helped reach policy makers to bring about a change in people's life and to contribute to ending the Israeli violations and the oppression of the Palestinian farmers and people under the Israeli occupation.
In the year 2022 we will celebrate the 20th anniversary of the OTC by planting 40,000 more olive trees in Palestine. The celebration will include the following activities:
Collection of sponsorship of olive trees to be done by the partners worldwide;

Distribution of the olive trees among eligible farmers from Dec 2021 to March 2022;

Organizing an international Olive Tree Planting Activity from Feb 5 to Feb 14 (open for everyone);

Officially opening the celebrations with a Planting activity in Feb 7th with international and local presence;

Hosting 5 international youth delegations to participate in planting activities in Feb and March 2022; and

Organizing an international Olive Picking program from Oct 15th to Oct 24th, 2022.
Keep Hope Alive
Make this anniversary an opportunity for more people to sponsor olive trees and be connected the Palestinian farmers' struggle for their rights in their lands;

Give the chance for people to come and take part in the planting and picking activities and be in close solidarity with the Palestinian farmers on the ground; and

Make it an opportunity for more people to learn about Palestine and the Palestinian national and human rights so as to support their struggle for freedom and just peace
Plant a tree, contribute to just peace
Nidal Abu Zuluf
Manager, Joint Advocacy Initiative
The East Jerusalem YMCA/YWCA of Palestine