Makati YMCA partners with YMI ASP for Renewable Energy
Last Updated (Wednesday, 30 June 2021 12:38)
The YMCA of Makati Inc. (Makati YMCA) in the Philippines signed a Climate Action Partnership with Y's Men International Asia Pacific Area (YMI-ASP) for a Renewable Energy Project last June 19, 2021.
ASP co-funded the installation of a Solar PV System on the Makati YMCA Building which aims to reduce carbon emission from energy consumption. In return, Makati YMCA will support the funding of ASP Projects on Environment in the next five years.
In his message, AP David Lua expressed that ASP finds worthy to support this project in commemoration of the 100th Anniversary of Y's Men International and is the first of its kind of a YMI-YMCA partnership model. Makati YMCA Chairman, Dr. Rosalio Torres mentioned that this is one of the flagship projects of Makati YMCA in commemoration of its Golden Anniversary this year.
The historical virtual signing ceremony was graced by YMCA and YMI Leaders from International and Asia Pacific Area; APAY General Secretary Mr. Nam Boo Won and YMI IPIP Jennifer Jones were among those present.
By Ma. Magda R. Gana
Executive Director
YMCA of Makati, Inc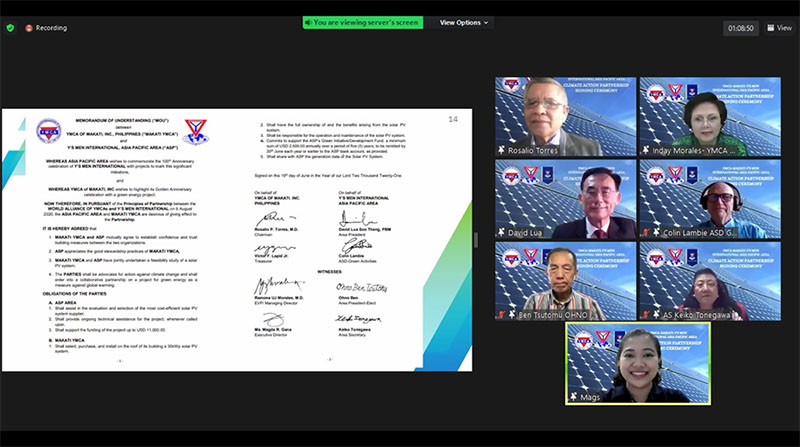 From top: Makati YMCA Chairman, Dr. Rosalio Torres, EVP/ Managing Director Dr. Ramona Morales, YMI-ASP Area President David Lua, ASD-Green Activities Colin Lambie, APE Ben Ohno, AS Keiko Tonegawa and Makati YMCA Executive Director Ma. Magda Gana