"RaonAtti" to create a sustainable community in Asia with Youth Volunteer
Last Updated (Wednesday, 29 September 2021 23:32)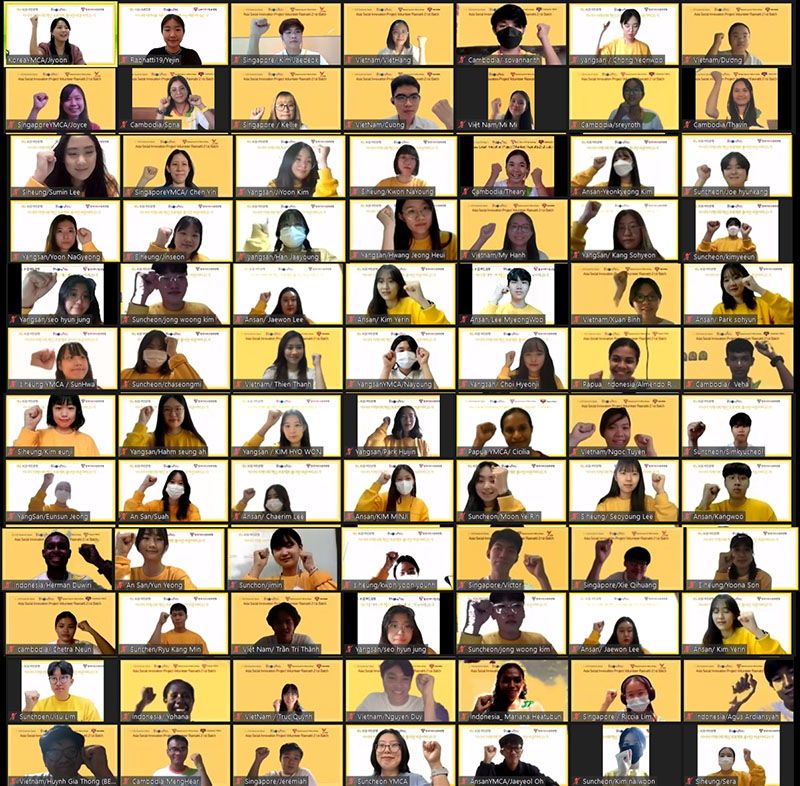 From 2008 until today, the Korea YMCA has sent young people to different countries in Asia to learn about the diversity of global society as global citizens in various communities under the name of "RaonAtti", which means "good friend". Since last year, most countries in Asia have closed their borders due to COVID-19. Collaborated efforts worldwide to resolve the pandemic are needed more than ever to solve global problems together through the interconnection of the global society once again.
The YMCA Korea fosters responsible youth in communities across borders in Asia between countries. It manages an international volunteer program for youth to discover and solve local problems to create a sustainable society and world based on 17 UN SDGs indicators. On this basis, YMCA Korea has selected youth from 5 countries in Asia, including Korea, Cambodia, Indonesia, Singapore, and Vietnam. By working together on social innovation projects to solve community problems in 5 countries and sharing them, it can be confirmed that each person lives in different places but is connected. In addition, RaonAtti is operated as an international volunteer program that enables mutual growth in solving common problems in Asia.
Ideas for solving problems in communities based on SDGs indicators
The YMCA Korea first attempted a volunteer model to develop young people in Korea and other countries in Asia into global citizens. Young people in communities who live in different countries and regions were asked to propose projects to define their ideas that could solve community problems through volunteer work. Many young people applied to be part of the RaonAtti. A total of 17 teams, 85 members were selected from 5 countries: Vietnam, Singapore, Indonesia, Cambodia, and Korea, and they proposed various project ideas under the theme of End Poverty, Gender Equality, Reduced Inequalities, Sustainable Consumption, Climate Action, Justice and peace follow SDG indicators.
After selection, the Korea YMCA provided SEED MONEY for each team to bring change to the local community through their creative projects. During August, members of the 5 countries received common training about Asian sensitivity and identity, Saving the Earth, Understanding SDGs, global citizenship, Peace Sensibility, "Glocal" issues through the online ZOOM platform. After common training, they received training by country YMCA and local YMCA and received various training to understand the problems of local communities in individual countries.
From September, the members began their five-month project. Projects dealing with a total of 17 various issues, including the Production of Braille recipe books to improve nutrition status for the visually challenged, digital information provision guidebooks to resolve inequality in digital devices for the elderly, production of upcycling bags using recycling clothes, gender equality fairy tale book with gender workshops, operation of online communication platforms to reduce youth isolation, Revitalizing the women's small group economy through the production of traditional handicrafts, improvement of the plastic recycling problem which has increased due to COVID-19, are being carried out in 5 countries.
With this project, Korean youth and youth from the four partner countries regularly interact in small groups using the online platform twice a month to share each team's project implementation and youth and local issues and the culture of each country. Each Country YMCA RaonAtti coordinator is in charge of a significant role in linking local resources to members and teams, giving feedback and advice, and carrying out projects.
The process of making good friends in Asia through growth and not success
RaonAtti's slogan is not to support the success of young people but to support growth. RaonAtti members may fail while working on the project because they are not the "expert" group. However, the attempt and processes to solve social problems by young people are significant. We believe that even if they fail, they will learn from their failure. And in this process of implementing the project, RaonAtti young leaders have the opportunity to look around their society, not just their issues and matters. That will be a moment of encounter the other side of society which they never experienced. It becomes an important moment for them to encounter the problems of their community, their country, and, more broadly, the various countries in Asia. In addition, through regular international exchange activities, a network between young people from 5 countries can be naturally formed. Through this, they can learn and grow from each other and naturally grow as global citizens through their experience, not just theory. For this reason, the Korea YMCA has been conducting the RaonAtti Volunteer Program and will continue to consider and support the process of nurturing young people from various Asian countries as global citizens.
By Jiyoon, Lee(NCY Korea, International Cooperation Team Director)