World YMCA and World YWCA Holds Joint Observance of World Week of Prayer 2021
Last Updated (Tuesday, 02 November 2021 16:07)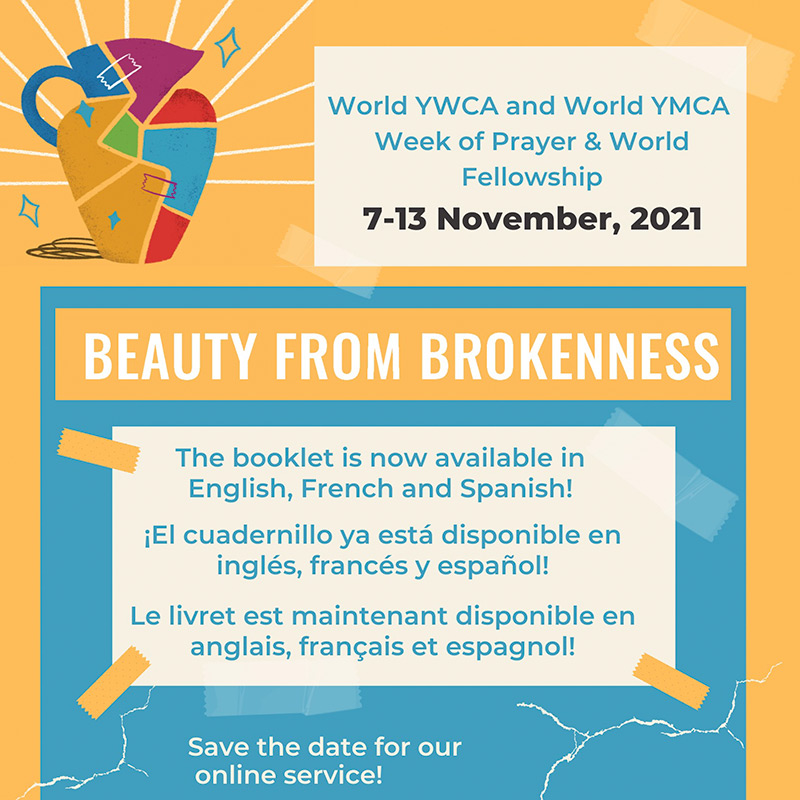 World YMCA and World YWCA Holds Joint Observance of World Week of Prayer 2021
The World Young Men's Christian Association and World Young Women's Christian Association worldwide are launching the observance of the World Week of Prayer 2021 from November 7-13, 2021. The theme for this year's World Week of Prayer is "Beauty from Brokenness." The Writers' Group and a separate Worship Committee took charge of the planning to produce the booklet of reflections, and to prepare the online worship service on November 12, 2021, at 16 hours CET. Both Writers' Group and Worship Planning Committee were composed of members of both faith-based organizations. Duncan Chowdhury of World YMCA and Steve Clay of England YMCA coordinated the meetings, in collaboration with Daniela Zelaya and Nirmala Gurung of World YWCA.
The process of producing the booklet took a few months. Six small groups of young people from different countries gathered virtually four times. A member of the Writers' Group convened each group and wrote the reflection gathered from the group sharing for the booklet. The reflections revolve around the brokenness of the world before, and during the pandemic.
Both World YMCA and YWCA take the task of bringing the good news to the world that is beleaguered with so many problems compounded by the pandemic. Thus, for this year's World Week of Prayer, the World Ys pick up the theme "Beauty from Brokenness" to tell the story of the Christian faith that God heals us amid our individual, and of the world's brokenness. This theme gets inspiration from Kintsugi, the Japanese art of restoring broken pots using lacquer and powdered gold, silver, or platinum. Kintsugi teaches people humility to embrace imperfections and to live purposeful lives even amid brokenness. Its story goes back to a 15th-century shogun who despaired over his broken precious cup. The Japanese ceramist repaired it using sap as lacquer to put the pieces back together and hid the "scars" with gold powder. The shogun was so happy his cup was not only repaired, but it was also reborn to a new life despite its imperfections. The cup became a unique beauty. This art form comes from a Zen Buddhist tradition. However, God speaks through different traditions and heals people of different races, gender, and traditions. Surely, God is a God of life, love, compassion, and freedom, who could not be imprisoned in any religious tradition's box, including Christianity's box.
The Team intended the Booklet of Reflections as a guide both for personal and group meditations within and even beyond the YMCA-YWCA circles. Interested parties could download the Booklet and other Zoom Resources from www.ymca.int/week-of-prayer. The online worship will be streamed live on Facebook @WorldYMCA.
Muriel Orevillo-Montenegro
Member,
Writers' Group and Worship Planning Committee