Sharing My Experience at COP26 Participation
Last Updated (Friday, 03 December 2021 20:09)
COP26 Explained
It was the time of the year again for the Conference of the Parties (COP) to meet and discuss coordinated actions on how to jointly address climate change!
This COP26 held on October 31-November 12, 2021 at Glasgow, Scotland was the 26th meeting of the signatory governments (parties) to the United Nations Framework Convention of Climate Change (UNFCCC). Delegates include world leaders, ministers, and negotiators but also by representatives from the media, business, civil society and international organizations like the YMCA

There are two major zones at this COP; the Blue Zone where most the parties' negotiation and meetings happen, and the Green Zone, where there are different displays and side events which are open to the public.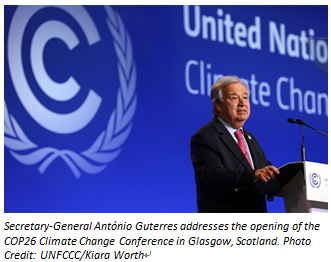 Race to 1.5
This COP26 is considered to be the most important COP because it calls for all countries to deliver what was promised at COP21 in Paris; to keep the rise in the global average temperature to "well below" 2 degrees above pre-industrial levels, ideally 1.5 degree Celsius, strengthen the ability to adapt to climate change and build resilience; and align all finance flows with 'a pathway towards low greenhouse gas emissions and climate-resilient development'. In order to achieve these parties submitted "Nationally Determined Contributions" (NDC's) for 2030 and during this COP they need to revise it with more ambitious goals because the clock is ticking!
During his speech, UN Secretary-General António Guterres called the recent report of the Intergovernmental Panel on Climate Change (IPCC) a "code red for humanity." Given the devastating impacts of climate change we all experience; extreme weather patterns, severe drought, catastrophic typhoons, rise in sea level, we all need to act fast!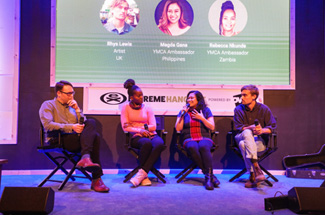 YMCA in this Space
Since 1947, YMCA has a consultative status to the United Nations. During this COP, the YMCA was able to send more than 20 delegates who has an observer status at the Blue zone.
I was one of the YMCA Youth Ambassadors who had this Observer Badge. As a representative of the Asia Pacific Alliance of YMCA's (APAY), I shared about the Youth Led-solutions Work and the Green Ambassadors program we are doing at APAY in several media exposures and panels I've had during COP26.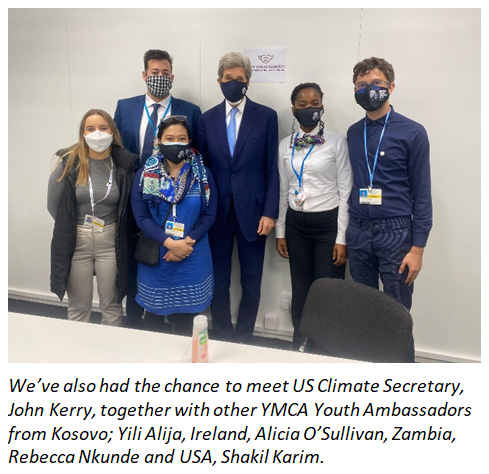 One of the main call we are bringing to this meeting is the importance of investing in Youth-Led Solutions. This is an important initiative of the YMCA where young people are given the space to think of solutions to address Climate Change in their local community and get funding support and mentoring to implement their solution. Since October 2020, the YMCA has invested a total of 250,000USD to fund 35 youth-led solutions on climate across the globe. Some of these solutions were featured in a short documentary (https://youtu.be/Pl3om2fbaVk) screened during the side event hosted by the YMCA during COP26.
YMCA Work to Combat Climate Change
One of the realizations I've had in my participation at COP26 is the importance of the work of the YMCA to combat climate change. YMCA shared a commitment to carbon neutrality by 2030 and announced an additional 150,000USD investment to fund more youth-led solutions on Climate for the coming year 2022.
As a Global Movement present in more than 120 countries, YMCA can and should contribute to achieving the goals set at COP in one way or another. (https://www.teneo.com/summary-of-cop26-deal-the-glasgow-climate-pact/.)
It is a call not only to all the YMCAs but to us, individual members, leaders, staff and youth of the YMCA to set an example of best practices of a low carbon lifestyle. We must continue to create space to elevate the voices of youth, the marginalized sector, women and children, who are mostly affected by the impacts of climate change. We can all think of many ways to achieve our goal, but what's more important than the deals and the plans is to act on it, to do it now and to do it fast because there is no planet B.
PHOTO GALLERY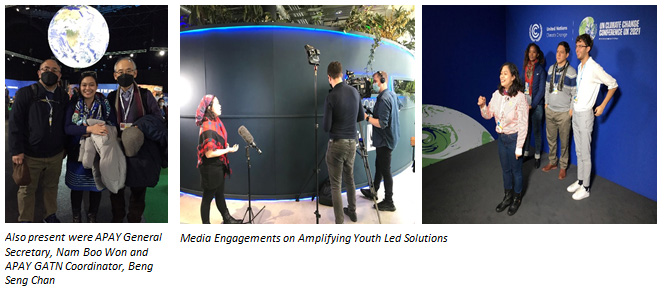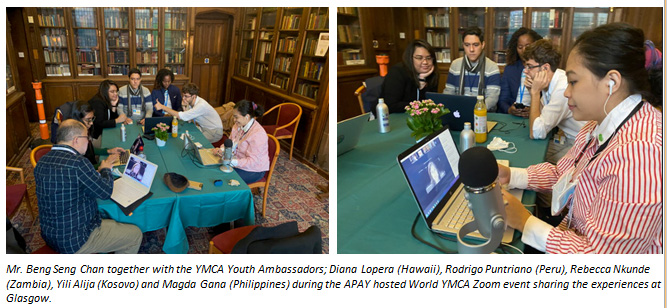 Submitted by:
Ma. Magda R. Gana
Program Secretary
YMCA Makati
Philippines