I am for Zero Waste!
Last Updated (Thursday, 05 May 2022 15:48)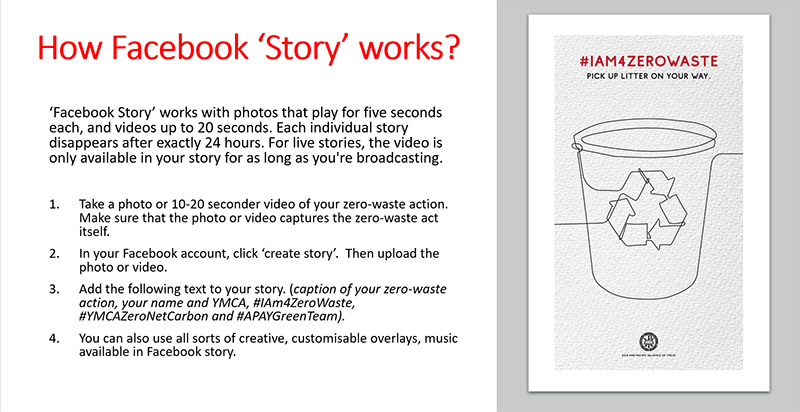 'I am for Zero Waste!'
The "I am for Zero Waste" is an environment awareness, advocacy and action campaign that focuses on individual commitment as well as the development of local and national integrated ecological programs in the YMCA. The 'I am for Zero Waste' campaign at an individual level involves changing habits and routines by making choices that have less harmful effects on the environment. At the organizational level, the campaign aims to encourage the movement and institution in changing their practices towards sustainable systems that are nature-based and ethical in order to build a framework for supporting a stable future for all.
In particular, this campaign is a follow-up action to the urgent call of the Green Ambassador's Training participants to adopt the zero net carbon by 2030 as necessary to achieve maximum warming of 1.5 degree Celsius. The participants believed that setting this significant high standard affirms YMCA's care for the ecology of the planet, the alleviation of people's suffering and preservation of human dignity.
How to join the campaign?

The 'I am for Zero Waste' invites individuals and YMCAs to make their individual or organizational contributions to zero waste by mainly adjusting their consumption patterns and practices. To help educate and encourage others to join the movement, the challenge is to share each zero-waste action on your Facebook 'Story' every 3rd Friday of the month starting May 2022. As stories are a great way to connect with each other, regular content sharing will run until February 2023. This culminating date will coincide with the Zero-Waste Month Celebration.

The APAY Green Team launched the campaign through its Facebook page during the Earth Day Celebration last April 22, 2022. On that day, we joined the global community in 'investing on our planet' by raising awareness about environmental protection and by sharing our zero waste actions.




- Maria Cristina L. Miranda, APAY Executive Secretary




Need some ideas? Here are some every day zero-waste actions you can take:

• Use eco-bags in supermarkets and shopping malls.

• Bring and use reusable water bottle.

• Bring and use lunch boxes.

• Say no to straws.

• Bring home leftovers.

• Walk or bike.

• Pick up litter on your way.

• Use recycled paper for gift wrap.

• No more use of plastic bottles.

• Shop in thrift shops.

• Reduce water waste.

- Use glasses when brushing teeth.

- Use buckets instead of shower when taking a bath.

• Donate your unwanted clothes to charity organizations.

• Rework the fabric from old clothes into something new.