'National Himalayan Trekking-Cum-Training Expedition to Valley of Flowers' - July 23-31, 2022
Last Updated (Wednesday, 31 August 2022 17:36)
As recounted by a participant - we started our journey by Shatabdi Express from Delhi to Haridwar and then got a cab to Rishikesh, to reach our destination, Base Camp, Bharat Mandir Dharamshala, Rishikesh (1,031 ft).
The hostel staff was welcoming. A short meeting was held with YHAI & YMCA leaders,
Next day, we were able to enjoy sightseeing during the long journey from Rishikesh to Joshimath Camp (6,150 ft). When we arrived, we were welcomed by friendly staff. The camp afforded a breath-taking view of the hills around us.
The following day, from Joshimath to Govind Ghat (5500 ft) and then Govind Ghat to Ghangaria, was our first actual trek (10,200 ft).
Next day, the trip from Ghangaria to Valley of Flowers – Heaven on Earth (11,500 ft) & back took the entire day. The hike was incredibly difficult, with a long, steep stone slope and high drop offs on the side of the path. However, knowing that the famed valley was around the corner made for good motivation to carry on.
After we reached the valley, it was a totally amazing exposure to the peaceful environment. We took some wonderful pictures there that will be treasured forever.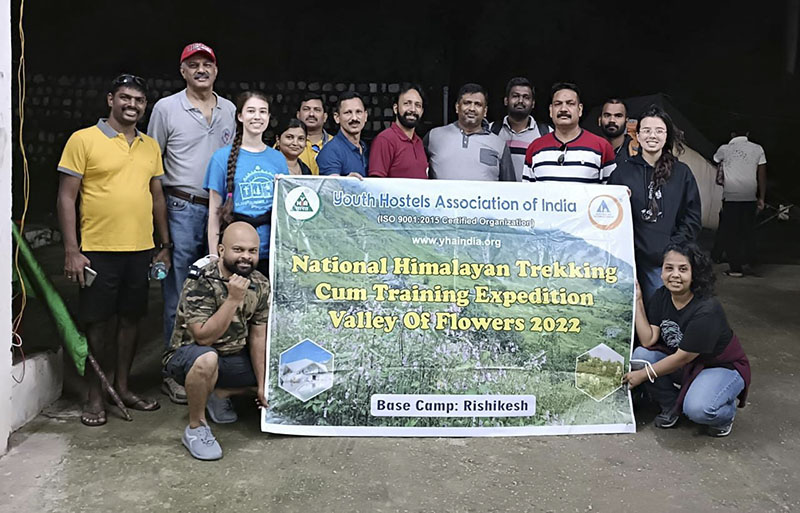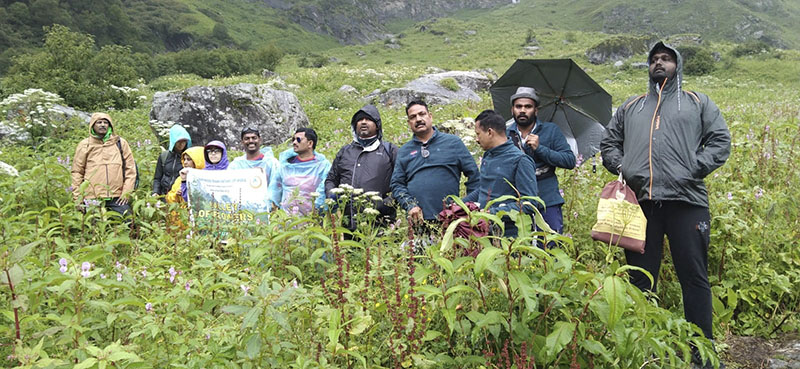 Bestowed with the rare and exotic Himalayan flora, the Valley of Flowers is a bouquet of nature peacefully snuggled in the West Himalayan region of Uttarakhand. The trek of Valley of flowers goes through dense forests, along with Pushpawati river and can be reached by crossing many bridges, glaciers and waterfalls on the way. This glaring piece of nature is an Indian National Park and a UNESCO World Heritage Site exhibiting plush meadows blossomed with endemic alpine flowers and diverse fauna in this valley. It is one of the most beautiful places on earth.
The next day, half the group members started the trek from Ghangaria to Hemkund Saheb-Highest Gurudwara in the world (15,200 ft) & back. The group stayed back at the Hotel.
Hemkund Sahib Gurudwara is located in the Chamoli district of Uttarakhand near Valley of Flowers. This holy shrine got its name from the glacial lake Hemkund, adjacent to the Gurudwara whose literal meaning is the 'Lake of Snow'. This pilgrimage place of Sikhs is dedicated to the tenth Sikh Guru, Sri Guru Gobind Singh (1666-1708) and also finds its mention in Dasam Grant, a work dedicated to Guru himself. This sacred place is house to Brahmakamal and a holy natural lake on the top of a mountain.
Next day, the trek from Ghangaria back to Govind Ghat and then from Govind ghat to Badrinath stay at Badrinath Youth Hostel (10,830 ft) was easier than the previous trek. We were able to socialize with other members of the hiking group and take plenty of astonishing pictures.
The next day, the bus ride to Mana village (10,500 ft) – last Indian village to Vasundhara Waterfalls (4km + 4km trail) from Badrinath was terrifying due to steep mountain roads. This particular day was perhaps the most beautiful trek, to Vasudhara falls, and the view was completely worth it.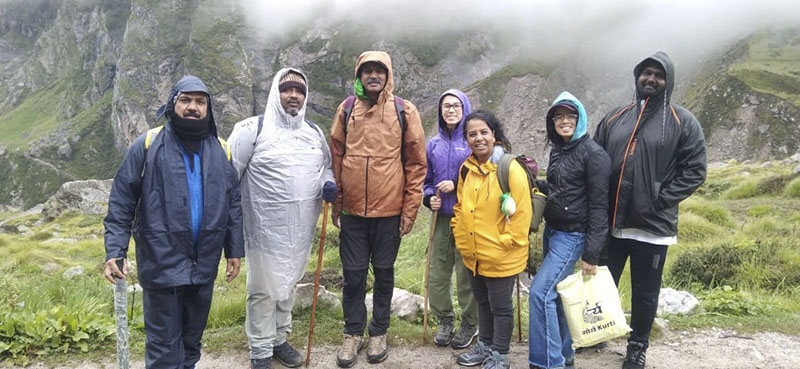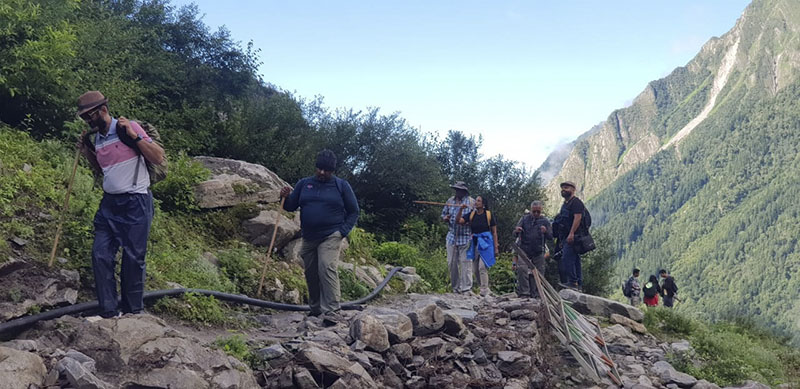 Mana is a last Indian village from the border of India and Tibet/China in the Himalayas. It is located in the district of Chamoli. It's been designated as a "Tourism Village" by the Uttarakhand government. Mana village is one of best tourist attraction nearby to Badrinath, It's just 3 kms from Badrinath town. The village is on the banks of the River Saraswati. It is situated at a height of around 3219 meters. The village is surrounded by Himalayan hills.
The nectar sweet, Vasudhara Falls surging near the city of Badrinath is one of the most enchanting places to visit in Uttarakhand. This ravishing waterfall drops from a height of 400 feet about 122 metres above sea level. The view of Vasudhara River valley gives panoramic views.
Next day, returning to Rishikesh Base Camp from Badrinath, was, again, a good exposure to the beautiful surrounding mountains.
Overall, this was a wonderful and memorable exposure; we would not hesitate to recommend to YMCA Members with much excitement and happy moments throughout this unforgettable journey.
We thank our Almighty God for protecting and keeping us safe. "Thank you, Lord, for protecting us while we are driving down to the Pass. Thank you, Lord, for protecting us when we were trekking along the mountains. Thank you, Lord, for protecting us as we are camping in the outdoors"
We express our deep gratitude and sincere thanks, on behalf of The National Council of YMCAs of India to all YHAI (Youth Hostels Associations of India) Leaders and Management Staff, especially Mr. S. Venkat Narayanan, National Chairman, Mr. Manoj Joshi, APC Chairman, Mr. Rupesh K Pandey, CEO, Mr. Navin Tiwari, Program Coordinator, Ms. Mukul, Trekking Division and Volunteers, for their support and wonderful co-ordination as well as for their painstaking efforts in making this trip to Valley of Flowers a reality. The Himalayan Trekking was organized in association with the Youth Hostels Association of India (YHAI). The trekking was coordinated by Mr. Navin Tiwari (YHAI), Mr. Bhen Samson, Regional Secretary, North India Region and Mr. Koshy Alexander Vaidyan, Secretary, Youth Work Department, NCYI. All of us know about the huge floral diversity of Valley of Flowers. Identification of such a huge number of flora that we encountered during the trek would not have been possible without the untiring guidance of YHAI staff and volunteers.
By Mr. Koshy Alexander Vaidyan
Secretary, Youth Empowerment, Gender,
Sports and Physical Recreation, Media and Communication
National Council of YMCAs of India