"Transforming our economies and societies to restore our ónly one earth' - Green Ambassadors Training 2022
Last Updated (Tuesday, 01 November 2022 14:50)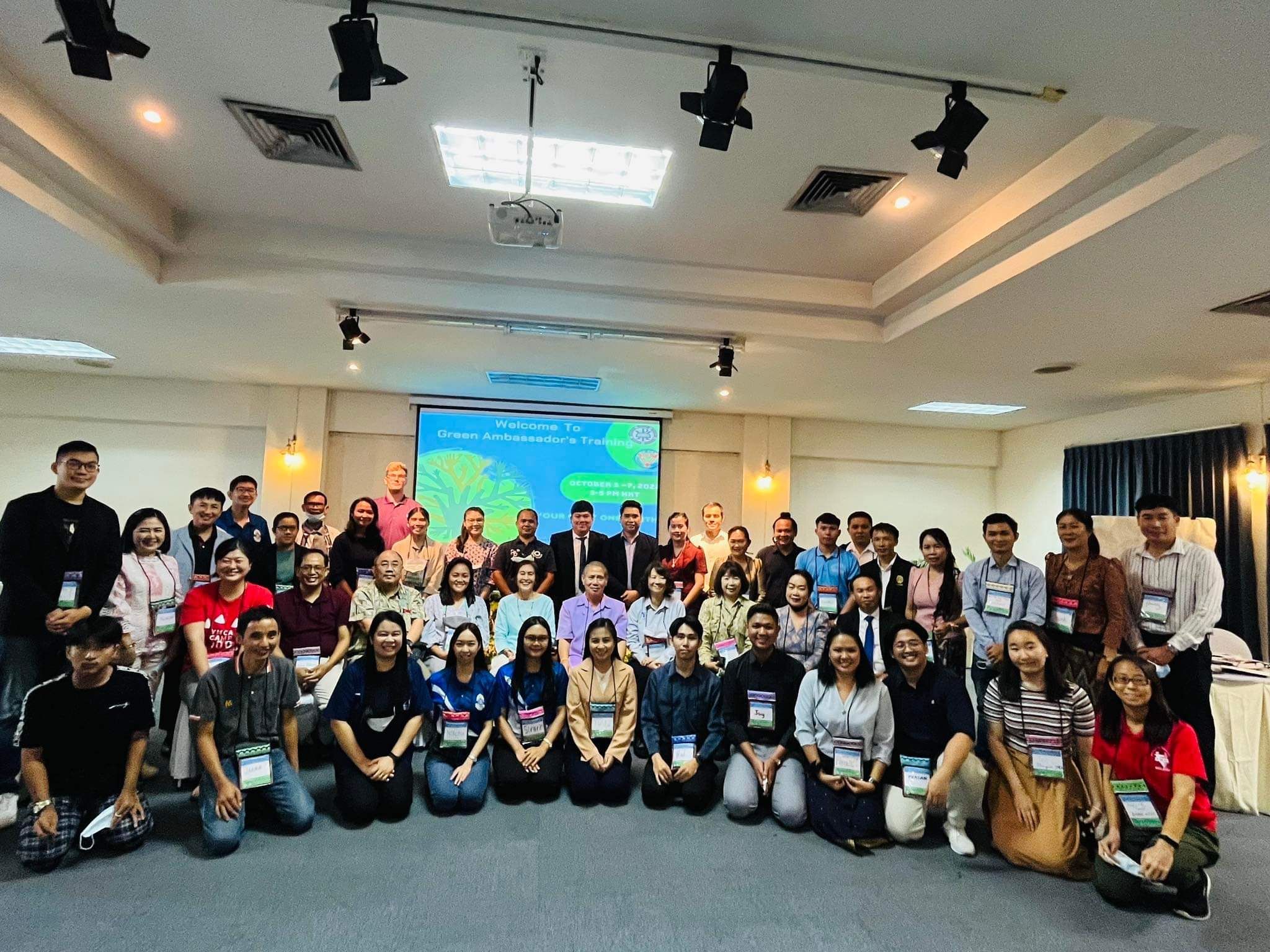 ↑ Group photo during opening ceremony
After three years of virtual gathering due to COVID19 pandemic, the Green Ambassador's Training was finally conducted in-person. Around thirty-five participants from the YMCAs of Japan, Laos, Malaysia, Mongolia, Myanmar, Philippines, Taiwan and Thailand met in Chiangmai, Thailand last October 3-7, 2022 to learn about climate change and its impact to people and communities; to engage in dialogue on enhancing 'Green Ambassadors' capacity for environment and climate change action to secure net zero by 2030 to keep global temperature 1.5 degrees within reach; to share good practices on carbon emission reduction and other green project; and to strengthen cooperation, network and green movement towards a Greener YMCA and communities. The training was also joined by the 30 registered online participants from YMCAs Singapore, Sri Lanka and Chinese YMCA of Hong Kong. The online participants joined and interacted with the in-person daily from 3-5 PM HKT.
The Green Ambassador's Training aligns with the World Environment Day's theme, "Only One Earth". Celebrated annually on June 5, the WED is the United Nations' platform to encourage awareness and action for the protection of the environment. The theme highlights that the Earth is in "code red" due to climate change, nature and biodiversity loss, and pollution and waste. It also states that billions of people are short of income, food, shelter, health care and education. Energy and food crises on the heels of the COVID-19 pandemic and a spike in conflicts around the world are further causes for concern. Given these realities, individuals, organizations businesses and governments are urged to transform our economies and societies to make them inclusive, fair and more connected with nature.
The training included panel presentations YMCA VISION 2030 Pillar on a Sustainable Planet and our Response by Razvan-Victor Sassu, WAY Head of Strategy and Policy; Climate Change Mitigation and Adaptation by Dr. Somporn Chantara, Chiangmai University and GATN and Climate Change by Beng Seng Chan, APAY GATN Coordinator. It also incorporated case studies from Green Ambassador graduates and Green Team members who have successfully implemented climate action in their respective YMCAs. The case studies presented highlighted the works on carbon audit, education and advocacy as tools to combat climate change. The following case studies were presented: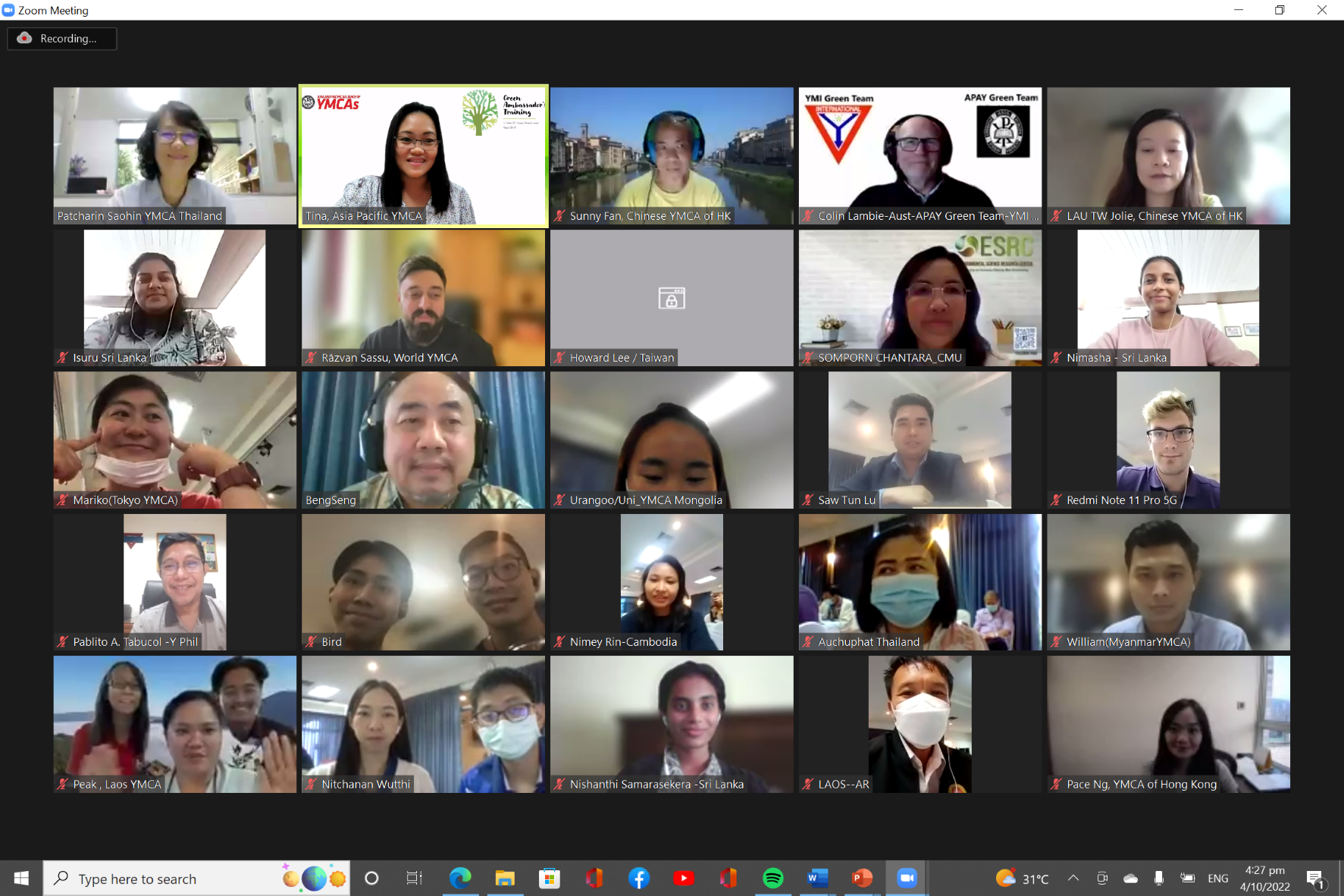 ↑ Green Ambassadors Training virtual session
Reducing Waste and Recycling Kalakalikasan Project; Reagan Jay Melendez, YMCA of Makati, Philippines
Integrated Agriculture and Food Security; Saw Jackson Eway, General Secretary Nay Pyi Taw Young Men's Christian Association (YMCA)
Installation of Solar Panel, Magda Gana, YMCA of Makati, Philippines
Environmental involvement, certification & practice; Fan Yiu Chuen, Sunny, Hong Kong and APAY Green Team
Awareness, Advocacy and Action: I am for Zero Waste, Maria Cristina Miranda, APAY Executive Secretary Greener Y Manila Project; Ivory Manio, YMCA of Manila, Philippines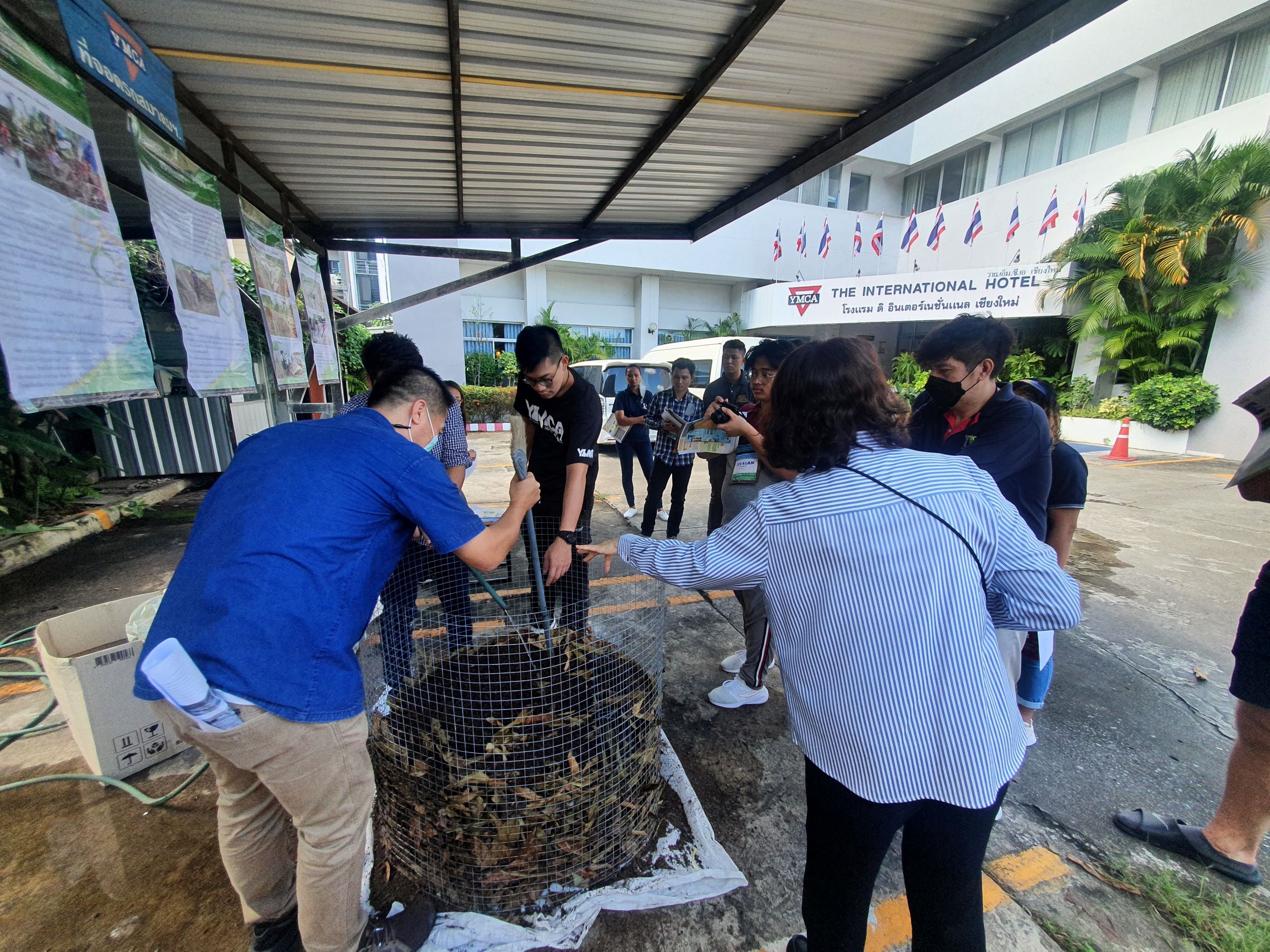 ↑ Demonstration on composting
The in-person participants experienced on site demonstration on composting, re-cycling and environment friendly social enterprise projects. In preparation for the participants discussion and planning session, Maria Cristina Miranda APAY Executive Secretary on Environment and Climate Change shared about the APAY Road Map to combat climate change. It was followed by Colin Lambie, APAY Green Team Member who also presented practical ways on achieving a zero net carbon YMCAs. In addition, Narupacha Muang-in, APAY Green Team Member and Head of Climate Change Education Program, Sao Hin YMCA, Thailand presented guidelines on how to design climate change actions. Through these inputs, the training also facilitated small group discussion and sharing of experiences on local/national observed effects/impacts climate change. The proposed solutions and scaling up on ways to achieve zero net carbon was the highlight of the training. The proposed projects were presented by each team during the last day of the training. As a conclusion, the participants simultaneously shared their 'zero waste' act to their FB stories. The participants were welcomed by Maria Cristina Miranda, APAY Executive Secretary for Programs and Patcharin Sugunnasil, Board of Director, YMCA of Chiangmai. The training was moderated by the APAY Green Team members namely, Patcharin Aviphan, Saw Tun Lu, Mariko Ikeda and a youth staff from YMCA of KL Amelia Cheong.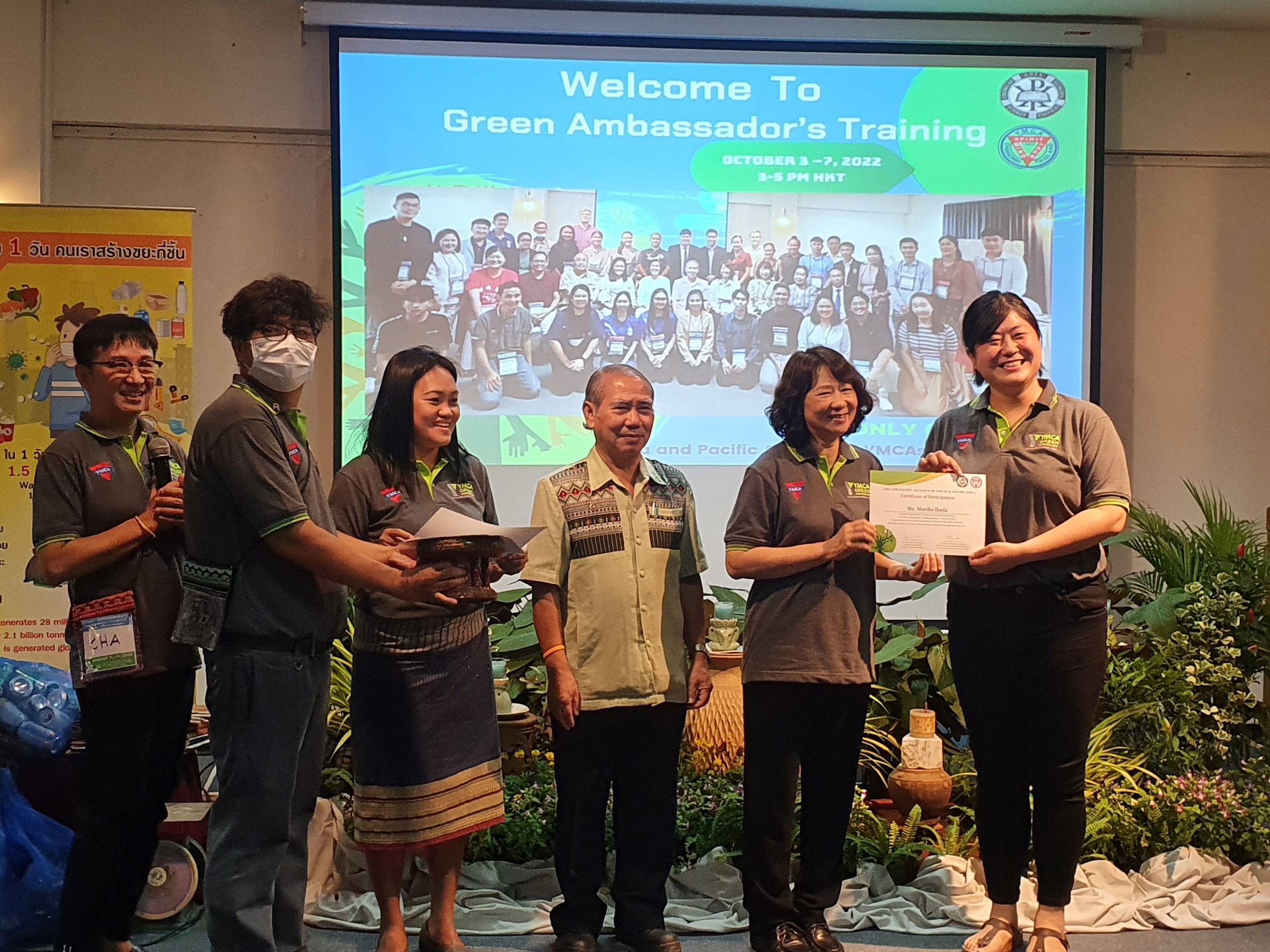 ↑ Distribution of certificates
By: Maria Cristina Miranda, APAY Executive Secretary