International Green Ambassadors Training 2019
Last Updated (Thursday, 04 April 2019 15:02)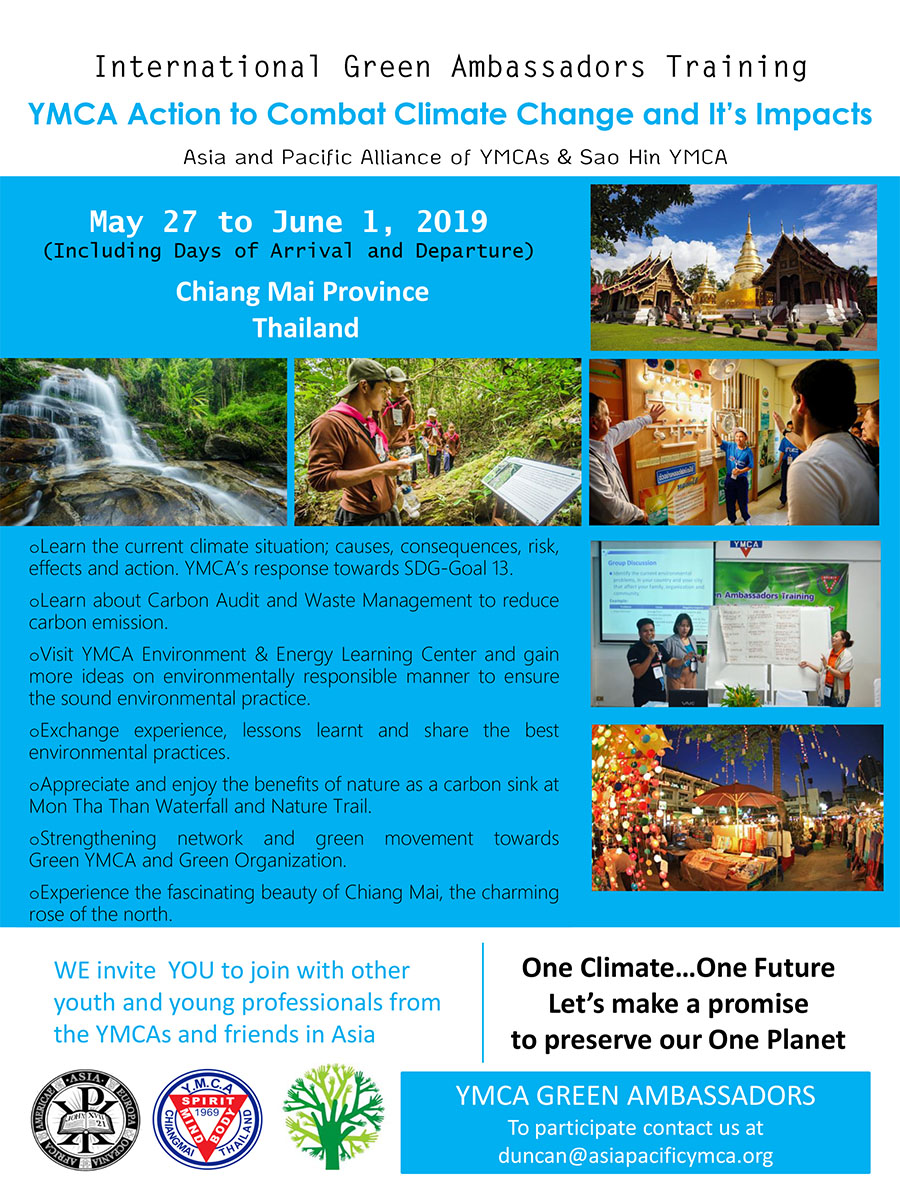 The 36th Advanced Studies Program
Last Updated (Tuesday, 30 November 1999 08:00)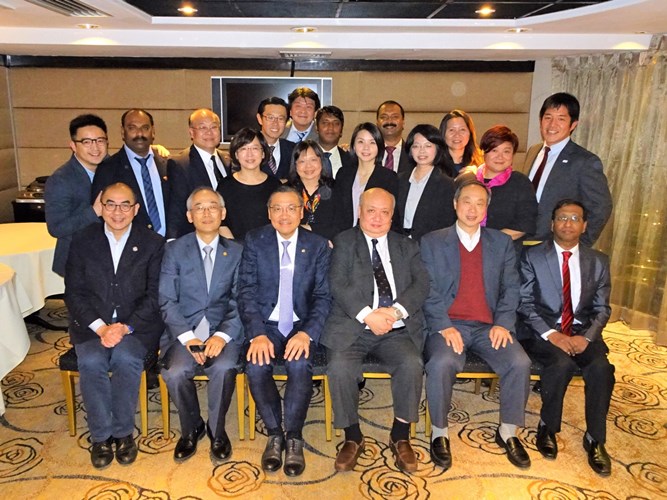 The 36th Advanced Studies Program of APAY had successfully concluded here in Hong Kong on 30th November 2018 with the holding of the grand Graduation Dinner. Commenced on 5th of November, the program was held at YMCA Youth Village, Wu Kwai Sha, Ma On Shan, New Territories, Hong Kong.
One of the oldest continuing program of APAY, the Advanced Studies Program was introduced in 1982. The main objectives of this month-long training is to enhance YMCA professional secretaries' ability to critically analyze the ongoing social processes, based on the life and teachings of Jesus Christ and develop the YMCA professionals who are mission-responsive, socially relevant and effective institutional leaders.
A total of fourteen (14) Senior YMCA professionals participated at this program. They were (i) Ronel Francis Costa from Savar YMCA Bangladesh, (ii) Pu Wangyu from Shanghai YMCA and (iii) Zhu Aimin from Nanjing YMCA, China, (iv) Dion Chen from YMCA of Hong Kong, (v) Hung Suk Yan Beatrice and (vi) Chan Pik Yan Selina from the Chinese YMCA of Hong Kong, (vii) Sam Robert Ponnian from the National Council of YMCAs of India and (viii) E. V. Shaiju from Kottayam YMCA, India, (ix) Lee, Jeong-Hee from Guri YMCA and (x) Kim Youngil from Daegu YMCA, Korea, (xi) Hitoshi Kanda from Osaka YMCA, Japan, (xii) Wei Pao-Chen from Tainan YMCA, (xiii) Lin Pei-Yun and (xiv) Chen Yun-Ting from Taipei YMCA, Taiwan.
Dr. Geevarghese Mor Coorilos from South India, Dr. Ema Leslie from Cambodia, Dr. Tobias Bradner and Dr. Hope Anthone from Hong Kong were the external resource persons for conducting the course, beside Nam Boo Won, Duncan Chowdhury and Chan Beng Seng from APAY.
The main areas of study in the course curriculum were Contemporary Mission of the YMCA, Contextual Theology, Social Analysis, Practices of Biblical Reflections; possible YMCA program responses like Global Citizenship Education, Alternative Tourism, UN Agenda 2030 for Sustainable Development Goals, Gender Mainstreaming, Social & Solidarity Economy and final section was related to institutional development of the YMCA like the Board Governance, Movement Strengthening, Organizational Review & Strategic Planning.
At the concluding section of the program, all the participants were required to prepare a re-entry plan, a paper reflecting the learning of the participants and also the plan of a new action oriented program based on the teachings of ASP, that each of them will implement upon their return to their respective home country.
We are indebted to the Chinese YMCA of Hong Kong and the YMCA of Hong Kong for their support to materialize this program. The YMCA of Hong Kong had hosted the Welcome Dinner for the participants on 5 November and the Chinese YMCA of Hong Kong hosted the Graduation Dinner on 30 November 2018.
Dr. Arnold Cheng, Vice President of Chinese YMCA of Hong Kong welcomed all the participants and guests at the Graduation Dinner on behalf of the board of Chinese YMCA of Hong Kong. Mr. Ronald Yam, Treasurer of APAY and World Alliance of YMCAs, Mr. Karl Lau, General Secretary of Chinese YMCA of Hong Kong & Mr. Peter Ho, General Secretary of YMCA of Hong Kong also adorned the ceremony with their kind presence. Mr. Nam Boo Won, General Secretary of APAY delivered the words of felicitations and encouragement for the participants. The ceremony was also attended by key staff members of Chinese YMCA of Hong Kong and YMCA of Hong Kong, the resource persons of Advanced Studies Program and members of the APAY family.
Certificates were awarded to all the successful participants and they also pledged their firm commitment to serve their respective communities through the YMCA. We wish all the participants a bright and colourful YMCA career in future.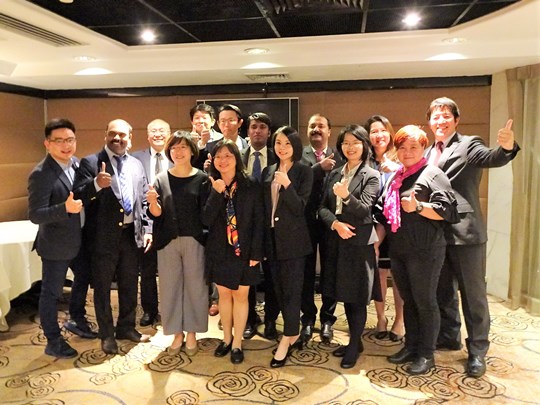 DUNCAN CHOWDHURY, EXECUTIVE SECRETARY
20th General Assembly & 4th Youth Assembly
Last Updated (Thursday, 21 March 2019 17:29)
Asia and Pacific Alliance of YMCAs
20th General Assembly 2019
"Living Together Within Nature
on a Path to Peace"

Tozanso, Japan
APAY Green Ambassadors Learn About Climate Change
Last Updated (Tuesday, 09 April 2019 12:27)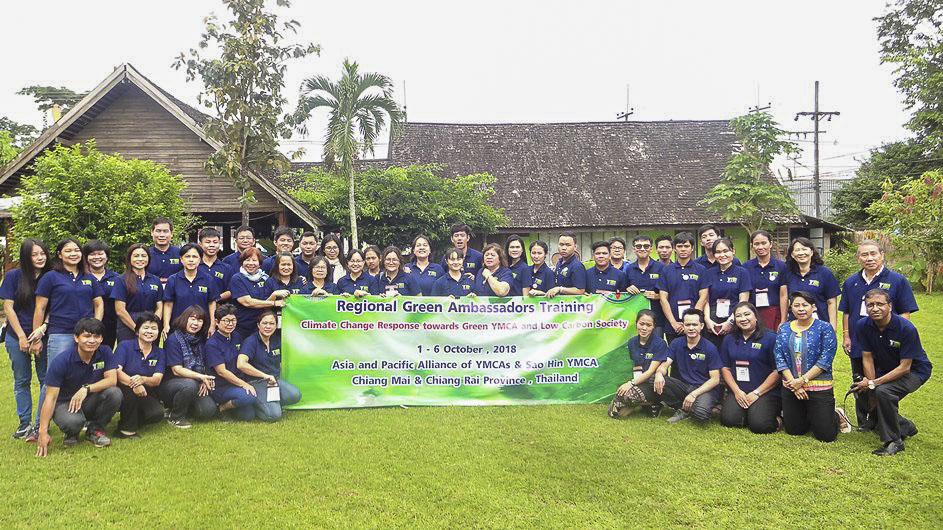 Thirty-one (31) participants from various YMCAs and universities from five countries; Laos, Myanmar, South Korea, Philippines and Thailand, attended the Regional Green Ambassadors Training held last October 1-6, 2018 in Chiang Mai and Chiang Rai, Thailand.
The 5-day training organized by the Asia and the Pacific Alliance of YMCAs (APAY) in partnership with Sao Hin YMCA, branch of Chiang Mai YMCA was filled with discussions on different environmental issues and experiential learnings on climate change education and response towards a green YMCA and a low carbon society.
Read more: APAY Green Ambassadors Learn About Climate Change
Global Citizenship Institute, Salatiga, Indonesia
Last Updated (Tuesday, 30 November 1999 08:00)
Unity amidst Diversity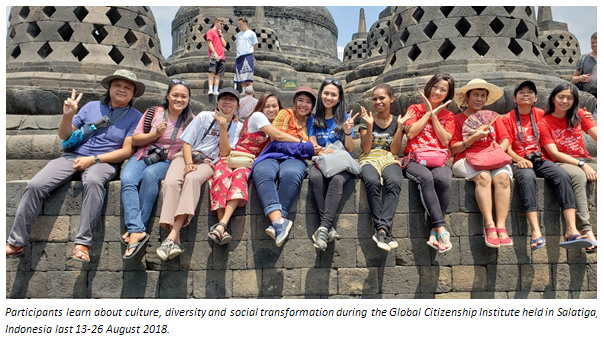 Being part of a globalized society, the participants of the Global Citizenship Institute held in Salatiga, Indonesia last 13-26 August 2018, recognized their important role in lessening the negative impacts of globalization and in increasing their efforts in contributing to the development of an equitable societies. With the theme, "Global Citizens as Interfaith Catalyst for Peace", the nine participants comprising of lay and staff from the national movements of Bangladesh, Cambodia, Hong Kong, Indonesia, Malaysia, Philippines and Timor Leste strongly believe that despite diversity in faith practice, a harmonious relationship that brings peace among peoples is possible if each person shall look at him/herself as a global citizen with corresponding social responsibilities.
The learning process started with the keynote presentation by Dr. Suwarto Adi, Chair of YMCA of Salatiga, where he emphasized the relevance of embracing the concept of global citizenship as a way of envisioning a new and better world for all. He further stated that through the principles and values espoused by global citizenship, a new social movement where global cooperation or sharing community can be realized.
Education on the current socio-cultural realities, the economic and political systems related to globalization and perspective on global citizenship was deepened through interactive input presentation and discussion on the following topics:
Topics
Resource Person

Interfaith Dialogue and Peace Building; Conflict Analysis and Resolution

Aan Anshory
Conflict Mediator, Indonesia

Social Analysis; Community Organizing and Social Movement

Saleh Abdullah
Community Organizer, Indonesia

Indonesia Social Context and Community Development

Margaretha Andoea
NGS YMCA of Indonesia

GCI 2018 Participants

Asia and Pacific Youth Situationer
Global Citizenship
Gender Equity
Development and Management of CD Program/Project

Maria Cristina Miranda
Executive Secretary, APAY
The theoretical perspective was complimented with the variety of program components such as devotions, session facilitation, community building activities, lecture presentations, group work sessions, dialogue, case study, reporting, interfaith walk, community immersion and home stay, project proposal writing and presentations and cultural fellowship that aimed to build on the potentials and skills of youth to think critically, speak clearly organize writing and practice learned skills.
Read more: Global Citizenship Institute, Salatiga, Indonesia
Page 1 of 17