The 35th Advanced Studies Program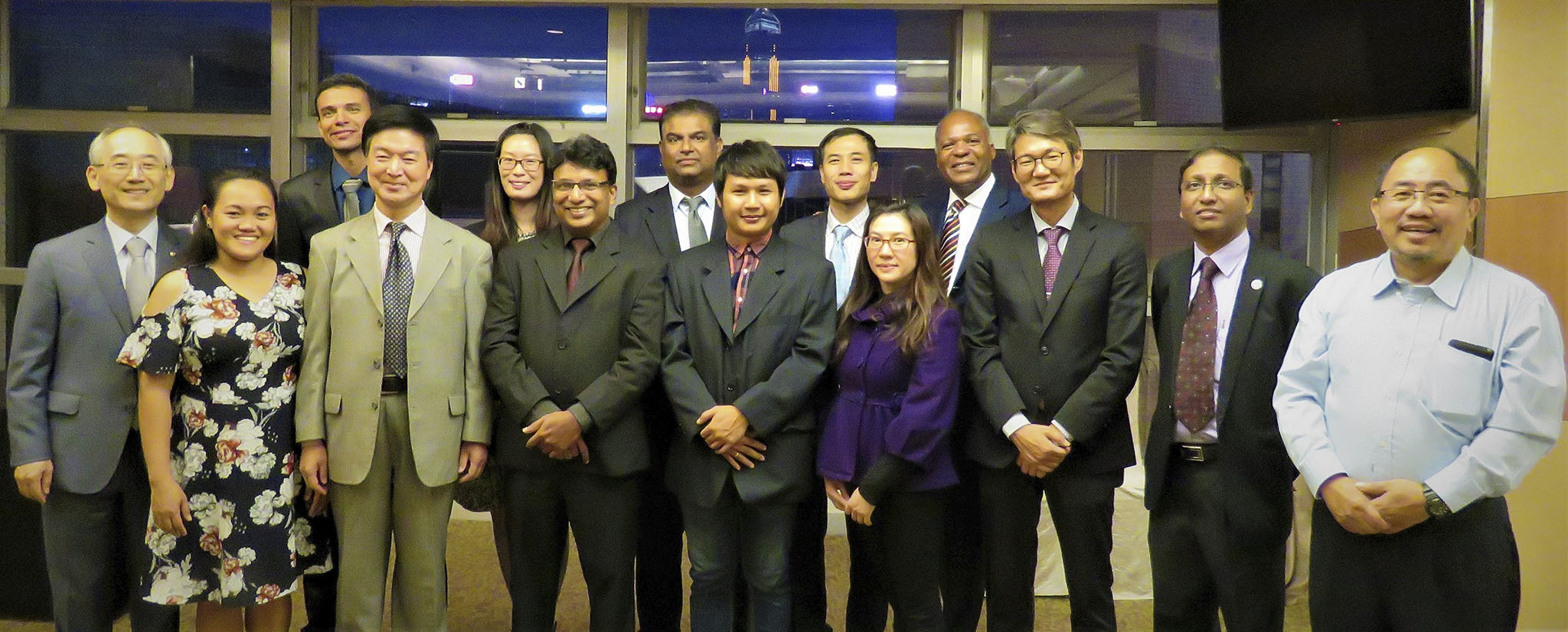 The APAY Advanced Studies Program concluded here in Hong Kong on 28th of November with the graduation dinner hosted by the YMCA of Hong Kong. It was a memorable event for the participants of the 35th ASP batch as they were handed over the course completion certificates at the ceremony.
The ceremony commenced with the welcome address delivered by Ms. Sheila Chaung, Honorary Treasurer of the YMCA of Hong Kong. At the ceremony APAY General Secretary Mr. Nam Boo Won, APAY Treasurer Mr. Ronald Yam and the General Secretary of YMCA of Hong Kong Mr. Peter Ho also spoke on the occasion, encouraging the participants to be dedicated in accomplishing the mission of the YMCA based on the servant leadership teachings of Christ. The speakers also underscored the need of YMCA's involvement in the socially relevant programs in order to meet the present day challenges.
The participants committed to dedicate themselves to work for the YMCA with the spirit of compassion through the expression of "Act of Commitment" in unison. Mr. Ming Shibin, General Secretary of Xiamen YMCA expressed his gratitude on behalf of the participants to APAY and particularly to Chinese YMCA of Hong Kong and YMCA of Hong for hosting the welcome dinner and graduation dinner, respectively.
This year the ASP commenced on 3rd November with ten participants representing the YMCA movements of China, Hong Kong, India, Korea, Myanmar and Sri Lanka from our region. We also had participants from the YMCAs of Brazil, South America and Haiti of the Caribbean.
The sessions of the Advanced Studies Program broadly focused on the contemporary mission of the YMCA, based on contextual theology, global socio-political & economic realities & issues and in search of answers how the YMCAs could address these issues with alternative responses. The other areas of studies were the Good Governance in the YMCA, Movement Strengthening & Organizational Review. Social Enterprises & Global Citizenship Education were found appropriate for the YMCAs to adopt in their own context as alternative responses in combating the demerits of globalization. The participants also studied the UN Sustainable Development Goals and their targets for 2030. They realized the need of the YMCAs to be more proactive in various development programs to attain the SDGs.
Dr. Kim Yong Bock from Korea conducted the sessions on Contextual Theology, Mr. Nam Boo Won was responsible for sessions on YMCA Mission and Good Governance in the YMCA, Mr. Max Ediger, Dr. Hope Antone, Mr. Beng Seng Chan and Mr. Duncan Chowdhury were responsible for conducting sessions on other remaining topics.
The total number of ASP alumni have now reached the magical number of 444 with the completion of 35th Batch this year. We expect that all the participants shall devote themselves for the betterment of their communities through implementing community oriented programs at their respective YMCAs.
Duncan Chowdhury