Southeast Asia Gender Justice and Social Transformation Workshop
Last Updated (Friday, 03 August 2018 16:42)
Gender injustices are violations of human rights
APAY Southeast Asia Gender Justice and Social Transformation Workshop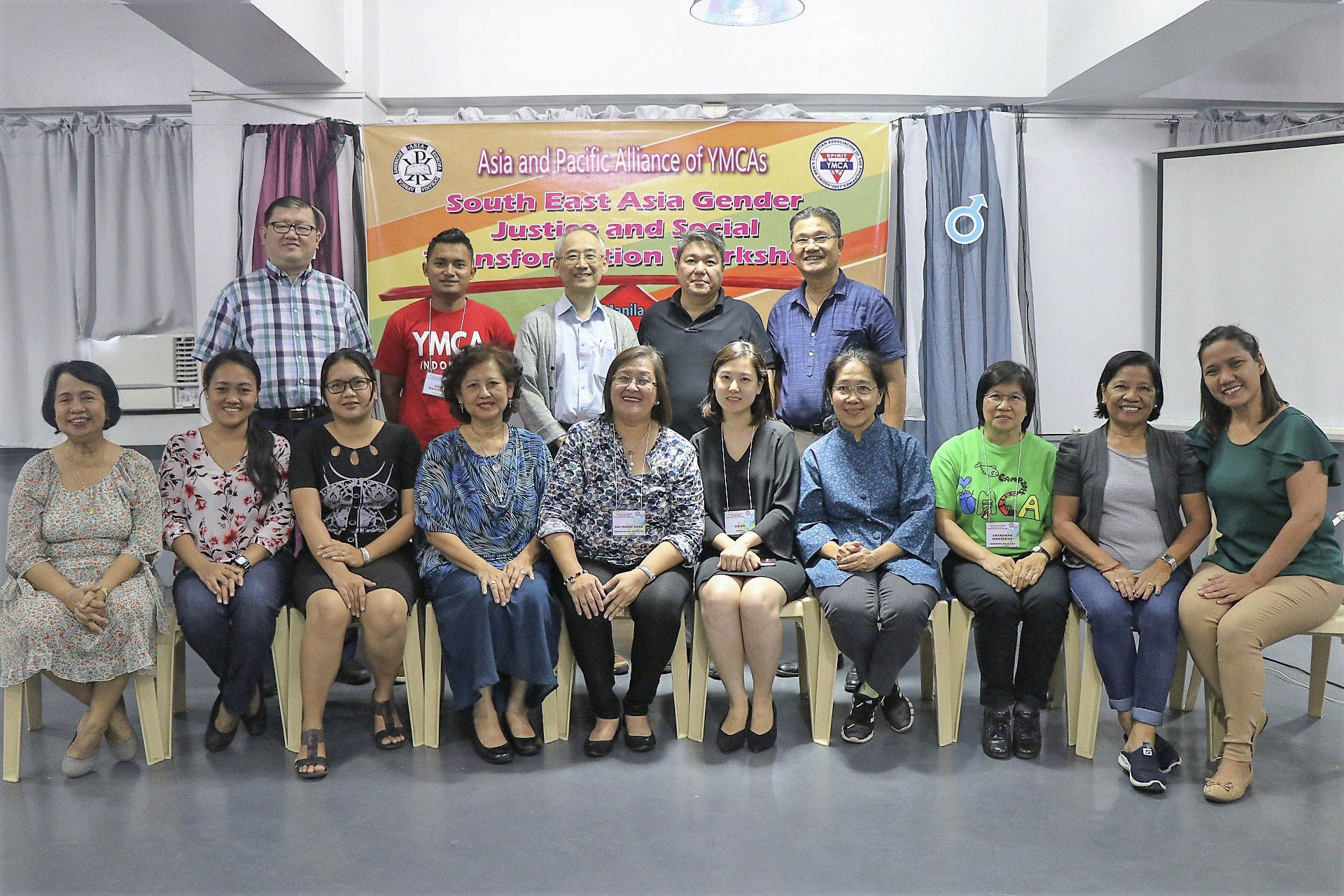 Participants of the APAY Southeast Asia Gender Justice and Social Transformation Workshop held in Manila, Philippines last June 26-30, 2018.
All forms of gender injustices are violations of human rights. This statement summarizes the learning and advocacy put forward by the participants of APAY Southeast Asia Gender Justice and Social Transformation Workshop held last June 26-30 , 2018 and locally hosted by the YMCA of Manila, Philippines. The participants comprising of lay leaders and staff from the National YMCA Movements of Cambodia, Korea, Malaysia, Philippines and Thailand strongly believe that personal and organizational actions must be geared towards resisting all forms of oppression, exploitation and discrimination against women.
The learning process started with self-reflection activities that focused on how each person has lived with the expectations on gender roles and responsibilities reinforced by various social institutions. Understanding on these personal experiences was followed-up by input presentation on the concepts of gender and situation of women in societies. Both these sessions affirm the current state of discrimination regarded to women in the region.
Among the injustices identified during the sharing of local/national realities include child marriage, women/girl trafficking, domestic violence and other forms of gender-based violence, low salary of women, sexual exploitation, poor working conditions and limited participation of women in leadership roles. These realities were amplified during the dialogue with non-government organizations such as Migrante International and Gabriela that worked with grassroots women and girls in communities within and outside Philippines. The dialogue was combined with actual community visit and testimonials from women who were victims of exploitation and other forms of discrimination.
Migrante International is an active defender of the rights and welfare of Overseas Filipino Workers (OFWs) by raising public awareness on their plight and providing a critical analysis of the Philippine government's labor export policy program as the main factor responsible for the commodification of Filipino workers. Gabriela on the other hand is a grassroots-based alliance of Filipino women that aims to build a strong women's movement that fights for the rights of women against all forms of violence, discrimination, and oppression.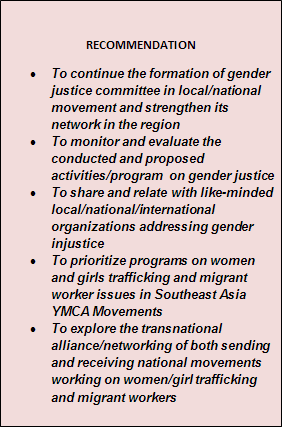 The workshop concluded with the sharing of YMCA initiatives addressing the promotion and protection of children and women's rights. A case study on Protect a Child Project of YMCA Bangkok Foundation was presented to highlight the commitment of the movement in community development work. The inspiration drawn from the sharing of YMCA initiatives has encouraged the group to propose for points of actions to continue improving its commitment towards working together for gender justice.
Finally, the workshop was attended by Under Secretary Hope Hervilla, Department of Social Welfare and Development (DSWD) as keynote speaker; YMCA key leaders including APAY General Secretary Mr. Nam Boo Won, YMCA Philippines President Atty Eduardo Pilapil, YMCA Philippines 1st Vice President Atty Zoilo Velez, APAY Gender Equity Committee Member Mr. Emmanuel Chan, YMCA Philippines NGS Pablito Tabucol, YMCA of Manila President Sanchez and Manila YMCA GS Mr. Orlando Carreon.