International Conference for Korean Peninsula Peace
Last Updated (Monday, 07 September 2020 20:24)
- APAY was invited to be co-host with CPCS, GPPAC and KNPC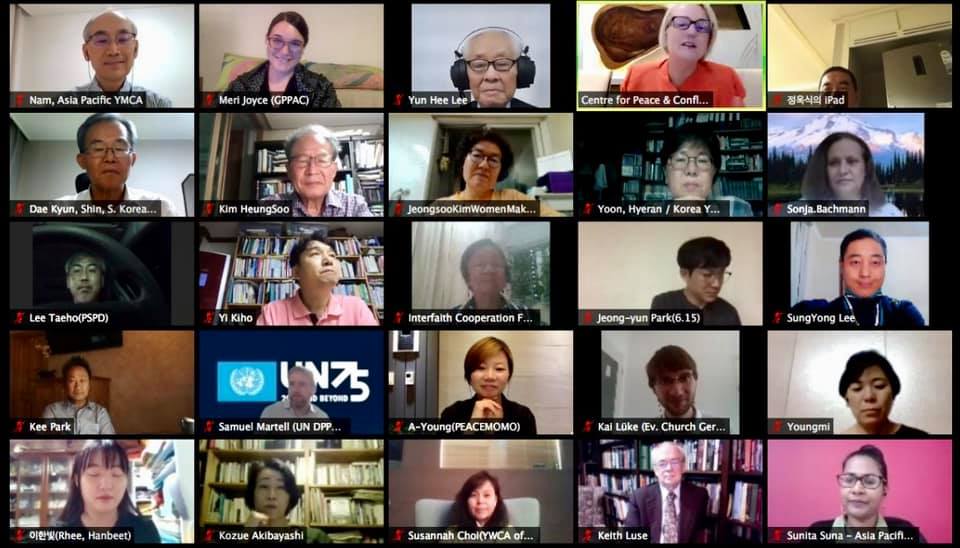 ↑  Korea Peace Conference participants via Zoom
Initiated by Center for Peace and Conflict Studies (CPCS) – a renowned Cambodia-based institute and APAY's working partner on peace-related issues – International Conference for Korean Peninsula Peace was held from 10th August to 13th August via Zoom platform. To this Conference, APAY was invited as one of the co-hosts along with CPCS, Global Partnership for the Prevention of Armed Conflict (GPPAC) and Korea National Peace Committee (KNPC) – a North Korean organization working with international NGOs on peace issues.
The objective of the Conference was to convene a diverse audience of stakeholders, with experts from inside and outside of the Korean Peninsula, to analyze and explore possibilities to support peace interventions. The conference gathered a strategic group of 50 or so analysts, researchers, diplomats, and peace practitioners with expertise on the Korean Peninsula to engage in critical analyses and deep, frank dialogues about the challenges and opportunities related to a peace process on the peninsula. During the four-day conference, various presentations and ensuing discussions focused mainly on impediments to peace and ways to overcome them; sustaining peace initiatives in the context of changing political environments; the role of the United Nations, and potential roles for other regional actors - the European Union, and non-state actors; the role of civil society and women-led peace movements; the role of economic cooperation in building and sustaining peace.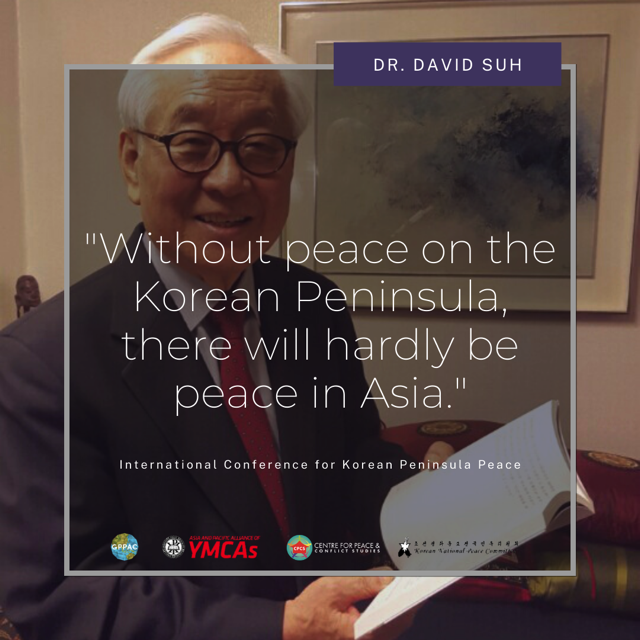 Main programs of the conference include: (on the 1st day) Welcome and introduction by Dr. Emma Leslie, Executive Director, Centre for Peace and Conflict Studies; Blessing Remarks by Dr. David Suh, Professor Emeritus, Ewha Woman's University & former President of World YMCA, followed by Opening Keynotes on "OPPORTUNITIES & CHALLENGES OF PEACE IN KOREA" by Mr. O Ryong Il, Presidium Member, Korean National Peace Committee of DPRK (Due to Covid-19 pandemic, he delivered his speech by pre-recorded video clip.) and by Mr. Kim Kyung-Min, National General Secretary, YMCA Korea and finally by Mr. Keith Luse, Executive Director, National Committee for North Korea, USA. (On the 2ND day) Impact of Sanctions on Public Health and Everyday Life in DPRK by Dr. Kee Park, Director of DPRK Programs, Korean American Medical Association, Role of the United States on Korean Peninsula Peace by Ms. Christine Ahn, Founder & International Coordinator, Women Cross DMZ. (On the 3rd day) "What's wrong with the EU policy towards DPRK and How to fix it?" by Dr. Tereza Novotna, Marie Sklodowska-Curie Fellow, Free University Berlin; Role of the UN on Korean Peninsula Peace by Mr. Samuel Martell, Political Affairs Officer of Asia and the Pacific Division, UN Department of Political and Peacebuilding Affairs and Peace Operations. (On the 4th day) "Synthesis: What have we discussed and learnt?" facilitated by Ms. Meri Joyce, Northeast Asia Regional Liaison Officer, GPPAC & International Coordinator, Peace Boat. And Closing Remarks was delivered by Nam Boo Won, General Secretary of APAY.
| | |
| --- | --- |
| | |
| ↑  Mr. Kim Kyung Min, NGS of YMCA Korea | ↑  Mr. O Ryong Il, Presidium Member, Korean National Peace Committee |
By and large, the conference was productive, meaningful and relevant, with updated information on the current situation, as well as inspiring messages from diverse key players, think tanks, experts and practitioners on the Korean Peninsula peace process. Towards the end of the conference, participants felt a collective sense of urgency towards a common action amid the current stalemate in the peace process. That is to say, though the peace process on the Korean Peninsula is in a stalemate at the moment, the challenge is how to co-create a "momentum" for breaking through this stalemate.
In short, a strong need to forge a global network of stakeholders was identified with a view to engaging more comprehensively in the Korean Peace Process. Along with strong initiatives by peace movements and other like-minded civil society actors in Korea, the imminent task of the network would be: firstly, to launch a global campaign including the Korean Peace Appeal, People's Peace Treaty Campaign, Humanitarian and Anti-sanction Campaign, etc. which were recently initiative by peacebuilding NGOs and ecumenical organizations of South Korea; secondly, to plan and implement a strategic advocacy utilizing 'Track II & Track I.5' in a creative way. The co-organizers also hope that an ensuing gathering will take place sooner or later in order to make a collective resolution towards creating a common platform for actions at global level. (If you want to receive the papers presented at the conference, kindly contact APAY office This e-mail address is being protected from spambots. You need JavaScript enabled to view it .)
~ Nam Boo Won, General Secretary