RTTL Telecasted 20 Years Existence of the YMCA of Timor Leste
Last Updated (Thursday, 01 September 2022 12:04)

Event Details,
Event : Talk Show (coffee break) in Radio and Television of Timor Leste
Topic : 20th years Existence of the YMCA of Timor Leste
Date : 16 August 2022
Organized : Radio and Television of Timor Leste (RTTL) :
Participant : Antonio B.S. da Silva (GS) and
Lourdes Correia da Silva Lobato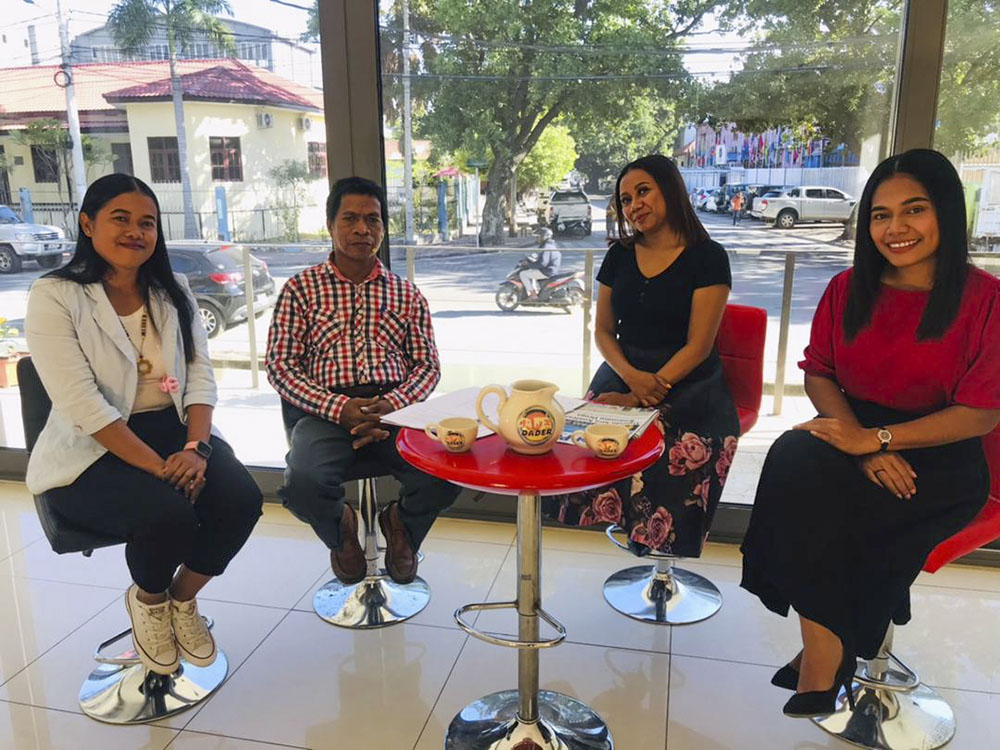 YMCA Timor Leste was invited by the RTTL to a talk show to share about the existence of YMCA Timor Leste for 20 years.
Rosa Prega Xiemenes, the host: what is YMCA and the history of the YMCA in the world and the history of YMCA of Timor Leste?
Antonio da Silva (GS) : The YMCA, or Young Men's Christian Association, was founded in London in 6 June 1844 by George Williams, a farmer and department store owner. He recognized a need for a safe environment amid the factories and tenements of industrial England. As a result, George Williams created the first London YMCA to provide protection, socialization, and a sense of community for young men. The first YMCA was open to all classes of citizens. The YMCA grew rapidly over the next century and established in around the world until now.
YMCA has establish as National Council of YMCA in more than 120 Country with members 65 million and one million beneficiary as volunteer and staff around the world.
Timor Leste become newest country in 1999 after get freedom by referendum on 30 August 1999. The majority Timorense was voted for freedom from Indonesia for 24 years invasion and Portugal colonialization for 450 year.
Assosiasaun Nasional da Juventude Cristan de Timor Leste (ANJUCTIL) or Young Men's Christian Association (YMCA) of TimorLeste was establishing on 23 November 2001 to contribute in development of Timor Leste.
Based on capability resources of ANJUCTIL that we still support small thing to develop Timor Leste based to YMCA of Timor Leste program and for the implementation will depending to commitment support from all Partner Support Group (PSG) members via APAY every year with vision and mission YMCA of Timor Leste are bellow; .
a. Vision
To be a transformer for kids, youths and community to become a family which live in peace and love for the future of Timor-Leste.
b. Mission
To serve and strengthen the members and community without race, religion, gender through the programs to develop lives as part of "body, mind and spirit" based on Christian principles.
Joana Araujo Rodrigues, the host: Can you share with us the programs of YMCA TL, benefit of the programs to you, vision and mission including the beneficiary of all program to youth until today?
Antonio da Silva (GS): Base to the resources YMCA of Timor Leste, until now still get assistance support from YMCA's around Asia and special Asia Pacific Alliance YMCA (APAY) to implement several program as part of existence YMCA TL from 2001-2022;
Soccer program, the program was establish from 2006 with objectives "to mobilize youth living in peace and harmony in community between youth in Timor Leste". Participant; Thousands of the youth has participate in program and some of them has got as best players in National team, coach in the Football Club and also National referee.

Ecumenical Program, Annual program for the YMCA members, Student Christian Movement and youth in Terra Santa

Kids Program, Annual program to the kids around the Terra Santa Sub Village

Youth empowerment, Annual program for youth. There is Korean Language Course in 2018-2019 was participate around 20 student, Japan Language Course was participate around 1070 student from 2019-until now.

Formal Education, YMCA of Timor Leste has develop formal Kindergarden to kids around Dili. Almost 300 student was joint in the class from 2018-until now. (

Income generation (Rent Tenth and Chair Project to the community), it was develop from NLAP program 2017.

Organization strengthen, Participate in leadership training in Timor Leste and abroad to staff and volunteer of YMCA TL

Disasters, Disaster Relief Work in YMCA TL, With Assistance support from APAY and WAY to support the victim of Covid 19 and natural disaster that hit Timor Leste in 2021.

Re forest, The program was implement during leadership training in YMCA TL center 2008-2009

Sewing program, The program will encourage participant to have small business in the house

International Peace Camp, YMCATL hosted the camp in 2008,2009 and 2013

Raonnati Program, Raonatti, meaning "Good friend or Friends of Asia", is a collaboration program between YMCATL and YMCA Korea special for student volunteer with sponsorship from KB Kookmin Bank (Korea). The program was conducts volunteer work annually in Timor Leste from 2008-2015.
Finally, this is same memorize information for all activity related to 20th years existence YMCA of Timor Leste for from 2001 until now.
Agradese e Muinto Obrigado
Discussion during talk show in Tetum version with chanel youtube : RTTL.EP - KAFE DADER 16-08-2022 "Ezistensia YMCA Timor-Leste" (LIVE STREAM) https://www.youtube.com/watch?v=4UHLGsTBLoE
By Antonio B.S. da Silva
General Secretary of YMCA Timor Leste