Emergency Partners Support Group meeting for Sri Lanka YMCA
Last Updated (Thursday, 01 September 2022 11:27)
APAY organized this meeting online on August 12, 2022, the follow-up meeting of the Aarhus, Denmark, during the World Council. The following partners, staff from YMCA Sri Lanka and APAY staff, were present at the PSG meeting: Paul Keith, Australia; Peter Dinsdale, CEO, Canada; Jessica Nkongolo, Canada; Heidi Worthington, Canada; Juan Simoes, YMCA Europe; Claudia Kuhn, Germany; Peter Ho, Hong Kong; Kohei Yamada, WFYR, Japan; Utako Sugino, Japan; Kristin (A), Norway; Kristin (B), Norway; Renata Ferrari, USA; Denise Hatton, CEO, England & Wales; Duncan Chowdhury, World YMCA; Saman Perera, President Sri Lanka; Fabian Schokman, Sri Lanka; Nam Boo Won, GS, APAY; Sunita Suna, APAY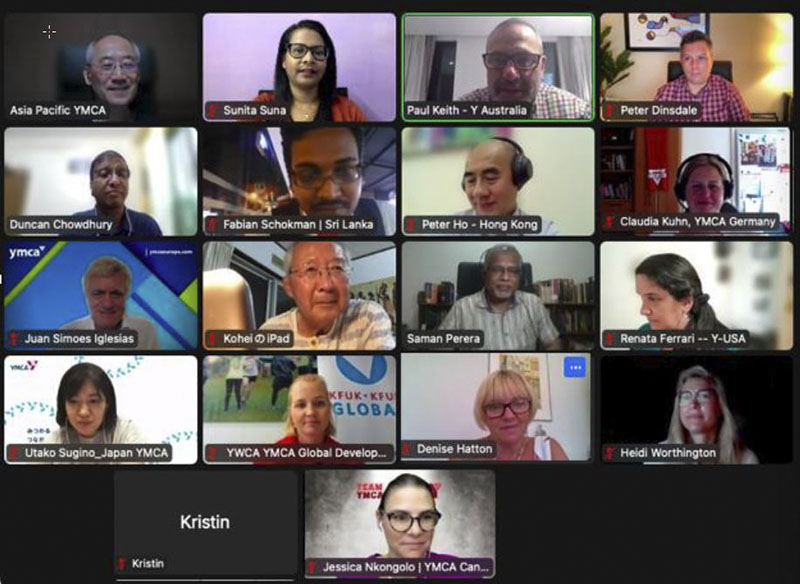 GS Nam Boo Won welcomed and thanked the partners for joining the meeting and explained the intention of the PSG meeting. Rev. Saman Perera, President of NCY of Sri Lanka, and Fabian Schokman, staff of NCY of Sri Lanka, shared the current situation in Sri Lanka. They highlighted the ongoing crises in the country that need emergency support. The country is badly affected by the Covid-19 pandemic and the unstable political situation, and the economic emergency has worsened the condition. The shortage of basic needs like food, fuel, and electricity severely impacts people, mainly the poor in the country. The current GDP growth of Sri Lanka is negative 8%. As per the statistics, 23% of children are malnourished, and 68% of people are not eating a proper meal a day in the country. The impact of the current situation differs from one community to the other. The community in the tea plantation region is affected vastly. Moreover, State brutality has increased drastically;
citizens are being arrested and abducted by government officials. The massive Medical care crisis is affecting the majority poor; as a result, there are seven deaths due to a lack of medicines.
The role of the international crisis relief agencies in Sri Lanka is minimal. Few agencies are present at the grassroots, like UNICEF, but at the local level, the Rotary Club and YMCA are doing more work.
The NCY of Sri Lanka has prepared a plan to respond to the crisis through Short, Medium and Long term plans:
Short term
- Immediate food and medical care support to around 800 families in 23 regions in the country
- Support the YMCA families for at least one year
- Sustenance program to support around 450+ staff and workers of YMCA SL
- Strengthen the project on awareness programs on home gardening
Medium
- YMCA will provide education to children, as Schools have been closed for 3-4 years
- A Parallel program with Y Global that needs to be strengthened
- Food sustainability
- Create opportunities for skilled young people to be creative and productive by utilizing their skills
- The country is destroyed because of corruption; hence YMCA would like to create awareness and educate on political literacy.
- "Farm of Hope" project exists, but now Y SL wants to expand the work
Emergency Relief Program
After listening to the members of the YMCA staff, the PSG members had a meaningful discourse on how to support the appeal. Concerning the current crises in the country, the PSG agreed to help with Emergency relief on Food and medical care.
However, they suggested focusing on long-term projects on capacity building and resource mobilization programs in the country. Revive the project like "Farm of hope" for sustainable agriculture.
There was a request to the international community to support YMCA Sri Lanka for at least one year and analyze the development with periodical monitoring.
The PSG will continuously meet and follow up on the ongoing work in Sri Lanka by the National Council of YMCA.
---
August 19, 2022
Urgent Appeal for the Emergency Support for Sri Lanka YMCA and its people in great need!
To: NGSs, APAY Board, GST and Related Persons
Dear Friends and Colleagues,
Greetings to you from APAY. I hope this email finds you well and safe in extremely hot and irregular weather conditions in many parts of our region and beyond. .
As you may have witnessed through your local and international media, Sri Lanka as a country has been going through enormously challenging times - politically, economically and socially - over the past few months and they are still going on if not aggravating. While massive medical crisis is affecting many patients, basic food prices have increased 1,000%; the inflation rate is 70% resulting in a semi-starvation of the poor people.
In solidarity with Sri Lanka YMCA and its suffering people, some of the deeply concerned YMCA delegates had an ad-hoc emergency meeting during the World Council in Aarhus, Denmark in early July to understand the current plight of the people. And in a recently held second meeting in the name of Emergency Partners Support Group for Sri Lanka YMCA, we discussed and agreed on a "partnership plan" as attached for supporting Sri Lanka YMCAs as well as its most suffering people. Attached please find an current situational report on Sri Lanka and an updated proposal based on the comments from the participants.
APAY would like to appeal to your YMCA to show your solidarity with Sri Lanka YMCA and its people. We would deeply appreciate it if your YMCA could contribute financially towards the 'partnership plan'. If you are interested in joining the Emergency Partners Support Group that will meet once a month for the coming one year, please let me know. I will provide you with more information for your participation.
Your support during this difficult time is deeply appreciated. All funds can be transmitted to the following bank account:
Asia and Pacific Alliance of YMCAs
The Bank of East Asia, Limited
A/C: 015-515-20-05004-5
Swift Code: BEASHKHH

With thanks and kind regards,
In Prayer,
Nam Boo-Won
General Secretary
Asia and Pacific Alliance of YMCAs