APAY and YMCA Mongolia's meeting on YMCA Programs and Future Collaboration
Last Updated (Thursday, 01 September 2022 11:31)
On August 29, the YMCA of Mongolia and the Asia and Pacific Alliance of YMCAs (APAY) held an online meeting. During the meeting, we shared information about the upcoming programs and activities of the APAY for the rest of 2022 and about, the programs and activities of the Global Alternative Tourism Network, and opportunities for members to participate in international online and in-person programs.
Furthermore, we discussed the possibility of expanding the cooperation of GATN in the future with YMCA Mongolia. There was a discussion on developing the Partner Support Group for YMCA Mongolia. It was a truly fruitful meeting. We are looking forward to future activities and meetings.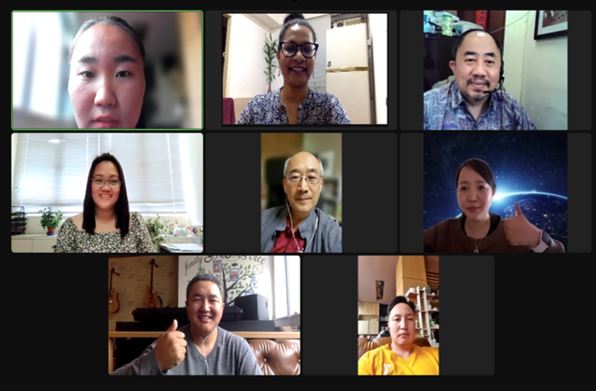 Picture. An online meeting between APAY and YMCA Mongolia

The meeting was participated by APAY's General Secretary Nam Boo Won, Executive Secretary for Programs Christina Miranda-Lastima, Executive Secretary for Programs Sunita Suna, and GATN coordinator Beng Seng Chan, as well as YMCA Mongolia's National President Bolortuya Dondov, National General Secretary Munkhtsog Davaadorj, Manager Shinebayar Purvee, and APAY/GATN intern Urangoo Khongorzul.
By Munkhtsog Davaadorj, General Secretary of YMCA Mongolia
APAY/GATN intern Urangoo