39th Advanced Studies Course (ASC)
Last Updated (Thursday, 01 September 2022 16:49)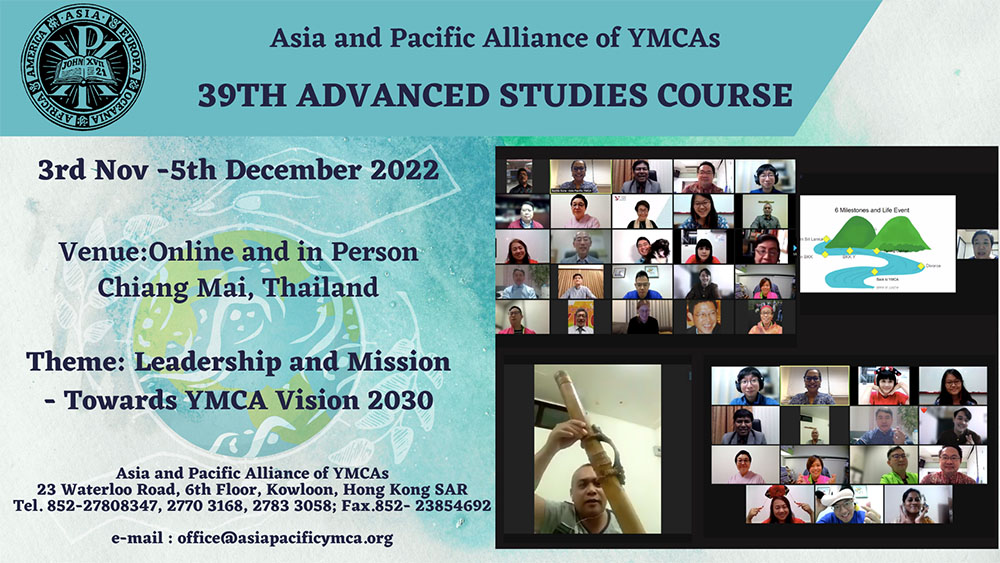 August 30, 2022
To: The National General Secretaries, Executive Committee Members,
APAY Board Members, World Alliance of YMCAs,
Area Executives & related persons
Dear Colleagues and Friends,
Greetings to you from APAY!
We are pleased to inform you that the 39th Advanced Studies Course (ASC) will be held from November 3 to December 5, 2022. We carefully studied the Covid-19 situation and waited for the hotel quarantine policy to change in Hong Kong. Sadly, the hotel quarantine is still in place hence, not allowing us to hold the ASC 2022 in person in Hong Kong. Thus, we decided to organize the ASC partly online and in person.
November 3-18, 2022, through Zoom virtual platform
November 20 – December 5, 2022, in person in Chiang Mai, Thailand
(20th arrival and 5th departure)
ASC was Initiated in 1982 as an advanced training program for the senior professional secretaries of the YMCAs of our region. The candidates should be university graduates; preferably having gone through a basic training course; and have at least 3 years of work experience in the YMCA's core administration, major program area, or policy-making level.
Attached, please find the Application form, Concept Paper and Module. Please send the filled-up application form on or before 25 September 2022.
My colleagues Sunita Suna, Executive Secretary for Programs, will coordinate the ASC. For further information, please contact Sunita at This e-mail address is being protected from spambots. You need JavaScript enabled to view it
With warm regards,
Nam Boo Won
General Secretary
Asia and Pacific Alliance of YMCAs