Environment & Climate Change
Reflection on Green Ambassadors Training 2023
Last Updated (Friday, 30 June 2023 14:20)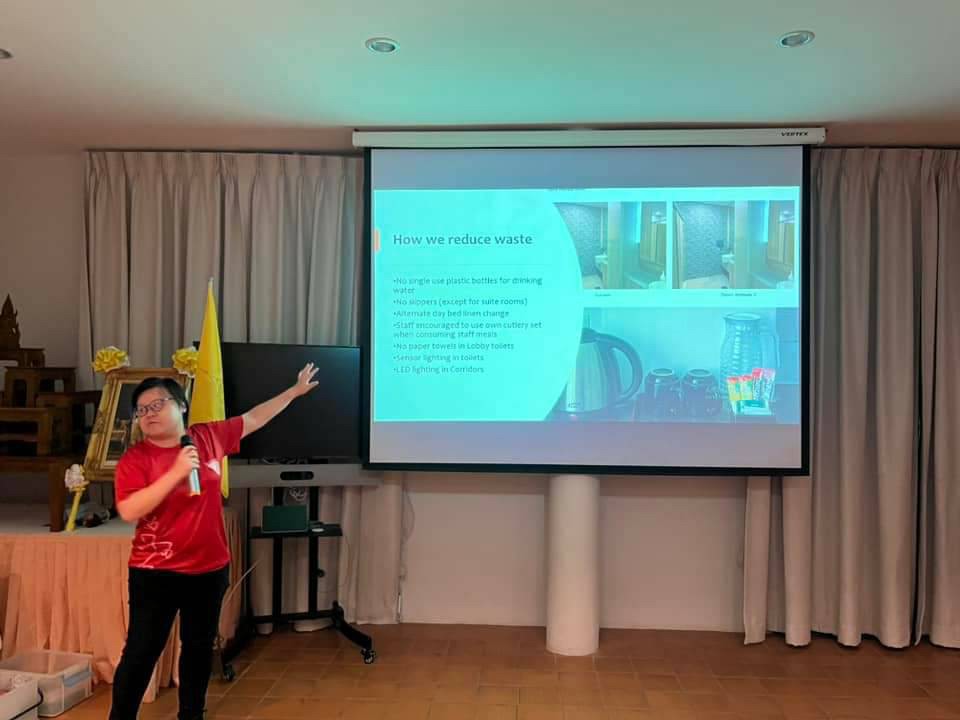 ↑ Jasmine Lim, one of the participants of the Green Ambassadors Training last May 2023
The Green Ambassadors Training held at Chiangmai provided a holistic training approach that allowed us to learn from one another the different perspectives in different countries and to be able to see and experience through the meaningful visits to Doi Inthanon National Park, Mae-Jo University, Ban Rai Dong Village, and Sao Hin YMCA.
Particularly in our 5-day training, we learned from the participants who represented their respective schools and local YMCAs about how they tackle climate change in their countries and the education approach where they impart skills and knowledge to the younger generation.
During the Doi Inthanon visit, we had the opportunity to see and understand the Royal Project and the strong support from the Thai government towards the farmers, together resulting in a deeper understanding of the farm-to-table concept.
Visiting the highest spot on the mountain and the forest provided us a time to connect deeper with nature through our different senses, which are sight, sound, smell, and touch, and to reflect in the serene environment.
The visit to the university also brought us another perspective of how we can make use of renewable resources such as sunlight and the wind energy to generate electricity rather than the traditional methods which are harmful for the environment.
At Bai Rai Dong Village, we had the opportunity to help build the check dams and plant trees. It was an enriching experience for me to be reminded that we are stewards of God's creation and there is a need to preserve nature so that our future generations are able to enjoy the goodness of His creation.
As for the visit to Sao Hin YMCA, I was thankful for being able to visit the learning centre where much knowledge has been imparted from the facilitators. This experience triggered the sensitivity to the urgency of climate change issues.
The 5-day training was impactful, enriching, and meaningful. It provided us the opportunity to brainstorm and come up with the action plans that we could bring back to our local YMCAs and schools. If we try to do it alone, there is only how much we can do. But if we work together, the impact will be greater.
By Jasmine Lim
Green Ambassador, May 2023
Metropolitan YMCA of Singapore
'Time for Climate Action Towards YMCA Vision 2030' - Green Ambassadors Training 2023
Last Updated (Wednesday, 31 May 2023 11:36)
Around thirty-five participants from the YMCAs of Malaysia, Myanmar, Philippines, Singapore, and Thailand met in Chiangmai, Thailand last May 22-27, 2023 to learn about climate change and its impact to people and communities; to engage in dialogue on enhancing 'Green Ambassadors' capacity for environment and climate change action to secure net zero by 2030 to keep global temperature 1.5 degrees within reach; to share good practices on carbon emission reduction and other green project; and to strengthen cooperation, network and green movement towards a Greener YMCA and communities. The training was also joined by the Y Green Schools from Thailand and Laos as partner schools of YMCA of So Hin YMCA in its effort to combat climate change.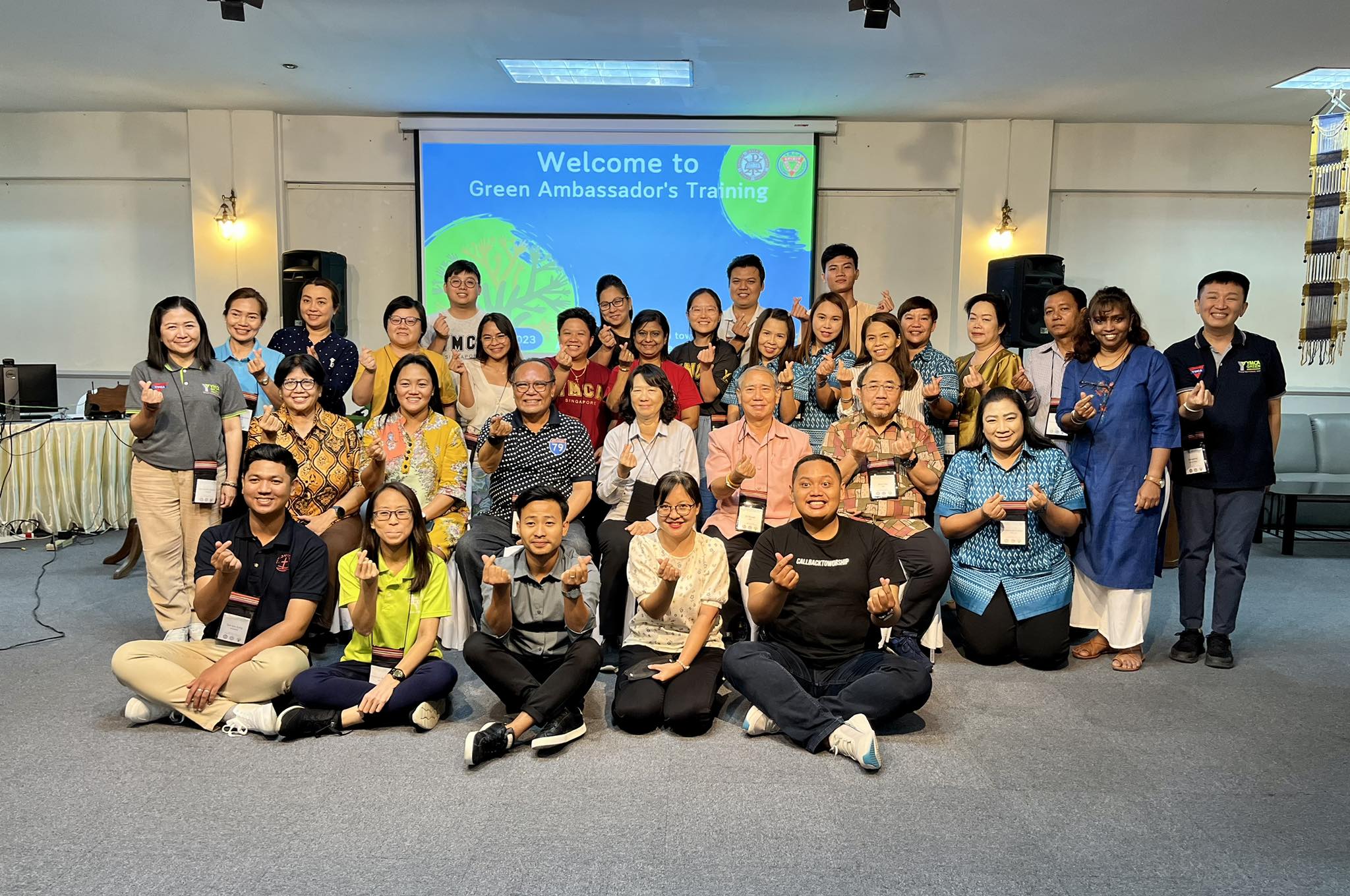 ↑ Participants during the opening session
The training included key presentation by Colin Lambie, APAY Green Team Member on the current climate change situation in the Asia and Pacific region and how governments are failing to limit warming to 2C or preferably 1.5C. He emphasized that YMCAs and like organisations must 'pick up the slack' and make up for lack of action by governments through mitigation and adaptation actions. He also reiterated the Mandate of the 20th APAY General Assembly in Japan that the YMCAs in the region commit to reducing the carbon emissions and taking effective steps to become carbon neutral by 2030. In his presentation, he highlighted the steps on how to become zero net carbon by 2030. It also incorporated case studies from Green Ambassador graduates and Green Team members who have successfully implemented climate action in their respective YMCAs. The case studies presented highlighted the works on carbon audit, education and advocacy as tools to combat climate change. The following case studies were presented:
Installation of Solar Panel, YMCA of Makati, Philippines
Integrated Agriculture and Food Security; Nay Pyi Taw Young Men's Christian Association (YMCA)
Environment and Climate Change Education Learning Center; Sao Hin YMCA, Thailand.
In addition, APAY Climate Defender Project Coordinator Beng Seng Chan shared the current activities under the said project that will continue to work on the aim of becoming a zero net carbon YMCA. Such activities include education and awareness raising, training of carbon auditors, and e-learning among others. The training also included exposure trips to partner institutions:
School of Renewable Energy; Mae Jo University (alternative energy in daily life i.e. solar power, biogas, biomass, wind Power, etc.)
Environment & Energy Learning Center Sao Hin YMCA
Doi Inthanon Royal Project (alternative crops to solve the problems of deforestation and poverty of the hill tribe people; environment protection, reduce the use of chemical, agriculture development, and marketing system
Co-management of Natural Resources (to see the highest spot in Thailand on the top of Inthanon Mountain, visit the nature trail and learn about the important of cloud forest, biodiversity and role of community and government in forest conservation
Ban Rai Dong Village, the model village on environmental and natural resources to preservation to learn about appropriate technology and the advantage of check dams; construct check dam and plant trees with the youth and committee members of Rai Dong Village, Chomtong District.
| | |
| --- | --- |
| | |
| ↑ Participants during their nature trail at Doi Inthanon National Park | ↑ Visit at Maejo University School of Renewable Energy |
In preparation for the participants discussion and planning session, Narupacha Muang-in, APAY Green Team Member and Head of Climate Change Education Program, Sao Hin YMCA, Thailand presented guidelines on how to design climate change actions. APAY Executive Secretary Maria Cristina Miranda also shared the fund sources that could be tapped by Green Ambassadors for the implementation of their projects. Through these inputs, the training also facilitated small group discussion and sharing of experiences on local/national observed effects/impacts climate change. The proposed projects were presented by each team during the last day of the training.
As a conclusion, APAY General Secretary Nam Boo Won gave an encouraging message to continue to work together to address the climate crisis. The training was co-organized by APAY with its Green Team and Sao Hin YMCA.
By: Maria Cristina Miranda, APAY Executive Secretary
Waste Management Project by YMCA Cuttack
Last Updated (Tuesday, 30 May 2023 16:15)
To create awareness about the re-usage of waste amongst the people living in nearby slums and the local ward, YMCA Cuttack launched Waste Management Project on 28.04.2023 in association with SwitchON Foundation. A seminar was organised regarding managing waste from kitchens and households by segregating dry and wet wastes and making valuable objects from plastic debris, i.e., disposable water bottles, glasses, plates and bowls, and other indecomposable plastic materials. Above 150 women attended the seminar, out of which municipality sweepers and municipality volunteers were also present, apart from women staying in local slums. On this occasion, Rev. Kishore Chandra Digal offered a word of Prayer for the project's success.