Justice and Peace
Asian Youths Commit to Be Peacebuilders
Last Updated (Friday, 30 June 2023 14:21)
14 young people from nine countries of Asia participate in the second School of Peace (SoP) in Bali, Indonesia. The School of Peace runs from May 15, 2023, to July 13, 2023. These youths come from Nepal, Pakistan, Sri Lanka, Philippines, Vietnam, Mongolia, Bangladesh, Indonesia, and Timor-Leste. The Interfaith Cooperation Forum(ICF), a project of the Asia and Pacific Alliance of YMCAs organizes the School of Peace, the first one being held in Nepal from February to March, 2023. The participants come from different religious backgrounds, namely Hinduism, Islam, Buddhism, and Christianity. Some do not belong to any religion.
The main objective of the SOP is to prepare the youth to be change agents and peacebuilders in their communities. This program runs for 60 days in three different venues: 1) Puri Saron Madangan, 2) 5-Day Community Immersion in Blimbingsari Village and 2) Dyanapura City Hotel in Badung, Bali.
In this program, participants learn, among other things, about the tools of conflict analysis, peace, principles of negotiation, mediation and conciliation, understanding trauma, different religions, people's impact on mother earth, nonviolent communication, journalism, mental health, and LGBTQI+ struggles.
"I've been fed a whole lot of new knowledge for the past 5 weeks in the SoP. This would truly help me become a better student-leader advocating for peace when I go back to my country," Jaci, a participant from the Philippines shared.
After completion of the program, the participants will go back to contribute to their respective organizations and countries in creating sustainable peace and inspire social change.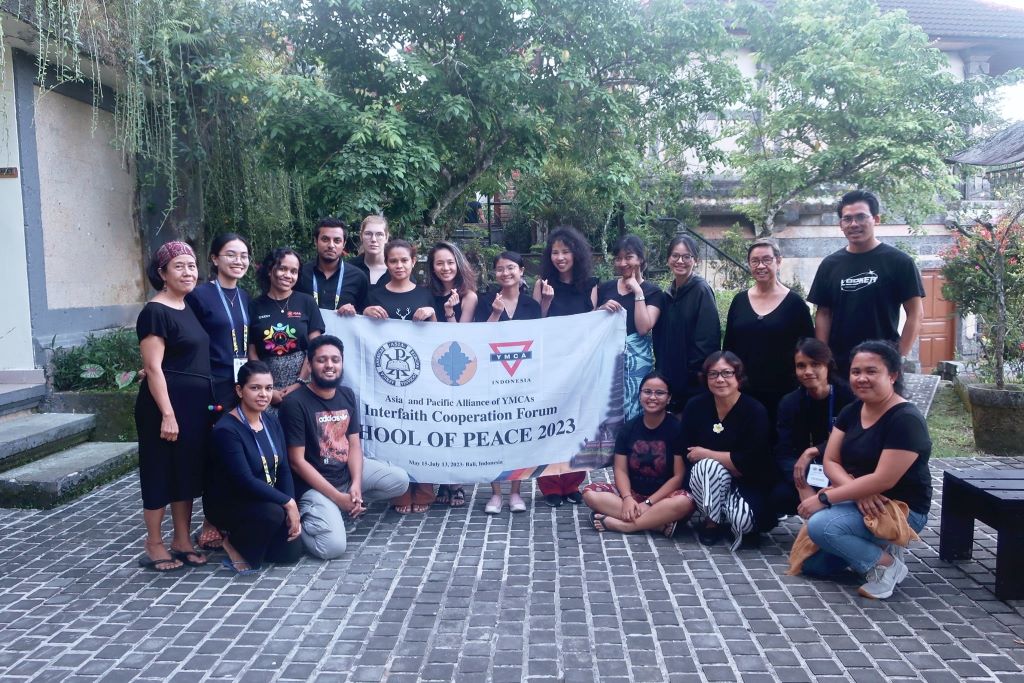 ↑ SoP Participants in Bali Commemorating #ThursdaysinBlack.
By Santoshi Wagle,
SoP Participant from Nepal
A Roundtable Meeting on Peace on the Korean Peninsula & Movement Strengthening Visit to Cambodia YMCA
Last Updated (Monday, 29 May 2023 16:55)
From May 23rd to 27th, 2023, GS Nam Boo-Won attended the Roundtable meeting on Peace on the Korean Peninsula in Siem Reap, Cambodia, followed by a movement visit. The meeting brought together peace practitioners and scholars from South Korea, the EU, China, the USA, the UN, and Japan and was organized by the Center for Peace and Conflict Studies (CPCA) under the leadership of Dr. Emma Leslie, the President. Building on past Korea meetings and dialogues in Cambodia, CPCS partnered with GPPAC (Global Partnership for the Prevention of Armed Conflict) Northeast Asia to hold the Roundtable this year with the aim of fostering ongoing conversations that contribute to a strategy for enhanced collaborative efforts for peace on the Korean Peninsula.
| | |
| --- | --- |
| | |
Over the course of two days, participants made presentations on their reflections and observations on local and regional trends and prospects in the Korean Peninsula, where tensions have recently increased. Facilitated discussions focused on developing a strategy for enhanced collaborative efforts among peace actors, addressing humanitarian needs in the DPRK, managing military rivalry in Asia, taking strategic steps for conflict prevention, and identifying critical factors, stakeholders, and strategic channels for intervention. All participants recognized the vital need for continued dialogue and networking among peace practitioners and organizations within the region and beyond for more impactful collaboration in the future.
| | |
| --- | --- |
| | |
The last two days of the visit were dedicated to demonstrating APAY's solidarity with the YMCA and movement strengthening. GS Nam, NGS Kim Kyung-Min from Korea YMCA, and Acting GS Nimey Rin from Cambodia YMCA visited the YMCA Childcare and Learning Center, where the poorest of the poor live in Siem Reap. After visiting the center and a poor hut, NGS Kim promised to find a partner YMCA in Korea that could financially support the center and its valuable activities for children from the poorest areas in Siem Reap. GS Nam also had an in-depth discussion with Acting GS Nimey Rin and NGS Kim Kyung-Min on how to strengthen the Cambodia YMCA movement, particularly in the areas of governance, financial stability and sustainability, the YMCA's presence in the community, and on how to multiply impacts in improving people's lives there.
By Nam Boo-Won
General Secretary, APAY
Yokohama YMCA organized a Prayer Meeting for Myanmar
A special prayer meeting for Myanmar was held on Saturday, May 6, 2023, hosted by the Yokohama YMCA International Committee. About 30 participants from Japan and abroad gathered for the online prayer meeting.
More than three years have passed since the military coup d'état in Myanmar in February 2021, and the people of Myanmar are still in a difficult situation. We, Yokohama YMCA, have long been involved in exchange programs and medical support activities with the Myanmar YMCA, but we have been forced to suspend our activities there. Even though we cannot meet in person, we hold a prayer meeting for Myanmar annually in May to express our desire to always be with them.

This time, we invited two Myanmar youths from Yokohama YMCA to speak about Myanmar. The youths gave the following message: "We hope that the people of Myanmar will have the peace, prosperity, and freedom they deserve, that the war in the country will end as soon as possible, and that a Just World will be realized in which human rights are not lost. Then, Ms. Khin Sangsan Aung, a pastor from Myanmar who lives in Japan, gave a message from Isaiah 43:19, "Let us not forget to hope amid difficulties, for God is with us". The message was very encouraging to us. Ms. Phyu Thin, President of Loikaw YMCA, also participated in the prayer meeting and reported that Loikaw YMCA had overcome many difficulties and has now been certified as a regional YMCA by the National Council YMCAs of Myanmar.
The situation has become even more serious due to the severe damage caused by the cyclone in Rakhine State, Myanmar.
Yokohama YMCA will always remember the people of Myanmar, pray for them, and continue to support them.
By Global & Local Community Services
Yokohama YMCA