2nd APAY Youth Assembly, 2011, Penang, Malaysia - Breaking Barriers, Transforming Lives
Last Updated (Wednesday, 19 October 2011 17:24)
We, the 212 youth leaders, volunteers, staff of the Asia and Pacific Alliance of YMCAs coming from Bangladesh, Cambodia, East Timor, Hong Kong, India, Indonesia, Japan, Korea, Macau, Malaysia, Myanmar, Nepal, New Zealand, Pakistan, Philippines, Singapore, Sri Lanka, Taiwan, Thailand and Vietnam gathered at the 2nd APAY Youth Assembly from the 3rd to 6th September 2011 in Penang, Malaysia to recognize the leadership potentials of the Youth in relation to the YMCA Mission of Christ-love commitment of service to communities. In acknowledging our roles as responsible global citizens and YMCA youth leaders, we identified issues of Peace and Reconciliation, Climate Change and Environment and Caring for the Persons-with-Disability as our commitment in breaking barriers towards transformation of lives.
We have the following local, national and regional strategic recommendations for the APAY General Assembly to act upon for the next quadrennial: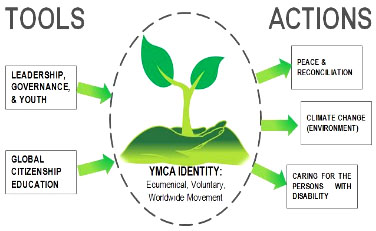 TOOLS (Instrument to build the foundation of youth leaders and sustainable movement)
Leadership, Governance and Youth
INCREASE AND STRENGTHEN existing youth involvement in the governance.
Combine resources to empower YMCA Youth Leaders.
Initiate the use of all media channels for YMCA Youth to communicate, network, learn and advocate.
Global Citizenship Education (GCE) to Action
PROMOTE more effective collaboration among all levels of YMCAs with the Government, NGOs and MNCs (Multi-National Corporations)
MOBILIZE resources.
DEVELOP disaster management preparatory and response strategies within local, national and inter-regional YMCAs.
EDUCATE people about Global Citizenship by leading Advocacy Programmes locally and across borders.
ProvidE the Youth access to information and technology.
CREATE a platform for inter-YMCAs exchange of knowledge, programmes and ideas.
ACTIONS (responses and engagement towards transformation of lives)
Climate Change and Environment
PROMOTE understanding and awareness on climate change and environmental issues.
ENGAGE in existing environmental programmes (e.g. Earth Day, No Impact Day and 350PPM).
ENCOURAGE communities to use safe sustainable energy (e.g. solar power panels, wind turbines and bio-gas).and judicious use of non-sustainable energy (e.g. petrol, coal).
REDUCE Carbon Footprint.
ESTABLISH local units of Y Environment and advocate on a national and regional level.
Peace and Reconciliation
PROMOTE peace campaigns, interfaith dialogues, seminars, conferences and youth exchange programmes across all (locals, national, sub-regional and regional) levels of YMCAs.
ESTABLISH platforms and mobilize resources to address social issues.
EDUCATE local Youth Leaders by mobilizing funds and resources for Peace and Reconciliation.
FACILITATE the mediation of conflicting parties with other NGOs through dialogues, reconciliation programmes, resource mobilization (eg. vocational training, job opportunities and livelihood education).
Caring for Persons with Disability
PROVIDE equal opportunities through the inclusion of the persons-with-disabilities (PWDs) in the YMCA programmes.
CONCLUSION
We urge the Asia and Pacific Alliance of YMCAs through all the National Movements to act on these recommendations. We are confident that with renewed commitment and responsiveness, we will continue to engage ourselves in taking actions to the pressing issues around the community. We advocate for the transformation of lives to make a positive difference in our societies.
Let us act as the catalyst of change.